New Entries: Yoma Strategic, Wing Tai, Chip Eng Seng and China Aviation
Take Profit: UMS
Stop loss: Hanwell
Total return since May to December is +5.24% with a realised gain of 0.45% in December
Uptrend in the STI re-established here as the 20 and 60 day moving average propelled price higher
The performance of the STI was relatively weak in December, as volume tends to dry up in the holiday season. The STI retreated -0.89% in December and gained 18% in 2017. On the other hand, the performance of the "Phillip 20 portfolio" was also rather flat as it gained 0.26% in December.
Since the November Monthly Review update, a correction in the STI happened as expected. The 3457 resistance area continue to weight down on prices since the last update, thus resulting in a marginal loss of -0.89% in December. Nonetheless, the long-term uptrend that was established back in January 2016 appears strong even in the midst of the December correction.
STI Daily Chart – strong support off the 20 and 60 day moving average

Red line = 20 period moving average, Blue line = 60 period moving average, Green line = 200 period moving average
Switching view to the Daily timeframe shows the robustness of this uptrend. Since November 2016, the uptrend has been held up steadily by the 20 and 60 day moving average on every retracement shown by the highlighted areas. The only exception was the August to September period of 2017 where the 20 and 60 day moving average failed to hold up. Nevertheless, the uptrend was still being propped by the 3196 support area where the bulls regained control.
Since then, we have witnessed three more occasions where the 20 and 60 day moving average reversed the correction and return the bulls into the uptrend. Looking at the most recent bullish rejection off the 60 day moving average since 26 December 2017 signals the next higher low point within this uptrend is established at 3370 points.
Moreover, the bullish follow-through has also succeeded in closing prices above the 60 day moving average on 2 January 2017 suggests the resumption of the uptrend. For this current up-leg, the bulls should be aiming for the April 2015 high of 3549 points followed by 3600 points.

Winners
We took profit on UMS on 6 December 2017 at 0.985 due to the bearish price action that was exhibited on the monthly timeframe. As a result, this trade contributed an equal weighted gain of +1.23% to the "Phillip 20 Portfolio" in December.
Losers
Our stop loss in Hanwell was unfortunately triggered on 8 December 2017 at 0.295, resulting in an equal weighted loss of -0.72%.
New Entries
Even in the midst of a sluggish December, Yoma Strategic, Wing Tai, Chip Eng Seng and China Aviation were added into the "Phillip 20 Portfolio."

Watchlist
After a major reshuffling of the portfolio, there are currently 19 stocks within the "Phillip 20 Portfolio." The following is the revised watch list that we are closely monitoring: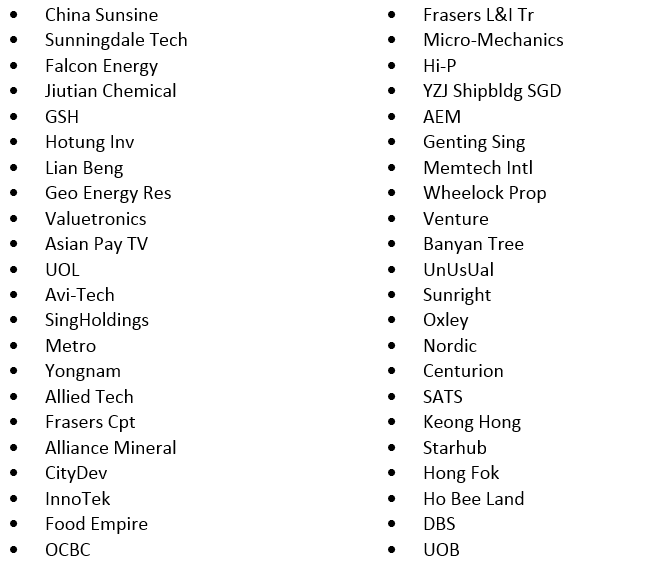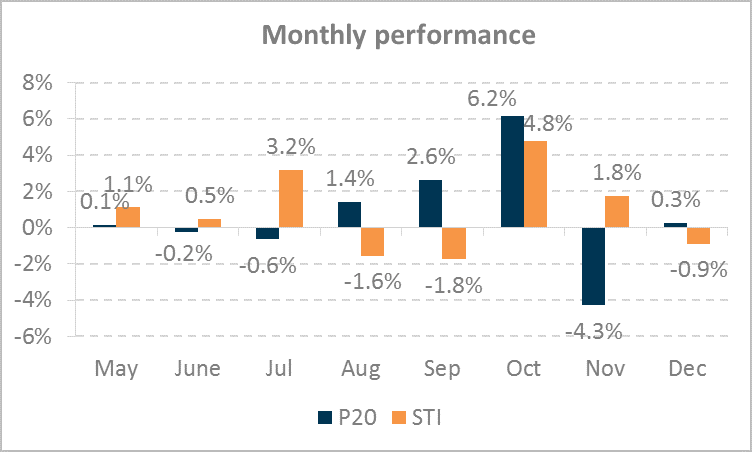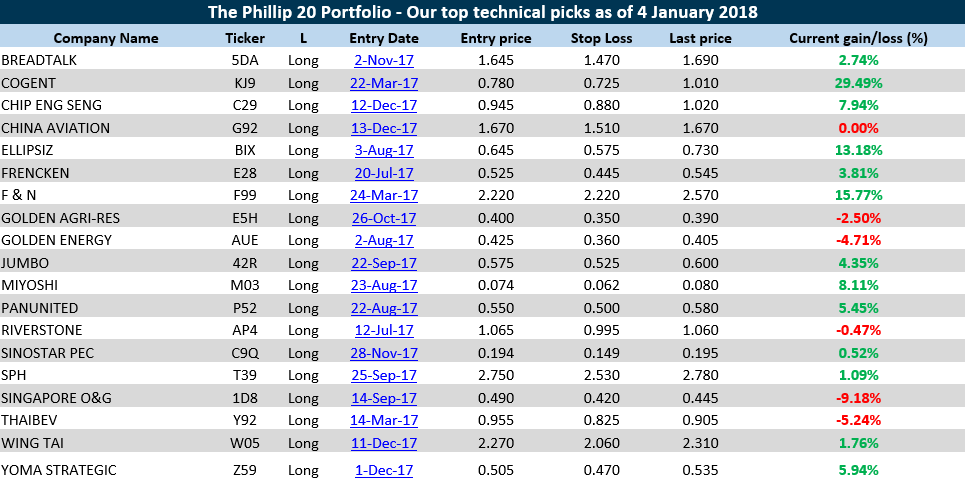 Monthly Phillip 20 performance update