Take Profit : Food Empire, Moya Asia, Sunright and UMS
Stop Loss: CWG Intl, Geo Energy Res, Jumbo and SUTL Enterprise
Total gain for the month of May is 5.30% with a realized gain of 3.37%
For the month of May 2017, the volatility in The Phillip 20 Portfolio resulted in several counters triggering our Take Profit and Stop Loss.

Winners
The biggest mover within the portfolio was UMS with a return of 54% after it reached our Take Profit level of 1.050. UMS continued to ride along the uptrend after testing the 1.050 resistance area and the bullish momentum is still going strong. As of 31 May 2017, if the position was left open, it would be yielding a return of 78%.
Hence, moving forward, we have decided to remove the Take Profit price limits out and will update accordingly the timing of our Take Profit triggers in our daily Technical Pulse reports. This is to align ourselves with the belief of cutting losers early and letting the winners run.
Conservative traders can still rely on the Take Profit level stated in our Technical Pulse reports for a guidance of when to close their positions.
Another example of taking profit too early was the trade on Moya Asia where our initial Take Profit was set at 0.085(14%). Moya Asia continued to surpass our take profit level and is still exhibiting strong bullish momentum. As of 31 May 2017, if we were to let the profit run, Moya Asia would be yielding a 62% gain.
Losers
The losses on the four counters were on average -9% with the biggest loser being Jumbo at -12.5%. CWG Intl, Geo Energy Res, Jumbo and SUTL Enterprise have all clearly lost their bullish momentum as prices slumped below both their respective 20 and 60 day moving average.
Watchlist
With the month of May behind us, the portfolio has been trimmed down to only 12 stocks. We will continue to monitor and look for new opportunities to be added in The Phillip 20 Portfolio. In the meantime, the following stocks are within our watchlist for The Phillip 20 Portfolio: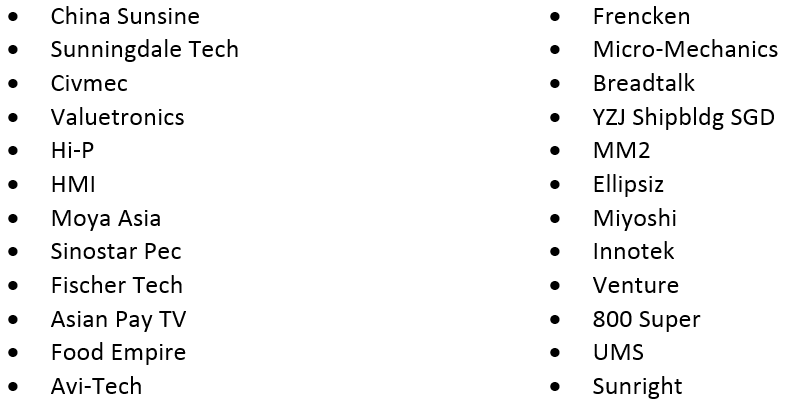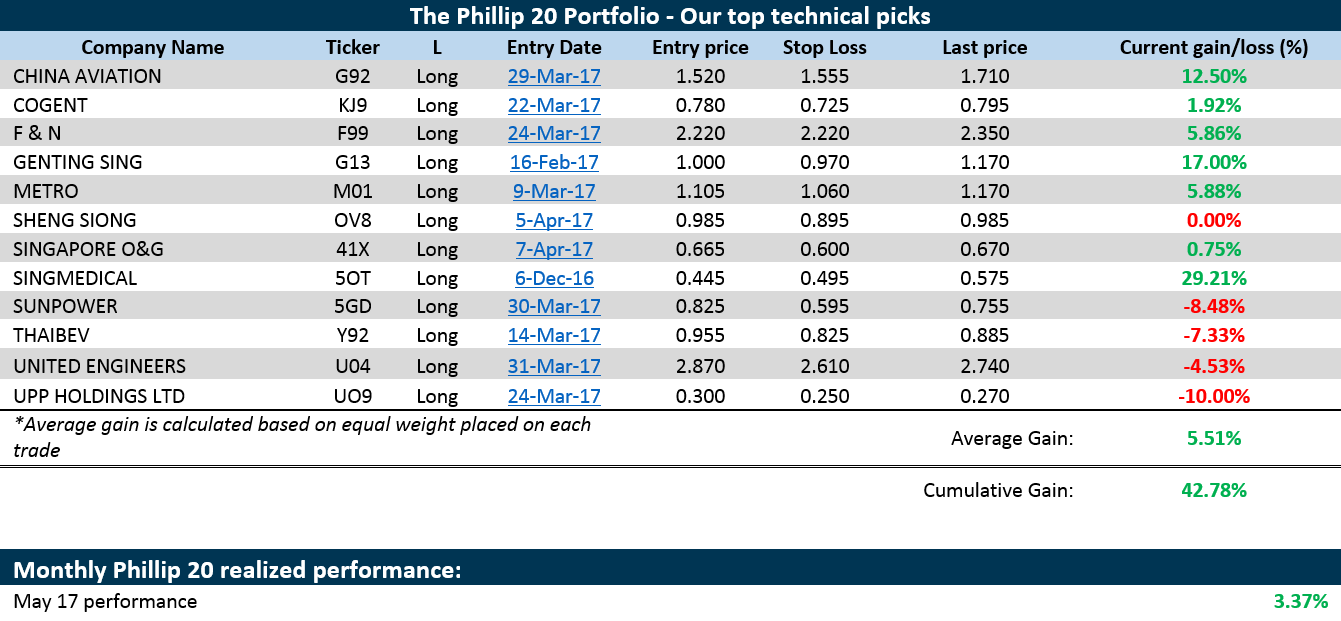 Please login to download the full report in PDF.