S$438.5mn 2Q17 revenue in line with our forecast of S$439.3mn
S$62.1mn 2Q17 PATMI exceeded our forecast of S$59.44mn by 4.5%
S$862.7mn 1H17 revenue met 48.9% of consensus FY17 expectations of S$1.766bn, and met 49.2% of our FY17 forecast of S$1.754bn
S$117.6mn 1H17 adj. PATMI met 48.6% of consensus FY17 expectations of S$242.1mn, and met 50.0% of our FY17 forecast of S$235.1mn
Higher interim dividend of 6 cents declared (5 cents every year since FY10)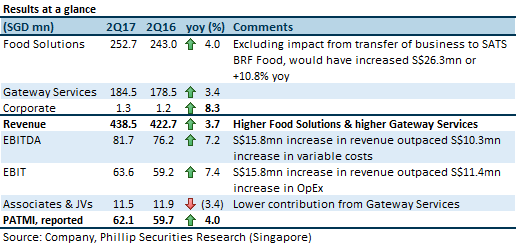 TFK Corp. remains profitable; expecting it to be maintained
TFK turned profitable in 1QFY17 and continues to be profitable this quarter. TFK reported S$71.1mn revenue, representing 33.6% year-on-year (yoy) growth. Management attributed the higher revenue to the strengthening of JPY against SGD, and the higher volume. The higher volume arises from contribution from the Delta Air Line contract and non-aviation customers. Although SGD had depreciated 14% yoy relative to JPY in 2QFY17, but costs are denominated in JPY, so a spike in profit is not to be expected. In view of the higher volume (from both aviation and non-aviation customers), we believe that TFK has achieved critical mass, will enjoy economy of scale and would continue to remain profitable.
SATS eCommerce AirHub on track to be completed in early-2017
Initial volume for the facility at Airfreight Terminal 1 will come from anchor customer, SingPost, which will cease its own airport operations when its lease at Changi Airmail Transit Centre 2 expires. Management shared that there is no contract with Amazon at this time, but is hopeful on partnering with Amazon.
Higher dividend on a progressive and sustainable model
With the higher interim dividend of 6 cents declared, Management reiterated that dividends would be paid out on a progressive and sustainable model. After making adjustments to our forecasts, our FY17e/FY18e dividend assumptions have been raised to 17.0/17.0 cents, from 16.1/16.5 cents due to higher earnings (payout ratio unchanged).
Maintain at "Neutral" rating, with higher target price of S$4.48 (previous: S$4.24)
We have lowered our wage inflation assumptions (taking a cue from the stabilisation in Staff costs observed this quarter). Our recurring PATMI is now 6.8%/5.0% higher than previous forecast. Our target price of S$4.48 represents an implied forward P/E multiple of 19.8x FY17e EPS.  (5-year historical average P/E multiple is 17.6x)
Please sign up to access our full report.