Results are in line with our expectation
Closure of two big stores, at Woodlands Blk 6A and The Verge could hit FY17F topline by c.10%
Expect favourable drivers for gross margin to extend into FY17; while operating cost pressures to remain contained, boosting bottom line growth
Figure 1: Results at a glance

Cautious consumer sentiment could extend into FY17, maintaining pressure on topline
3Q16 revenue grew by a marginal 1.2% year-on-year ("yoy") due to lower sales volume despite the festive season. Comparable same-store sales growth ("SSSG"), excluding Loyang Point store, resumed its contractionary trend in 3Q16; while the nine new stores (5 in 2015 and 4 year-to-date) had performed below Management's expectation of 7% to 10% growth. The overall slower retail sales coupled with shrinking foreign work force in Singapore amidst oil and gas fiasco could continue to weigh on the Group's FY17F topline.
Management seeking new stores to mitigate closure of two major stores in FY17
Two major stores will close in FY17 – Woodlands Blk 6A store to close in June 2017 for redevelopment, and The Verge store, as the mall is being acquired by Lum Chang Holdings. Refer to Table 1 for more information. These two stores together contribute c.10% to Group revenue.
Management is still seeking new stores to replace the loss of one of its key stores, the Woodlands Blk 6A store. According to data on HDB HBiz, there are seven new supermarkets units pending completion by Mar 2017. Successful bidding of new stores would be a catalyst for re-rating.
Steady gross margin at ~25% and extend into FY17F
Favourable drivers for high margin in the last two quarters persist in 3Q16 – (i) suppliers' rebates; and (ii) reduction in input costs derived mainly from bulk handling. As lacklustre retail environment continues into FY17, we think that the Group should continue to benefit from lower input prices in a buyers' market. Hence, we adjusted our FY17F gross margin upward by 0.3 percentage points.
Catalyst for higher margin will be an improvement of product mix, i.e. more fresh products compared to groceries. Slight improvement from the previous ratio of 41:58 to currently at 41.5: 58.5 helped to sustain 3Q16 gross margin at c.26% despite competitive pricing amid the festive season.
Maintained 'Accumulate' rating with slightly higher TP of S$1.13 (previously $1.10), based on an upgraded estimated 4.93 cents FY17 EPS and unchanged 23x PE multiple
We expect the nine new stores, alongside the two newly renovated and bigger stores at Loyang Point and Blk 506 Tampines Central, to provide support to FY17F topline growth. We expect operating cost pressures to remain contained due to slight easing of a tight labour market, softer rental reversion, and subdued inflation outlook, which will result in margin expansion.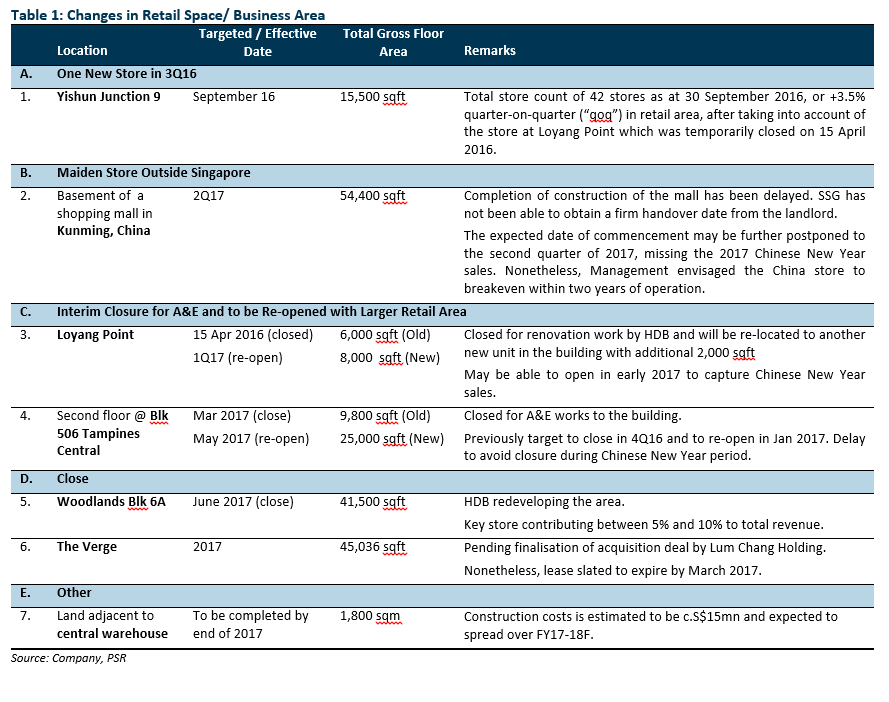 Figure 3: Peers comparison
SSG is currently trading slightly above its Singapore peer but is somewhat in line with regional peers' average, in terms of trailing P/E multiple.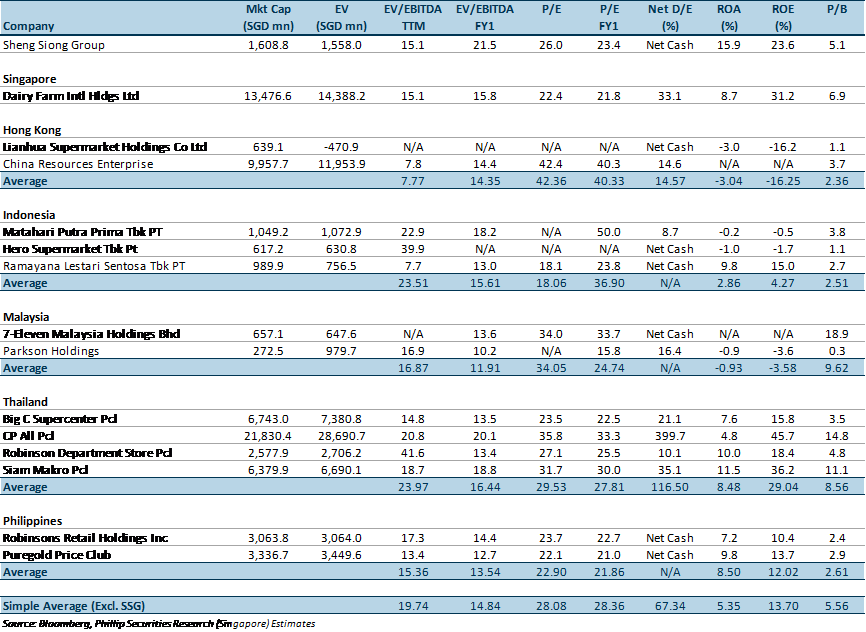 Figure 4: 3-Yr Historical PER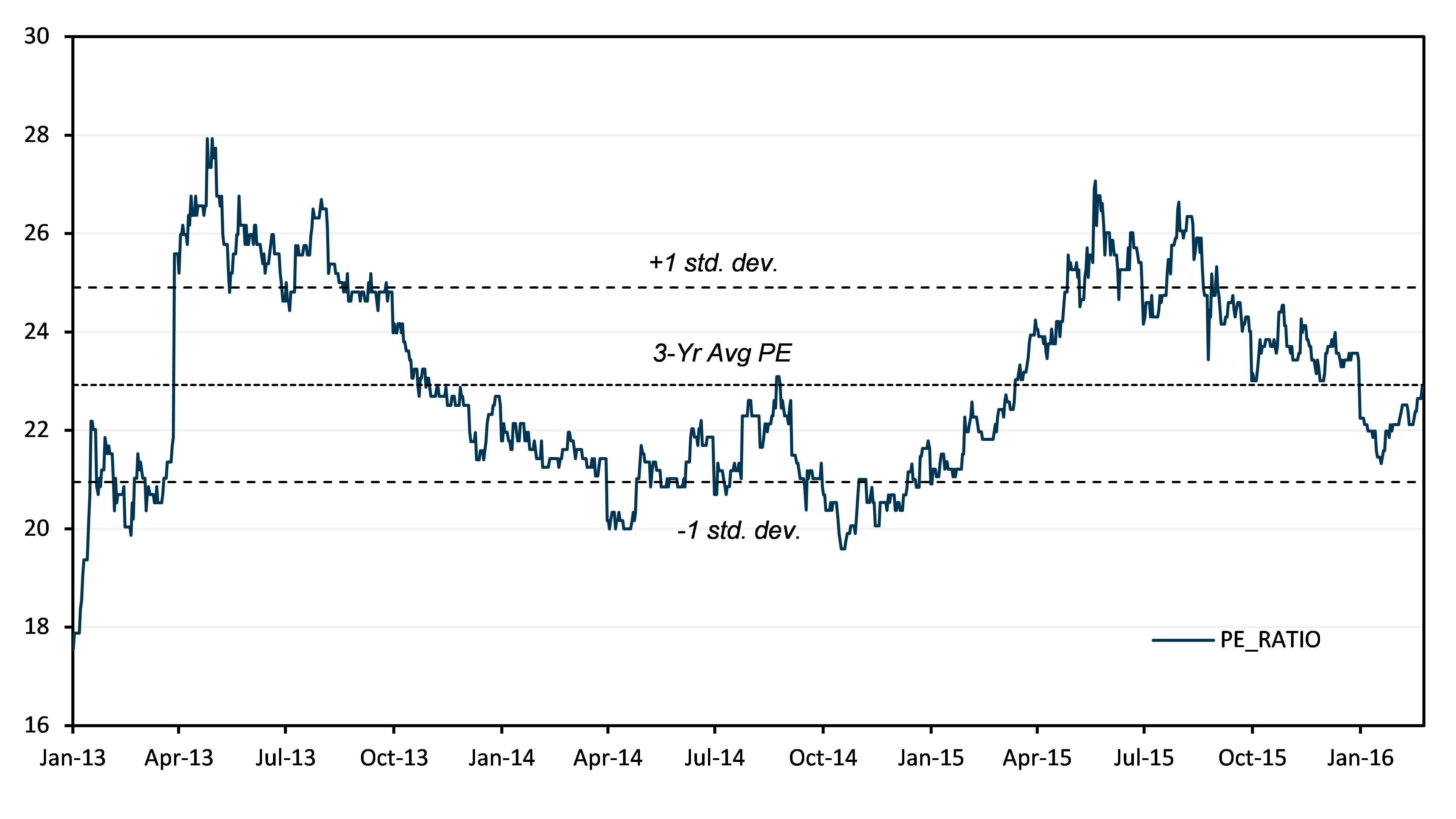 Source: Bloomberg, Phillip Securities Research (Singapore) estimates