Multiple re-rating catalysts possible, in particular India
Under-priced optionality from pending strategic review
We initiate SCI with an Accumulate rating and a target price of $3.50. This implies an upside of 13.7% (including forecast dividends of 8 SG cents) from the last closing price of S$3.15.
Company snapshot
Sembcorp Industries Ltd (SCI) is an investment holding company, engaged in utilities, marine, and urban development globally. The utilities segment provides various kinds of energy and water treatment to industrial, commercial, and municipal end-users. The marine segment provides integrated engineering solutions for offshore and marine industry. The urban development is involved in land and property development. In Apr-17, new group president & CEO, Neil McGregor, was on board, and he delivered the message to shareholders that a strategic review will be conducted this year.
Investment Merits
Turnaround awaits in India. The two thermal power plants, TPCIL and SGPL, are the key assets in SCI's portfolio in India. As of now, TPCIL has secured long-term power purchase agreements (PPA) for its 86% of total 1,320MW capacity. SGPL commenced commercial operation in Feb-17. Currently, one third of its total 1,320MW capacity is under short-term PPAs. Lacking long-term PPAs, it is currently facing start-up losses. SCI has been working hard to secure more PPAs, especially for long run.
Stable growth in China. SCI's portfolio in China is well diversified, including thermal power plants, water treatment plants, wind farms, land, and properties. Among those, thermal power plants generate significant cash flows to the Group. Since government highly directs the utilities sector, we believe the each project's yield is capped but profit margin is protected, over a cycle.
Strategic review that could remove conglomerate discount. No details were given by the company on their plans for the strategic review. Conglomerates are accorded a discount in their valuations because they are harder to value, display limited synergies and could even include businesses that investors would rather shun. We essentially do not see the value of marine business being part of the group. Marine adds volatility to SCI earnings, cash-flows and dividends. This is the inherent reason the market incorporates a discount (PSR: 10%) to SCI sum-of—the-parts (SOTP) valuations, in our opinion.
Investment Actions
We initiate SCI with an Accumulate rating and a target price of $3.50. This implies an upside of 13.7% (including forecast dividends of 8 SG cents) from the last closing price of S$3.15. Our SOTP valuation of SCI is after a 10% conglomerate discount.
Company Background
An investment holding company mainly engaging in three segments of business, utilities, marine, and urban development. Its foot print reaches across five continents worldwide.
The utilities segment is involved in development and operation of facilities of various types of energy including thermal, wind, solar, biomass, natural gas, water, and electricity. In addition, it provides on-site logistics and solid waste solutions and management.
The marine segment is separately listed as a subsidiary, Sembcorp Marine, and SCI holds a 61% of interest. It provides offshore engineering and construction such as rigs, floaters, and platform building and repair.
Urban development segment specialises in land development and property development on landmark catalytic growth projects.
As of Dec-16, the segmental breakdown and geographic breakdown are shown below:
Figure 1: Revenue segmental breakdown in percentage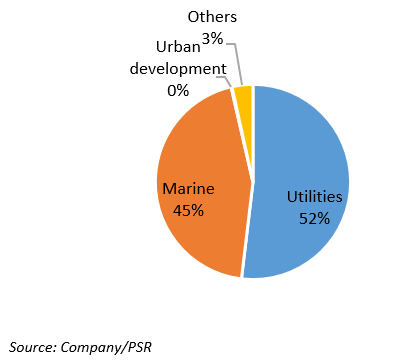 Figure 2: Revenue geographic breakdown in percentage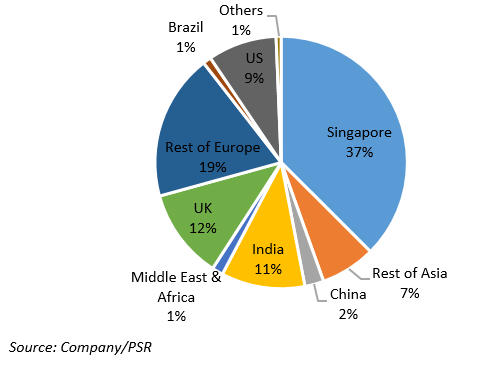 SEGMENT UPDATE
India: Underdeveloped electricity conditions are improving
According to World Energy Outlook 2016 from International Energy Agency, the population without electricity totalled 244mn with national electrification rate of 81% in India. The urban electrification rate is 4% shy of full access level while the rural rate is 74%. The imbalance of power distribution is severe across states and regions in India, as shown in Figure 3. In the Load Generation Balance Report 2016-17 published by Central Electricity Authority (CEA) in India, all regions in India suffered from power shortage in varying degrees for the year 2015-16. The northern states where have second largest amount of electricity demand are subject to respective c.5% energy and c.7% peak deficit. Though CEA expected such a situation will be improved, as shown in Figure 4, deficiency of electricity in relatively underdeveloped regions such as eastern and north-eastern states could worse off for the year 2016-17.
Figure 3: Actual power supply position for the year 2015-2016

Figure 4: Anticipated all India power supply position for the year 2016-17

MU: million units, MW: megawatt, GW: Gigawatt, BU: billion units
The Indian government has been actively expanding the development of infrastructure for electrification. Referring to Figure 5, the installed capacity across the country has grown to 302.1 GW with a compound annual growth rate of 9.6% from 2007 to 2016. As of Apr-17, the installed capacity was recorded at 329.2 GW according to Ministry of Power in India. In the National Electricity Plan 2016, the total capacity addition during 2017 to 2022 is expected to be 187.8 GW, tantamount to 57% growth from the current amount. However, the CAGR of actual electricity generation was only 5.9% from 2007 to 2016, which translated to a relatively low plant load factor (PLF), a measure of average capacity utilisation. Though electricity generation was recorded at a new high of 1,107.4 BU in 2015-16, the PFL arrived at a new low of 42%. We can see a downtrend of PLF over the past 10 years.
Figure 5: Installed capacity, electricity generation, and plant load factor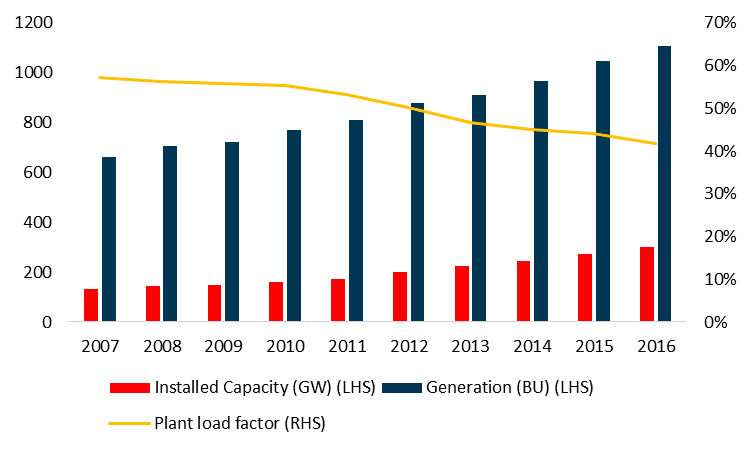 Source: National Electricity Plan 2016/CEA/PSR
There are several major factors resulting in lower PLF and power shortage.
Some power plants suffer from insufficient or intermittent feedstock supply to fuel the operation. As of Mar-2016, the coal, hydro, and gas installed capacity took up resprectively 61%, 14%, and 8% of total capacity. Lacking cheaper domestic coal and gas supply, India relies on the more expensive imported feedstock. Moreover, some plants are foced to shut down due to lack of water. As of Apr-17, the total water available in live stoarage of 91 reservoirs in the country being monitored by Central Water Commission was 42.7bn cubic meters, which is 27% of the total live storage capacity of these reservoirs.
Some power retailers refused to supply power to poor rural areas due to thin usage and below-cost tariffs. Power distributed to households under the property line is sold lower than market rates amid deferred subsidies from stat governments.
Power theft issues More than 20% loss of electricity during power distribution and transimission was a result of poor technical facilities and commercial regulations.
The weak financial position of distribution companies resulted in recurrent deferment of payment to power generation companies or default on off-take agreements or power purchase agreements.
The India governement has plans to improve the scale as well as efficiencies of the power industry. Besides "Power for All" scheme to electrify all households, industries, and commercial establishment by Mar-19, elimination of coal dependecy over the next couple of years is on track. We can see the ambition of Modi's administration, and expect a promising long-term outlook in India's power sector.
Singapore: Fierce competition in electricity sector until 2019/20
According to Energy Market Authority (EMA), electricity glut has been consistent over the past decade, shown in Figure 6. As of 2015, the power supply and demand was recorded at 47,843.8 GWh and 47,513.8 GWh respectively. The power surplus was reported at 330 GWh in 2015 though it has trending down from 2006 to 2015. During the period, the total licensed generation capacity and peak demand delivered respective CAGR of 3.6% and 2.9% moderately, shown in Figure 7.
Figure 6: Narrow electricity supply glut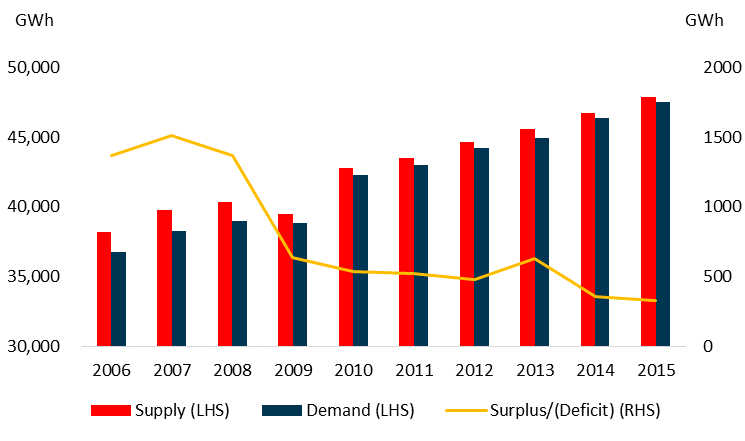 Source: EMA/PSR
Figure 7: Total licensed capacity and peak demand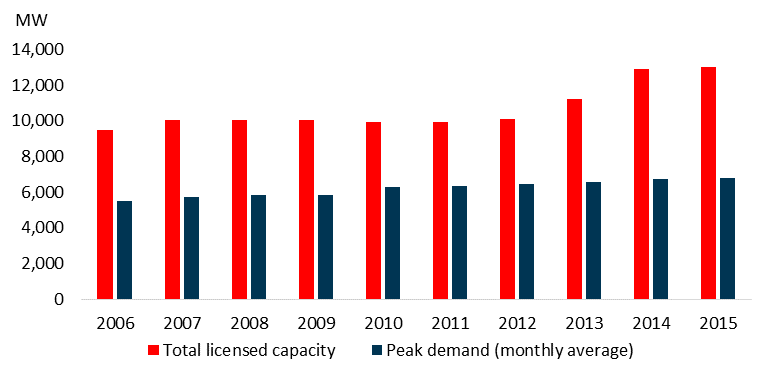 Looking ahead, EMA projected power demand will grow modestly to 53,950 GWh with CAGR of 1.5% from 2017 to 2020, according to Singapore Electricity Market Outlook 2016. In 4 years, the projected installed capacity will reach 13,700 MW, and 700 MW of it will be retired thereafter, shown in Figure 8. The current oversupply condition could subside by 2019.
Figure 8: Projected demand and supply

In Singapore, electricity generated through CCGT/Co-Gen/Tri-Gen plants took up 97% of total units as of 2016, and CCGT is the major operating plant in the category. At the moment, the contracted LNG is flooding the power sector. The "take-or-pay" structure leads power companies to take in the excess gas to generate electricity. The long-term pipeline natural gas (PNG) contracts are expected to expire after 2020. Thus, the glut of feedstock may only decline gradually with the exit of PNG so that excess LNG can fill in the gap. By then, the power supply and demand is forecasted to be more balanced.
Please sign in to download the full report in PDF.