Three acquisition deals, total costs at S$3.24 mn with c.90% funded by cash, with remainder by issuing new shares
All in favourable terms: Expected to add S$410,000 to FY17 bottom line (Profit Guarantee); which implies an inexpensive average acquisition PER at 7.9x
Expects more accretive acquisitions with S$20million unutilised proceeds from term loan, coupled with impending proceeds from spin-off listing of Aidite
Maintained roll-up strategy by adding two more access points to capture market share
Ho Dental Surgery, Toofy and Jurong Point Dental Surgery are dental clinics providing general and specialist services. Toofy Pte. Ltd. will be relocated to TP Dental Surgeons, adding one more dental professional to the current team of 24 dental professionals. Meanwhile, Jurong Point Dental Surgery adds an additional access point in Jurong West region, which has relatively lesser Q&M dental clinics. The Group has opened a new dental outlet at the Midtown in mid-August 2016, after a closing an outlet at Aljunied MRT in end-July 2016. The Group now has a total of 70 dental outlets, 4 medical outlets and 1 aesthetic centre in Singapore; a total of 8 dental outlets in Malaysia; and 3 dental hospitals and 8 dental outlets in China.
Figure 1:

S$20mn in firepower for more acquisitions in Singapore and China
This firepower comes from the unutilised term loan, notwithstanding the impending divestment proceeds of Aidite. To recap, the Group was in S$23.6mn net debt position and has S$65.5mn cash as at 30 June 2016, which we think could fund acquisitions for at least 20 outlets. Only Ho Dental Surgery deal is funded via its typical cash to equities funding structure of 80:20; the other two deals are fully cash funded. Shareholders gave their blessing to the spin-off listing of Aidite on 26 August 2016 Extraordinary General Meeting, and we think that the spin-off listing could materialised by end-FY16.
We continue to remain positive of the Group's prudent acquisition strategy in Singapore and China. The Group stepping up its pace of acquisitions or picking up favourable deals, could lead to further re-rating.
Upgrade to Buy with new higher TP of S$0.93 (previous S$0.72)
These three additional dental clinics will add S$410,000 to FY17 bottom line, by our estimates. Our TP is based on 2.43 Singapore cents FY17F EPS and unchanged 38.2x FY17F PER.
Q&M Dental Group is currently trading above the average Price/Earnings and in line with the average return on equity (ROE), as compared to its regional peers.
Figure 2: Peers Comparison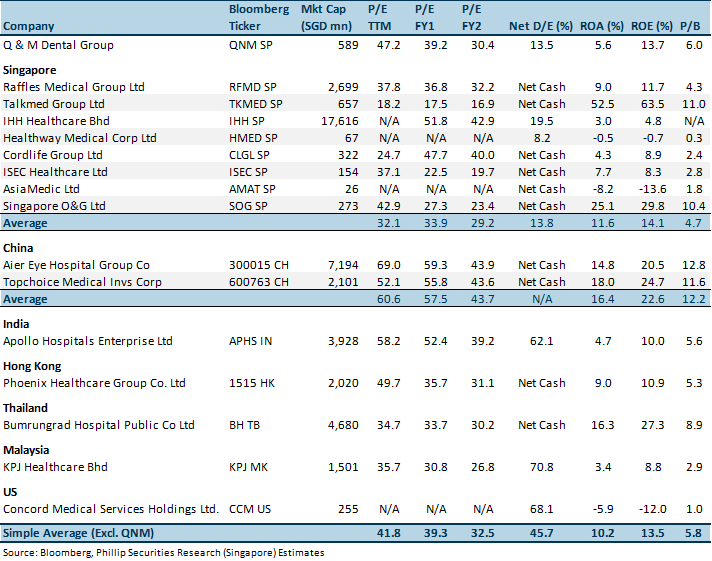 Figure 3: Historical PER