Market: STI rebounded strongly in October, by 4.8% to close at year highs. We raised our bottom-up STI year-end target by 5% to 3450, following our recent upgrade of banks' target prices. We will roll-over our 2018 STI target in December. The equity trade on global growth is alive and well. There is no let-up in the current synchronised boom in global economies. Asian electronic exports are up 28% in September and close to 7-year highs. In Europe, German IFO index is at record highs while in the US, retail sales is growing at 5-year highs and wage growth, at 8-year highs. While we revel, there is a secondary effect. We have entered a new era of rising interest rates. In the past decade, US 10-year Treasury yields have plunged from 5.1% to 1.3%. We see multiple pressures point ahead for yields as central banks look to tighten monetary policy. Firstly, the global economy is humming. Secondly, the Fed is tightening and adamant inflation is just around the corner. In a recent speech by the Fed, it still views current weak inflation as transitory. Thirdly, ECB has grudgingly started to reverse its QE by reducing monthly purchases. Fourthly, US is taking a pro-cyclical step to further spruce up its economy with tax cuts. Going by past tightening cycles, it takes around 3 years for US economy to fall into recession from the start of every Fed rate tightening. The Fed first rate hike this round began at end-2015. The biggest beneficiary for higher rates will be the financials, in our view.
Recommendation: We upgraded the banking sector to Accumulate from Neutral recently. It is an almost perfect scenario for banks as we head into 2018. Almost every metric is improving, from rising margins with the pick-up in SIBOR to higher loan volumes supported by an improving economy and property market. Special dividends are also possible with less capital buffers, buoyant wealth management income as clients turn less risk-averse and lower credit cost with stable oil prices and as lumpy write-offs tapper down. A genie could not have granted as many wishes. Our picks for banks will be OCBC and DBS. The other picks in finance will be SGX and Sing Investments & Finance. Another stock we upgraded to a BUY is Sheng Siong. Yield recommendations continue to be Asian PayTV, Ascendas REIT and CapitaCommercial Trust.
Sector: In addition to our upbeat view on banks, there are initial signs of returning domestic demand. Retail sales were up an encouraging 3.5% in August. Their reading was the best in more than a year. While still early days, a major retailer in Singapore reported an uptick in its September sales, after six quarters of contraction. Multiple industrial indicators in Singapore still point to healthy economic activity including PMI, industrial production and loans growth. This was captured in 3Q17 advance GDP estimate, which was up 4.6%, the fastest in more than three years.
Technical Analysis: Straits Times Index – Broke a new 52-week high 3195

In the September monthly review report, we emphasised the importance of the 3189 support area. Since then, the 3189 support area held up steadily and succeeded in reversing the STI back into the uptrend. On the weekly timeframe, the 3189 support area also coincided with the 20-week moving average making that area a major pivot point. The subsequent bullish break above the 20 week moving average and downtrend line in the week ended 6 October kick-started the current up leg. Moreover, with October closing above the 3354 July high, the STI has successfully established another new 52-week high. Thus confirming the progress of the uptrend since February 2016 with the formation of the series of higher highs and higher lows.
With the ongoing bullish momentum, expect the STI to head higher next to test the 3457 resistance area followed by 3549.
PHILLIP SINGAPORE SECTOR UNIVERSE

Best performing sectors in Oct17 were: Shipping, Commodities and Industrial. The gains in shipping were from both SembCorp Marine (+10.6%) and Yangzijiang (+10.1%). Commodities gained on big moves by Olam (16.3%) and Geo Energy (11.1%). Industrial sector increase was led by Hi-P (+38.5%), Micro-Mechanics (23.8%) and AEM (+23.2%). Under our coverage, the biggest gainers were Micro-Mechanics (+23.8%), CDL (+14.2%) and SembCorp Industries (+11.1%).
Worst performing sectors in Oct17 were: Healthcare, Transportation and REIT-Others. Healthcare was down due to the decline in IHH (-2.4%). Weakness in transportation was a result of weakness in SIA Engineering (-6.6%) and ComfortDelgro (-2.9%). REIT-Others generally underperformed due to Manulife US-REIT (-1.1%) and Hutchinson Port (unchanged). Major decliners under our coverage include Banyan Tree (-6.8%), SIA Engineering (-6.6%) and Soilbuild (-5.7%).
SUMMARY OF SECTOR AND COMPANY VIEWS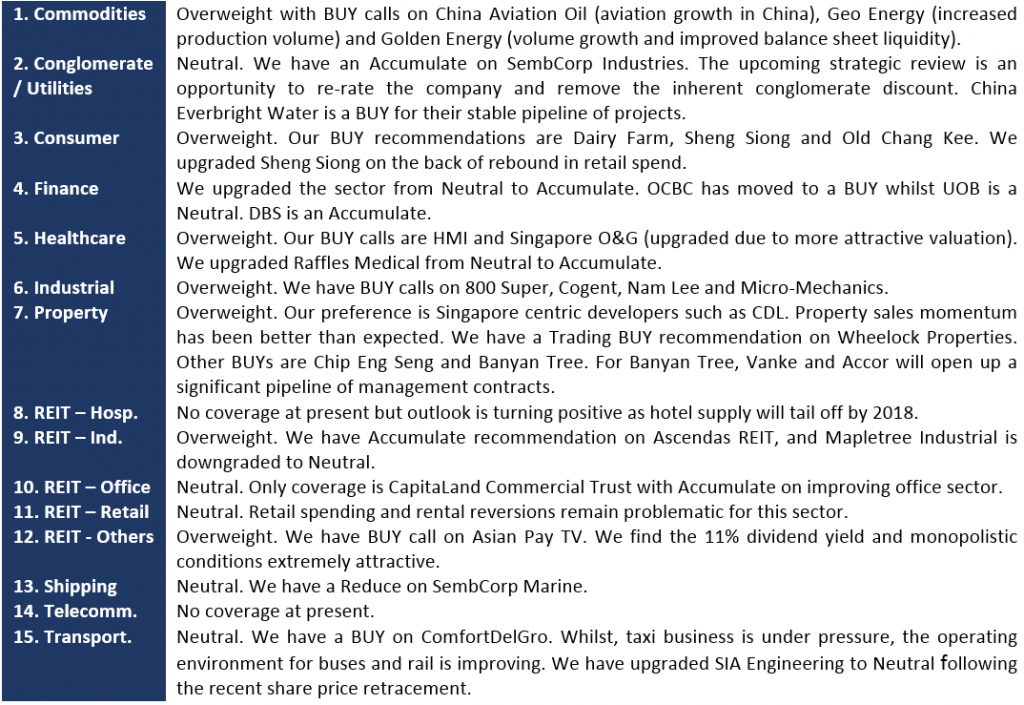 MACRO COMMENTARY
MAS keeps neutral stance
The central bank maintained the rate of appreciation of its Singapore dollar nominal effective exchange rate (S$NEER) policy band at 0%. The width of the policy band and the level at which it is centred remains unchanged.
Comment: No surprise on the neutral policy statement. Whether this neutral policy is on "an extended period" was more cryptic. MAS seem to highlight that this neutral policy on an extended period has been around since October 2016. This may imply that this extended period would be coming to an end soon. Other notable difference from April statement was that the growth in Singapore economy should become more even in the quarters ahead.
The following is MAS outlook summary:
Core inflation – around 1.5% in 2017 and average 1 to 2% in 2018.
GDP – Should be in the upper half of the 2-3% forecast range in 2017.
2018 outlook – Singapore economy is likely to expand at a steady, but slightly slower pace in 2018 compared to 2017.
Labour market improves further in Q3, job cuts down slightly
The unemployment rate was 2.1% in September after accounting for seasonal variations, down slightly from 2.2% June, preliminary data released by the Ministry of Manpower (MOM). Retrenchments in the third quarter – from July to September – remained at about the same level as in the previous quarter, coming down marginally to 3,600, from 3,640.
Comment: Net employment in 3Q17 was down 7k and YTD a negative 15k. This remains a far cry from the average 125k net jobs per year from 2010 to 2014. Echoing recent comments by the MoM, 100k new jobs a year is too high and targeted net employment is 25k to 40k a year. The government is looking to transform the economy from 4% employment growth with little productivity (4 + 0 = 4), to an economy that grows based on 1% employment growth and 2% productivity growth to achieve 3% GDP growth (1 + 2 = 3).
SECTOR COMMENTARY
PROPERTY
Chip Eng Seng to buy Changi Garden for S$248.8m, 27% above asking price
The purchase price is about 27% above the asking price of S$196mn and S$888 per square foot per plot ratio. The freehold development comprises 60 apartments, 12 penthouses and 12 shops.
Comment: The purchase price compares with the average transacted prices (2016-2017) of S$680/psf and S$752/psf for Ballota Park and Edelweiss Park in the vicinity (200-500m from en bloc site). Both projects are completed freehold condominiums. At land price of S$888/psf, after factoring in construction costs and mid-teens margins, launch price could be upwards of S$1,400/psf, representing a close to doubling of vicinity transacted prices. Execution risks are high, but we think positive factors for the new project could include pent up demand in the area with a good catchment of private landed households, and demand (new sale/rental) from increased employment at the new Changi Airport Terminal 4.
TRANSPORTATION
Grab bags US$700mn financing, partners SMRT to build region's 'largest car rental fleet'
Grab announced that it has secured debt facilities of up to US$700mn from "leading global and regional banks" – the largest ever debt financing round raised by a South-east Asian startup. Grab added that it has signed an exclusive partnership with SMRT to build the largest and most advanced taxi and private-hire car fleet in Singapore, which will include hybrid and fully electric vehicles.
Comment: Taxi business in Singapore for the incumbents will remain under pressure from ride-hailing apps. However, a point to note is that both Uber and Grab are still making losses, and investors would expect a return eventually. Failing which, funding will inevitably dry up. Despite the competitive pressure from ride-hailing apps, the taxi business in Singapore for ComfortDelGro remains profitable. Meanwhile, ComfortDelGro had announced a possible tie-up with Uber and we await more details on that collaboration.
SATS, AirAsia ink ground-handling pact
SATS will acquire a 50 % stake in AirAsia's Ground Team Red Holdings (GTRH) in exchange for SATS' 80% stake in SATS Ground Services Singapore (SGSS). SGSS is a new ground-handling entity formed to serve customers at Changi Airport's new Terminal 4 – along with S$119.3mn in cash.
Comment: This move will see both companies take a stake in one another's Ground Handling business. SATS will have an effective stake of 60% in SGSS, and effective 49% stake in GTR Malaysia. AirAsia's exposure to the Singapore Ground Handling business is limited to only Terminal 4; whereas SATS's exposure is in Malaysia where AirAsia operates. According to IATA, 9M 2017 air passenger traffic has grown 10% YoY for the Asia Pacific market, much of it we believe is due to the proliferation of low-cost-carriers. Both SATS and AirAsia are poised to be beneficiaries of this trend.