Market: STI was up 3.2% in July. We remain Neutral. We leave our STI target unchanged at 3,270 (15x FY17e P/E). That said, we see upside risks as the macro environment has panned out far better than expected. Call it goldilocks or nirvana; macro indicators show that global economic growth picked up pace in June and inflation is trending lower. Indicators such as orders, production and exports all rebounded in June. US Core CPI is on its fifth consecutive month of decline. This downward spiral is capping any surge in US bond yields. Nevertheless, we believe another 25bp hike has been baked in by year end. While the Fed's chief did express some uncertainties over inflation, its FOMC statement suggests little change in direction: balance-sheet unwinding to be "relatively soon" and a gradual increase in Fed rates. The Fed is apparently adamant on monetary tightening, despite a softer inflation outlook. Perhaps, rising asset prices and the systemic risks they pose are behind this. Another central bank on the tightening path is the ECB, which deferred any decision for QE tapering to likely, September. The market is eyeing on early 2018. Over in Singapore, production and exports bounced back in June. But domestic demand remains soft, especially construction, retail and healthcare.
Recommendation: In July, we upgraded several stocks: 1) CapitaLand Commercial Trust: after several quarters of decline, office rentals are stabilising; 2) Mapletree Industrial Trust: industry supply rolls over and industrial activity is recovering; 3) OCBC: better-than-expected results with momentum in wealth management. We initiated coverage of Sing Investments & Finance with an Accumulate. We expect a major turnaround this year while a relaxation of lending/deposit rules could provide multi-year growth opportunities. Other initiations were Thai Beverage and Ascendas REIT. Thai Beverage's S$1b cash flows p.a. from its market dominance in Thailand will be funnelled to faster-growing non-alcoholic beverages and CLMV* markets. Ascendas REIT's broad portfolio of properties and expansion in Australia augur well for dividend sustainability.  Our yield picks are Asian PayTV, Mapletree Industrial Trust, Ascendas REIT and CapitaLand Commercial Trust. Property is another sector we favour. So far, the larger caps have led the rally. We expect performance to rotate to the small and mid-caps. Our favourites are Chip Eng Seng and Wheelock Properties.
(*CLMV – Cambodia, Laos, Myanmar, Vietnam)
Sector/Corporate: Major corporate news included the takeover of Global Logistic Properties. The offer price was a whopping 30% above NAV. Another highlight was the entry of Amazon into Singapore. While there would be some teething issues, Amazon's first salvo was already a very compelling pricing with unbelievable two-hour deliveries. Our larger issue is: multiple sectors in Singapore are facing tremendous structural challenges, from marine to telecommunications, transport and now, retail.
Technical Analysis : Straits Times Index – Uptrend re-established
STI Daily Chart                      Current Sentiment: Bullish

Source:  Bloomberg, Phillip Securities Research Pte Ltd    
Red line = 20 period moving average, Blue line = 60 period moving average, Green line = 200 period moving average
The Straits Times Index (STI) advanced 3.2% for the month of July and had finally broken out of the range to the upside. After being stuck within the 3274 range high and 3189 range low since May 2017, the STI successfully kept the uptrend intact as a bullish break above the 3274 range high occurred on 14 July 2017.
The multiple bullish rejections off the confluence of 60 day moving average and 3189 range low since 21 June 2017 proves that the uptrend is still going strong.
With the bullish breakout above the range, expect the STI to resume moving back into the uptrend where it seeks to form the next higher high and higher low formation. Some targets on the upside are the 3387 resistance area followed by 3458.
On the downside, the crucial area to watch is the 3189 previous range low as the break below the 3274 range low would adversely shift the sentiment to the downside.
PHILLIP SINGAPORE SECTOR UNIVERSE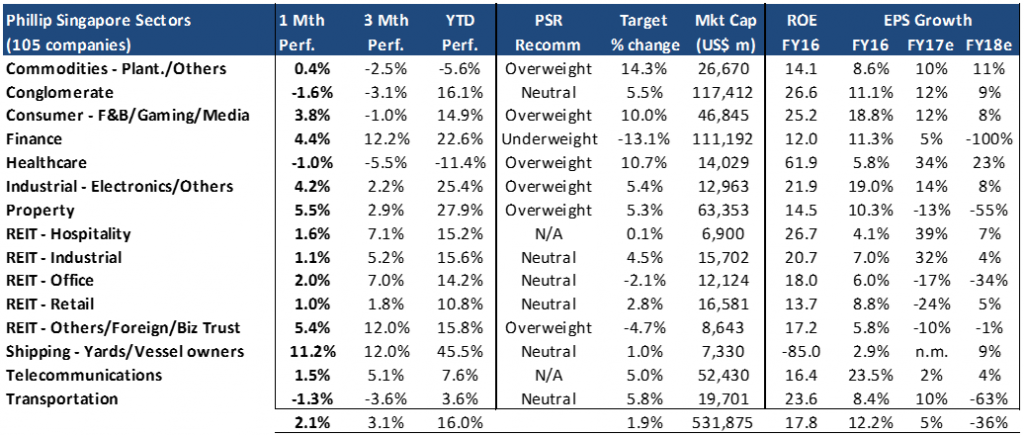 Best performing sectors in July17 were: Shipping, Property and REIT Others. The gains in shipping were from Yangzijiang (+18.9%). Property sector performed well due to GLP (+15.7%). REIT Others was again the top three performing sectors with gains in Hutchinson Port (+10.5%).
Worst performing sectors in July17 were: Conglomerate, Transportation and Healthcare.  In conglomerate, losses were due to Jardine C&C (-9.0%). For transportation, SIA Engineering (-9.6%) and SATS (-5.5%) were the largest losers. Healthcare losses were broad-based Singapore O&G (-22.5%), Q&M (-5.2%) and Raffles medical (-4.1%).
SUMMARY OF SECTOR AND COMPANY VIEWS