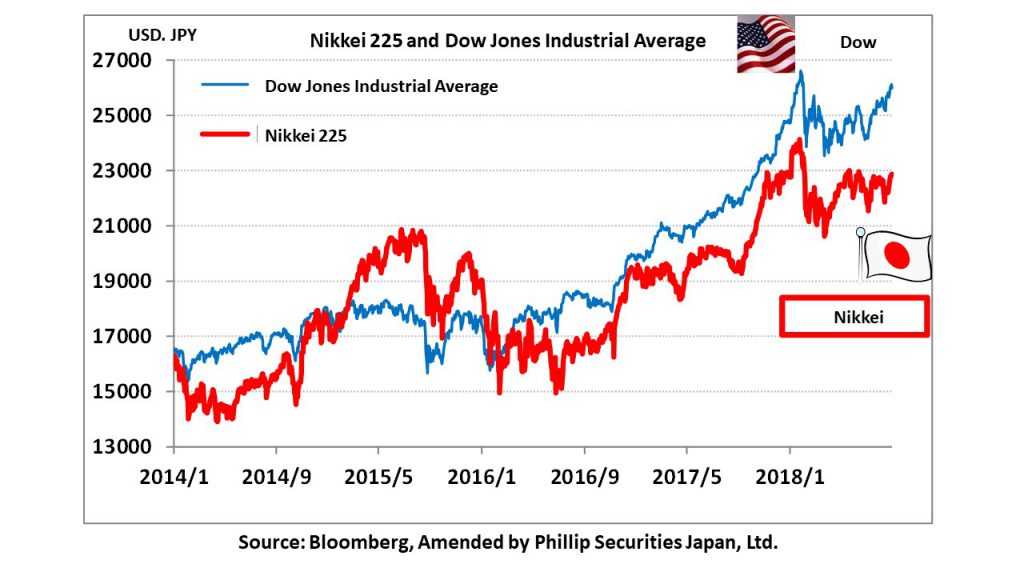 It is said that "Life has its ups and downs", and this indeed also does seem to apply to the stock market.  Tesla (TSLA), which dominated the EV (Electric Vehicle) industry as a representative brand, is now in a dilemma.  CEO Elon Musk, the mercenary who launched a space development program and planned solar missions and Mars migration, tweeted, saying, "We are considering privatizing Tesla at 420 dollars per share.  We have already secured the funds.".  However, this was withdrawn soon afterwards.  Confidence of investors was negatively impacted when production targets of  Model 3 were not met, resulting in the stock price plunging sharply. 
Global automotive manufacturers are competing fiercely in EV development, and Tesla is no longer the only one in this field.  Sumitomo Metal Mining Co., Ltd. (5713) is planning to expand the supply of positive electrode materials for EV rechargeable batteries beyond Tesla.  With this development, Panasonic (6752), which is collaborating on the EV battery and solar cell businesses, is reviewing its exclusive supply contract for solar cells.  Many in the industry are reviewing their dependence upon Tesla. In the meantime, many domestic companies which are said to be related companies of Apple (AAPL) are dependent on the company's stock price and performance.  We do not expect Apple to encounter hard times in the near future, but we need to pay attention to companies which are heavily dependent on a particular company.  We need to check our risk tolerance level and diversify our investments. 
President Trump, who continues to keep his hardline posture as usual, has begun to bear his teeth at Japan.    While talking about having good relations with Japanese leaders, he added pressure on Japan by saying that "As soon as I tell them how much they need to pay, (good relations) will end.".  Japan may be in a difficult situation when the Japan-US trade talks (FFR) restart in September.  President Trump is strengthening measures to reduce trade deficits ahead of the midterm elections.
At present, it can be said that negotiations with China and Canada are not progressing well for the US.  Although measures to reduce trade deficits with Japan were expected, there is a possibility of further yen appreciation in the forex market.  However, earnings of domestic companies have been healthy and investments have been active.  From a long-term perspective, it can also be a good opportunity for investing in good performance / high-quality stocks in a downturn market.  Let's choose stocks by focusing on valuation aspects such as PER and PBR. 
In the 9/10 issue, we will be covering Adastria (2685),   Kushikatsu Tanaka Holdings (3547), Rozetta (6182), Takeuchi Mfg (6432), Casio Computer (6952) and Pigeon (7956).
Selected Stocks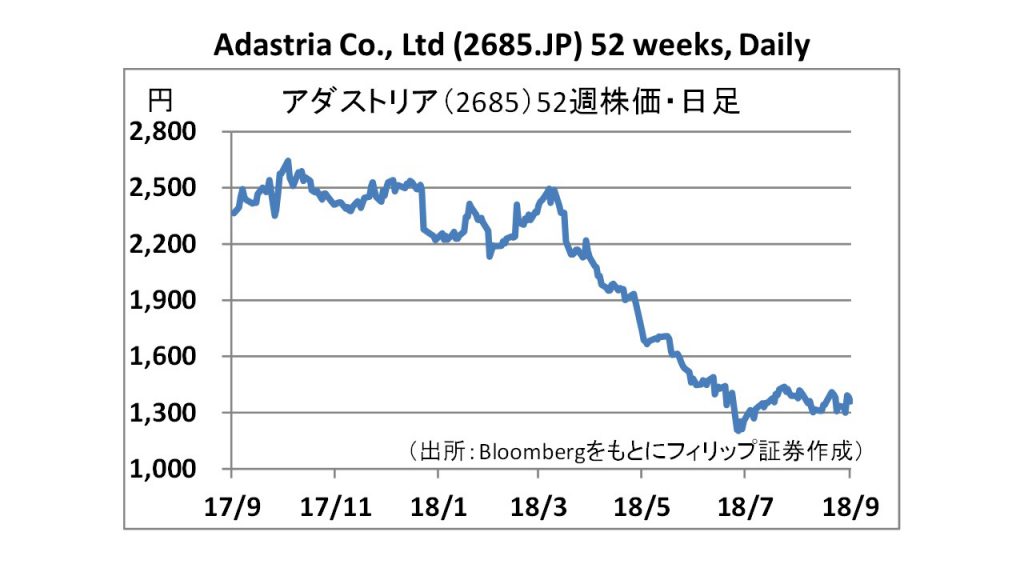 Adastria Co., Ltd (2685)
・Established in 1953.  Plans and sells clothing items and related products.  Developing business by introducing casual fashion brands such as "Global Work", "Lowrys Farm", Lepsim", "Jeanasis", "Rageblue", and lifestyle brands such as "Niko and…" and "Studio Clip", etc. 
・For 1Q (Mar-May) of FY2019/2, net sales decreased by 4.9% to 51.392 billion yen compared to the same period the previous year, operating income decreased by 66.6% to 1.278 billion yen, and net income decreased by 95.4% to 239 million yen.  Brands other than "Niko and…" struggled due to temporary bad weather in May, and the fact that sales of summer merchandise introduced from mid-April did not take off, resulting in lower sales and profits.
・For FY2019/2 plan, net sales is expected to increase by 1.9% to 227.0 billion yen compared to the previous year, operating income to increase by 67.8% to 8.4 billion yen, and net income to increase by 5.1 times to 4.4 billion yen.  Starting rental of children's clothing on 9/18.  By using a dedicated app for membership registration and paying a monthly fee of 980 yen, customers will receive eight pieces of clothing per month.  Aiming to capture new demand from working housewives.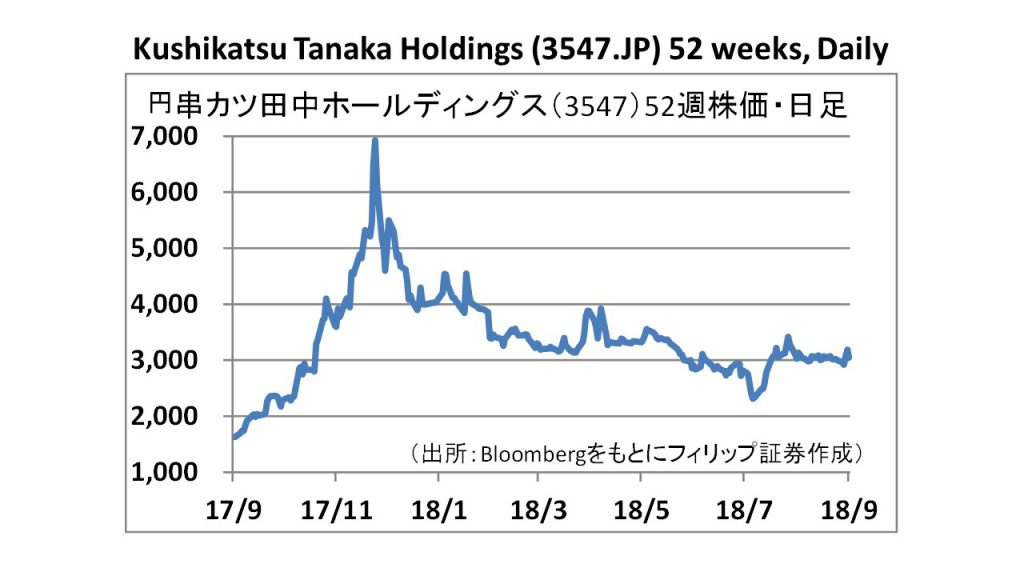 Kushikatsu Tanaka Holdings Co. (3547)
・Established in 2002.  Developing food business focusing on the Kanto region with a single brand, "Kushikatsu Tanaka".  Besides kushikatsu, also offering menus and drinks centering on Osaka specialties, such as udon in soup containing deep-fried beef offal, beef tendon stew, beef cooked in udon soup, chiritori nabe, takoyaki, pickled ginger drink and cold candy, etc.  Aiming for stores with mass appeal, customer unit price has been set at around 2,400 yen.
・For 1H (2017/12-2018/5) of FY2018/11, net sales increased by 33.7% to 3.35 billion yen compared to the same period the previous year, operating income increased by 9.9% to 215 million yen, and net income increased by 14.8% to 180 million yen.  In addition to healthy sales from existing stores, 20 stores which opened in the previous fiscal year, and 13 stores which opened in the current fiscal year, also contributed to earnings.  Increase in franchisees had also contributed.
・For FY2018/11 plan(1), net sales is expected to be 7.5 billion yen, operating income to be 530 million yen, and net income to be 390 million yen.  Existing store sales in August increased by 9.7% from the same month of the previous year, and customers increased by 12.1% for the same period.  Complete no-smoking policy has contributed.
As there was a change to a holding company structure since 3Q (2017/12-2018/8) of FY2018/11, the rate of change over the previous term was not stated