9M17 net property income, DPU within our estimates.
Improvements in NPI margins sustained a 1.6% increase in NPI despite flat revenue.
No signs of recovery in tenant sales yet and rental reversions under pressure.
Maintain Neutral with unchanged TP of S$2.01.

POSITIVES
+ Net Property Income (NPI) margins improved YoY from 70.4% to 71.6%. This is a result of the bigger 4.2% drop in property expenses vs the 0.2% drop in gross revenue. Lower property tax and utilities expenses YoY contributed to the improvement in margins.
NEGATIVES
– No signs of recovery in retail sales yet: Tenant sales came in flat YoY, continuing the slow trend in FY17 (1H: 0%, 1Q: -0.7%). This contrasts with the slight recovery in overall retail sales tracked by Singstats (average 3.1% growth ex Motor Vehicles since April) (Figure 1). This suggests the improvement could be led by online sales or petrol sales.
– Selected malls continue to be under pressure in rental reversion, especially in the east: On top of the weaker malls this year Westgate and Bedok Mall, Tampines Mall also saw significant reversal in rental for 9M17, down 4.3%. This contrasts with the 0.6% reversions for 1H17. This suggests the 8,823sq ft renewed in 3Q17 experienced a massive negative reversion, as much as -29%. Major supply of retail space in the East these 2 years in Singapore Post Centre, Paya Lebar Quarter, and Jewel (Total 1.1 mn sq ft) could exert further pressure on rents for malls in the east going forward.
OUTLOOK
We expect continued pressure for rental reversions until end FY17. The tough operating retail environment is expected to continue with the ongoing threat of e-commerce, in particular Amazon's recent launch into Singapore. We do not see any clear near-term catalysts for the operating performance of CMT.
Maintain NEUTRAL with unchanged target price of S$2.01.
This translates to a FY17e yield of 5.6% and P/NAV of 1.00.
Figure 1: Gradual pick up in overall retail sales from March this year, which include online sales and non-mall sales such as petrol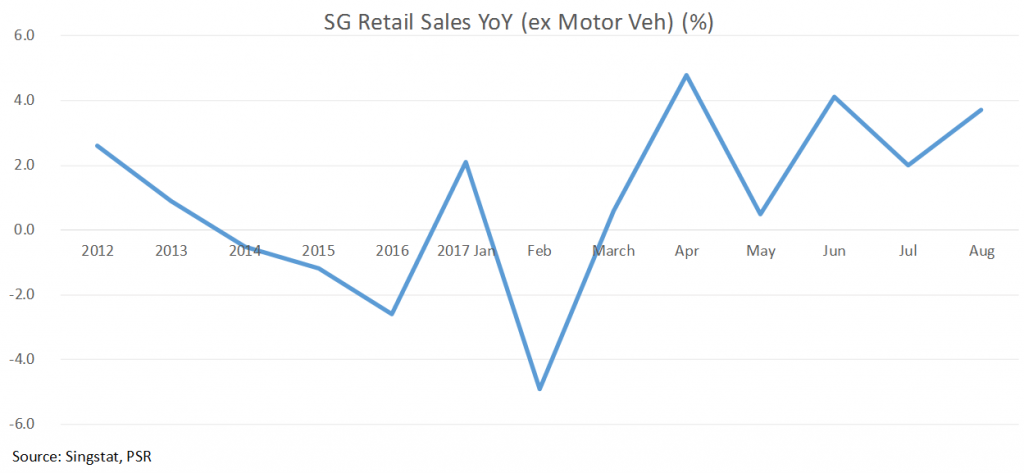 Figures 2 and 3: CMT trades at below post GFC average valuations

Figure 4: Peer comparison table