WDC beat revenue and earnings estimates
Stronger than expected HDD demand
Repricing Debt for better interest expense
Maintain with "BUY" rating and increased TP of US$71.54
Results at a glance:

Source: Company, Phillip Securities Research (Singapore)
Revenue outperformed expectation, driven by synergies. This quarter marks the first quarter for the fully consolidated WDC and SanDisk Company. WDC reported revenue of US$4.7 bn for the 1QFY17, which was in line with our estimates and beating consensus estimates of about US$4.5 bn. The GAAP Net Income (Loss) for the quarter however, was a loss of US$336 mn, while Non-GAAP EPS, which excluded some of the restructuring cost of the acquisition, was at US$448 mn. We estimated WDC to have net income of US$361 mn, representing a beat of about US$80 mn. WDC was able to control the operating expenses better than we had estimated, indicating that WDC has been able to start achieving some synergies from their acquisitions. WDC reaffirms that they are on track to meet synergy targets for their acquisitions and expect to achieve more than US$175 mn in revenue synergy and US$ 300mn in operating expense synergies by the end of next quarter. WDC stated that demand for HDD as well as Flash-based products was strong across all their customer categories. Overall WDC performed better than our expectations in the quarter and also better than consensus estimates, which had WDC revenue at US$4.5 bn and US$1.05 EPS for the quarter.
Interest cost savings to boost bottom line. WDC also chose to do some restructuring of their debt in this quarter by retiring US$750 mn and repricing the remaining US$3 bn Term B loan. They also repriced the second Term B loan of €885 mn. This resulted in a US$267 mn debt extinguishment charge, affecting GAAP earnings, but the company believes that it will generate about US$ 270mn annual cost savings and result in higher earnings next quarter, which represents more than 20% reduction in the annual interest payments we had previously estimated.
Cloud and Enterprise storage continue to drive demand. WDC was able to grow revenue on the back of stronger demand as well as better product mix. While overall number of units shipped was down, data storage demands remained high. Total Exabytes shipped increased 23.5%, with Data Centers growing over 40% yoy..Cloud and enterprise storage demand continued to drive data center Exabyte shipped, with WDC noting that they saw a yoy increase of nearly 50% related to Cloud demand for capacity. Overall WDC saw strong demand from PC markets as well, with client device Exabyte also increasing 14%, as the PC market stabilizes. Client Solution segment, which includes retail offerings, also performed very well, growing more than 32% yoy. WDC attributed the growth to a successful back to school sales period for their retail channels, as well as a strong performance in the gaming sector.  WDC also managed to gain back some of its share of the HDD market, rising to 41.7% from the previous quarter's 40.7%.
Exabytes Shipped:

HDD Units Shipped: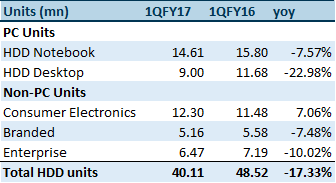 WDC guidance for 2QFY17:
Revenue flat with 1QFY17, about US$4.7 bn
Gross margin about 35%, up 2% from current 33.9%
Operating expenses US$805 mn, down qoq from US$863 mn
EPS range US$1.85 to 1.95, up >8% y-o-y from US$1.72
Investment action
We maintain our "BUY" call on WDC and increased our target price to US$71.24. This represents a 23.4% upside to the current last traded price. WDC outperformed our expectations and consensus estimates. HDD demand showing signs of strength is a positive indication for WDC's plans to continue offering both HDD and SSD products, especially after last quarter's poor HDD showing. The increasing margins, due to better product mix, is also an encouraging sign for WDC. Since we released our initiation, WDC's share price has gone up and is close to our previous target price of US$62.88. Given the better than expected integration and cost controls resulting in lower Operating Expenses, as well as the repricing of their debt to reduce annual interest expense significantly, we have increased our target price to reflect these developments. With cloud and enterprise storage continuing to increase demand for data storage capacity, we remain confident in WDC's ability to grow their business. Overall, we feel that this quarter's numbers have shown that WDC has been able to keep on track with the integration of its acquisitions and that the acquisition of SanDisk is already starting to show fruits, with growing gross margins and revenues. With HDD showing signs of stabilizing, we maintain our assumption that the HDD market is not likely to decline to zero and that WDC remains well positioned to profit from both the HDD and SSD markets.