WDC beat revenue and earnings estimates
Non-GAAP gross margin expanded
Data Storage demand continues to grow
Downgrade to "ACCUMULATE" rating and increased TP of US$84.11
Results at a glance:

Source: Company, Phillip Securities Research (Singapore)
Revenue and earnings higher. This quarter results continue to show that despite the large amounts of debt WDC took on to acquire SanDisk, the payout was well worth it. WDC reported revenue of US$4.89 bn for the 2QFY17, which was in line with our estimates and beating consensus estimates of about US$4.7 bn. The GAAP Net Income for the quarter was US$235 mn, while Non-GAAP EPS, which excluded some of the restructuring cost of the acquisition, was at US$675 mn. We estimated WDC to have net income of US$392 mn, representing a beat of about US$283 mn. WDC managed to expand their non-GAAP gross margin to 36.7%, up 280 basis points from the previous quarter. The company attributed the larger margin to product cost improvements and healthy pricing. A healthier PC market as well as the holiday season's stronger demand is likely to have helped WDC be able to better price their products, leading to the higher gross margin. WDC continued to reaffirm that they are on track to meet synergy targets for their acquisitions, achieving US$175mn in cost of revenue synergies and US$300mn in operating expense synergies. Overall WDC performed better than our expectations in the quarter and also better than consensus estimates, which had WDC revenue at US$4.7 bn and US$2.124 EPS for the quarter.
Stronger data storage demand. While reported HDD unit numbers were down yoy, total Exabytes shipped increased 12.6%, with Data Centers growing over 16.9% yoy. WDC commented that there was tightness in supply of storage capacity, leading to opportunity in the near term for HDD to satisfy PC demand for storage. Overall, WDC saw better than expected demand from PC markets, with client device Exabyte also increasing 11%, as the PC market continued to stabilize. Client Solution segment, which includes retail offerings, also performed very well, growing more than 8% yoy.
Exabytes Shipped:

HDD Units Shipped: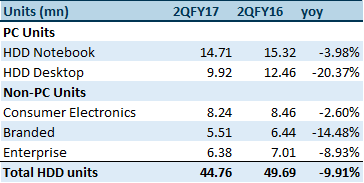 WDC guidance for 2QFY17:
Revenue down from 2QFY17, about US$4.55 bn
Gross margin about 38%, up 1.3% from current 36.7%
Operating expenses US$800 mn, down flat from US$797 mn
EPS US$2.00 to 2.10, down qoq from US$2.30
Investment action
We downgrade our call on WDC to an "ACCUMULATE" with an increased target price of US$84.11. Since our last earnings update on WDC, the stock has surged over 30% to its last closing price of US$79.73 (our previous target price was US$71.54). WDC outperformed our expectations and consensus estimates. This quarter's results show that WDC acquisition of SanDisk was a necessary move to accelerate growth. The product mix of HDD and SSD allowed for a better gross margin and the synergies for the consolidated company continue to be accretive to their bottom line. HDD demand while down yoy, desktop and notebook units shipped were up qoq, which is a positive indication for the stabilization of the PC market. Given the margin expansion and continued growth in demand for data storage, we believe that WDC is well positioned to continue to benefit from the growth of cloud and data center storage requirements. The refinancing of their debt in the previous quarter, continued achievement of acquisition synergies and better than expected cost controls lead us to increase our target price to US$84.11.