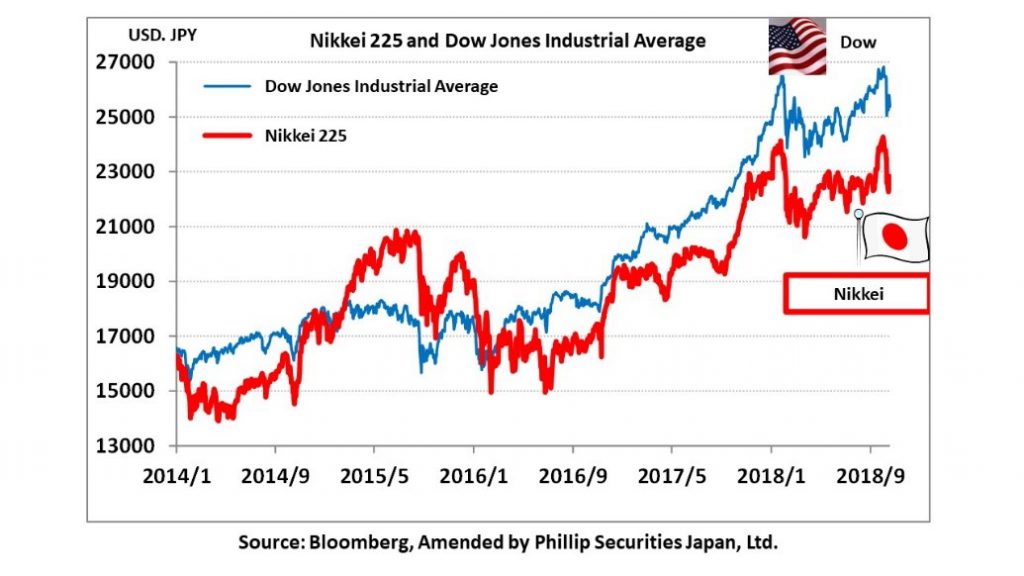 "Market undervalued despite deterioration in investor sentiments?"
Matters of concern keep disappearing and reappearing, even after big events like the US mid-term elections.  In particular, bad news from overseas are exacerbating investor sentiment.  Despite the resumption of US-China trade talks, the results of the two major US semiconductor-related companies, namely NVIDIA (NVDA) and Applied Materials (AMAT), have both fallen short of market expectations, with the Japanese stock market being pushed down as a result.  Department stores Macy's (M) and Wal-Mart Stores (WMT) also did not meet rising market expectations, and their stocks fell on such news. 
In the UK, the prospect of a Brexit from the EU without a deal has re-surfaced.  Meanwhile, amid rising expectations for improvements of relations between Japan and China, the Ministry of Commerce of China has begun investigating Japanese manufacturers of machine tools such as Fanuc (6954) on suspicions of underselling (dumping).   At last, there are signs of the crude oil price decline coming to an end, but before that, it had actually continued to drop for 12 business days until 13/11.  WTI crude oil futures prices fell sharply by 17.6% (▲11.90 dollars/barrel) during this period, from 67.59 dollars/barrel on 26/10 to 55.69 dollars/barrel. 
On 12/11, Lumentum Holdings (LITE), which manufactures and supplies main components / VCSEL (Vertical Cavity Surface Emitting Laser) for 3D sensors through its subsidiary, revised its business forecast for the 2Q (Oct-Dec) period of FY2019/6 downwards, resulting in its share price plummeting.  It became clear that a major customer of laser diodes for 3D sensors had requested a huge cut in relation to previous shipping orders.  It is presumed that its major customer is Apple (AAPL).  As a result, stock prices of all related Japanese and US companies fell sharply.  LITE manufactures VCSEL for AAPL's latest iPhone with 3D face recognition function. 
AAPL's share price plummeted for 5 consecutive business days from 209.95 dollars on 7/11 to 186.80 dollars on 14/11 (dropping 23.15 dollars, or 11.0%).  Meanwhile, led by AAPL, the NY Dow also fell for four consecutive business days, from 26,191.22 points on 8/11 to 25,080.50 points on 14/11 (dropping 1,110.72 points or 4.2%).  The impact of the sharp drop in the share price of America's first company with market capitalization exceeding one trillion dollars is indeed significant.  However, based on valuations and technical indicators, domestic stock indices appear vastly undervalued.  We see room for more positive valuations of financial companies like trading houses, banks, life and non-life insurance companies, and real estate companies.  While higher hourly wages in part-time jobs are lifting costs, we also expect consumer confidence to improve.  We may therefore also wish to focus on the share prices of certain consumption-related companies. 
In the 11/19 issue, we will be covering Meiji Holdings (2269), Bridgestone (5108), Japan Post (6178), Mitsui & Co. (8031), Marui Group (8252) and Sumitomo Realty & Development (8830).