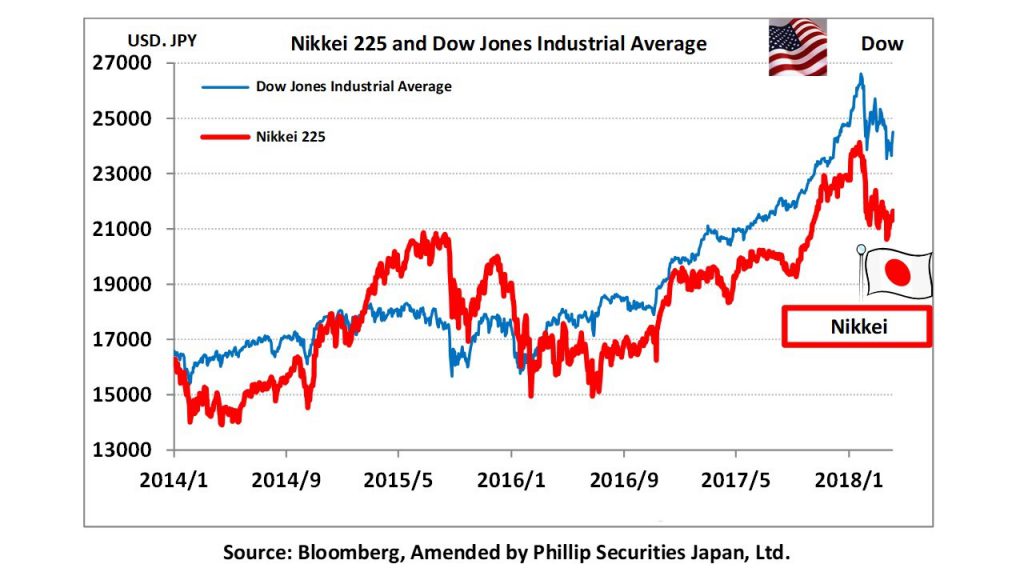 "Investor sentiment improving?"
Evaluation of performance of individual companies in both Japan and the US is spreading to the market as a whole.  The financial results of Lam Research (LRCX), a major semiconductor manufacturing equipment producer, released on 17 Apr reveals that the rate of increase in the 4Q (April-June) of FY2019/6 is expected to slow significantly.  On 19 Apr, Taiwan Semiconductor (TSM), which manufactures outsourced semiconductors for smartphones as its main business, announced that sales for 2Q (April-June) of FY2018/12 are expected to fall significantly below market forecast.  SOX index plummeted on the same day.  High-tech shares in both Japan and the US have become weak.
On the other hand, when Tokyo Electron (8035), which announced its results on 25 Apr, displayed a bullish outlook, investor sentiment began to improve together with softening risk aversion.  The company expects that semiconductor-related capital investment will continue to be favorable owing to strong demand for memory amid increasing applications from sectors such as IoT and data centers.  Intel's (INTC) results also confirmed that the data center sector is indeed strong.  
Fanuc (6954), which develops factory automation and other FA as well as robotics businesses, announced that the company's FY2019/3 plan will fall below market expectations with significant decrease in income and profit.  Major causes include slowdown in demand for robot drills for smartphones, and temporary decline in sales to China. However, it appears that the company, of which the overseas sales composition is about 84%, including China (about 30%), the US (about 20%), and Europe (about 15%), has adopted a very conservative outlook, taking into consideration potential effects from trade fiction, and assuming exchange rates of 100 yen/dollar, 125 yen/euro.  Let's look forward to positive developments during negotiations at the US-China trade talks expected to be held soon.
In addition to Treasury Secretary Mnuchin, President Trump is also dispatching NEC (National Economic Council) Director Kudlow and USTR (United States Trade Representative) Lighthizer to Beijing, in preparation for the trade talks expected to begin in early May.  Facebook (FB) and Amazon.com (AMZN), performances of which are of concern to the market, had announced good results, leading to positive market evaluations.  Foreign exchange tends towards yen depreciation, and foreign funds continue to flow in.  We look forward to companies which had previously announced conservative outlooks to review their performance results.    
In the 1st and 7th of May issue, we will be covering OBIC (4684), Anritsu (6754), Sanyo Denki (6516), Nidec (6594), Tokyo Electron (8035) and Central Japan Railway (9022).
Selected Stocks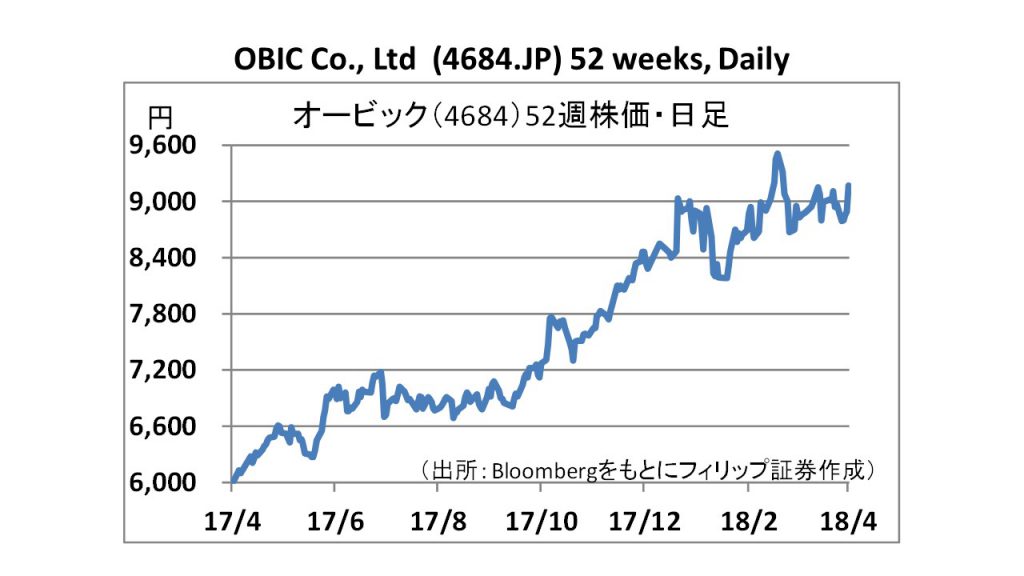 OBIC Co., Ltd (4684)
・Established in 1968.  Involved with system integration, system support and office automation business.  Provides integrated business software "OBIC7" and operation/industry-specific "OBIC7 Operation-Specific Solution".  More than 19,000 companies have used "OBIC7" since its introduction in 1997.
・For FY2018/3, net sales increased by 8.7% to 66.814 billion yen compared to the previous year, operating income increased by 16.1% to 32.325 billion yen, and net income increased by 12.5% to 26.268 billion yen.  Recorded the highest-ever profit for 6 consecutive periods. Companies' IT investment towards productivity improvement was booming, and orders for "OBIC7" for medium-sized enterprises were strong.  System support business was also healthy.
・For FY2019/3 plan, net sales is expected to increase by 6.3% to 71.0 billion yen compared to the previous year, operating income to increase by 8.3% to 35.0 billion yen, and net income to increase by 4.3% to 27.4 billion yen.  Expects to achieve 7 continuous periods of profits over the previous year.  The annual dividend forecast per share, including the commemorative dividend of 10 yen for the company's 50th anniversary, was 115 yen, an increase of 25 yen from the previous term.     (Masubuchi)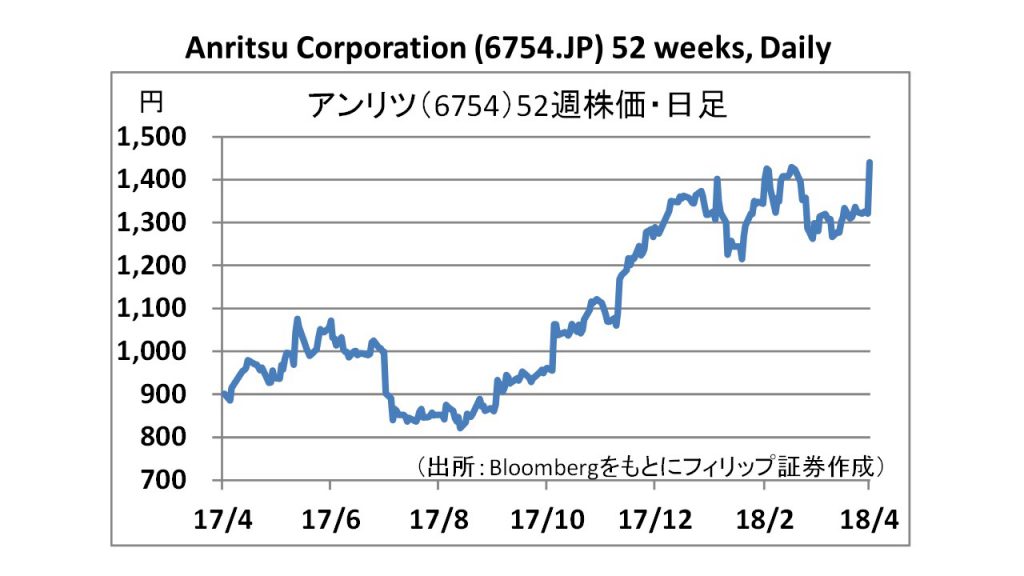 Anritsu Corporation (6754)
・Established in 1895.  Involved with measurement and PQA (Product Quality Assurance) business.  A pioneer in the field of information and telecommunication, developing various telecommunication system and service applications, and providing measurement instruments necessary for quality assurance, foreign matter detector for foods and pharmaceuticals, weight selection machines, remote monitoring control system and bandwidth control devices, etc.
・For FY2018/3, net sales decreased by 1.9% to 85.967 billion yen compared to the previous year, operating income increased by 16.0% to 4.912 billion yen, and net income increased by 6.8% to 2.88 billion yen.  Measuring instruments business was sluggish due to investment restraints by mobile manufacturers, but demand for X-ray automatic inspection machines had expanded due to automation needs against the background of increasing food-safety demand and labor shortage.
・For FY2019/3 plan, net sales is expected to increase by 7.0% to 92.0 billion yen compared to the previous year, operating income to increase by 34.4% to 6.6 billion yen, and net income to increase by 73.6% to 5.0 billion yen. The company's announced mid-term management plan's targets are: FY2021/3 net sales of 105.0 billion yen, operating income of 14.5 billion yen, operating margin of 14%, net income of 11.0 billion yen with ROE of 12%