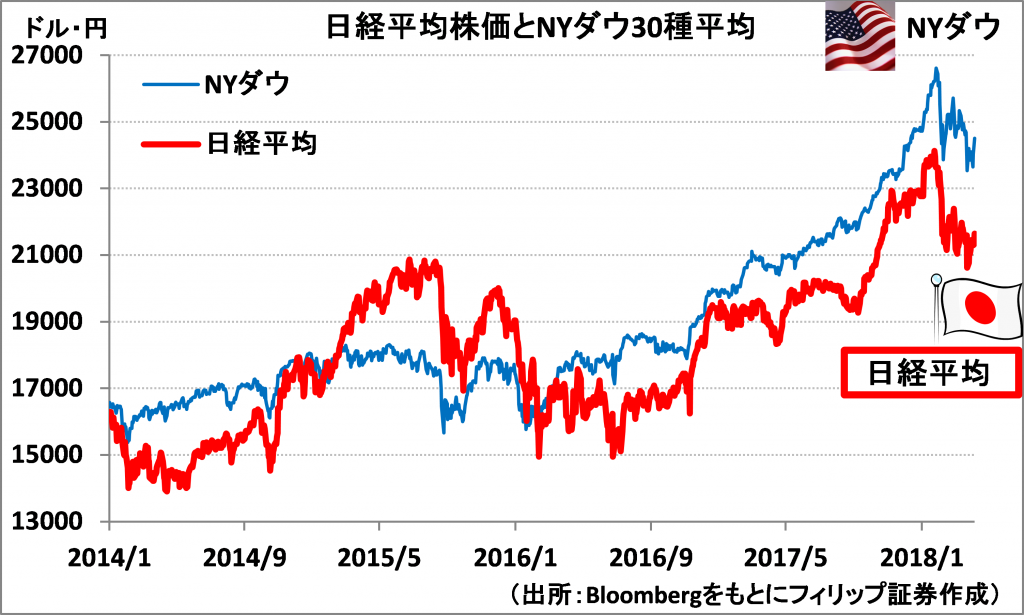 Source: Bloomberg, Amended by Phillip Securities Japan Ltd
"A market with continuing wild fluctuations?"
On 5th April, President Trump revealed that he had instructed the USTR (US Trade Representative) to consider additional tariffs on 100 billion dollars (about 10.7 trillion yen) worth of imports from China. Although the market had increasing expectation that the US and China were carrying out behind-the-scenes negotiations, uncertainty will now become stronger again and this may become a factor in market fluctuations.
On 3rd April, the US announced an additional tariff of 25% on a list of 1,333 products equivalent to 50 billion dollars (5.4 trillion yen) in import value. On top of the 2nd April announcement on additional tariffs on 128 products, centering mainly on agricultural products, of import value of about 3 billion dollars (about 320 billion yen) in 2017, on 4th April, China announced plans to levy an additional tariff of 25% on 106 products imported from the US, such as soybeans, chemicals, automobiles and airplanes, worth about 50 billion dollars. According to the IMF, the size of the 50 billion dollars announced by the US and China is equivalent to 1/3 of the total imports into China from the US in 2017, and less than 10% of China's exports to the US.
Selected Stocks
McDonald's Holdings Japan (2702)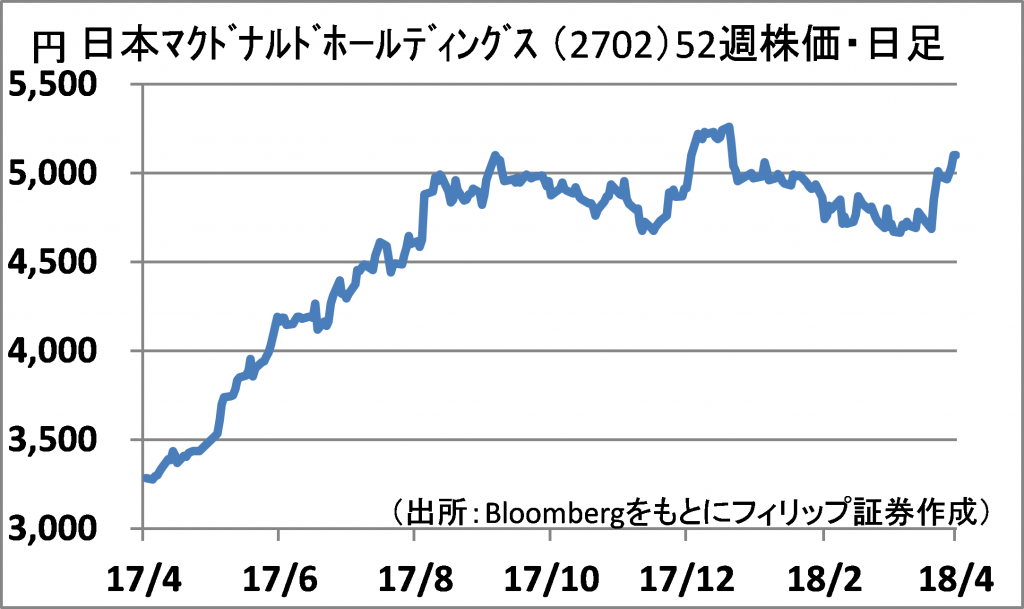 Established in 1971.  Management of "McDonald", a hamburger restaurant chain, and its related businesses.  Operates approximately 2,900 stores nationwide through direct management and franchising. 
For fiscal year 2017/12, net sales increased by 11.9% to 253.64 billion yen compared to the previous year, operating income increased by 2.7 times to 18.912 billion yen, and net income increased by 4.5 times to 24.024 billion yen, recording the highest profits in six years. Has been successively introducing new products and executing new campaigns.  Sales have increased, together with consultancy fees collected from franchisees.  Existing store sales increased by 12.2%
For fiscal year 2018/12 plan, net sales is expected to increase 6.1% to 269 billion compared to the previous year, operating income to increase by 15.3% to 21.8 billion yen, and net income to decrease by 18.8% to 19.5 billion yen.  Existing store sales in March increased by 10.0% compared with the same month last year, recording 28 consecutive months of growth.  "Teri-tama" series is popular.  Dinner time customers have increased with the start of "Night Mac".
Seven & I Holdings Co., Ltd. (3382)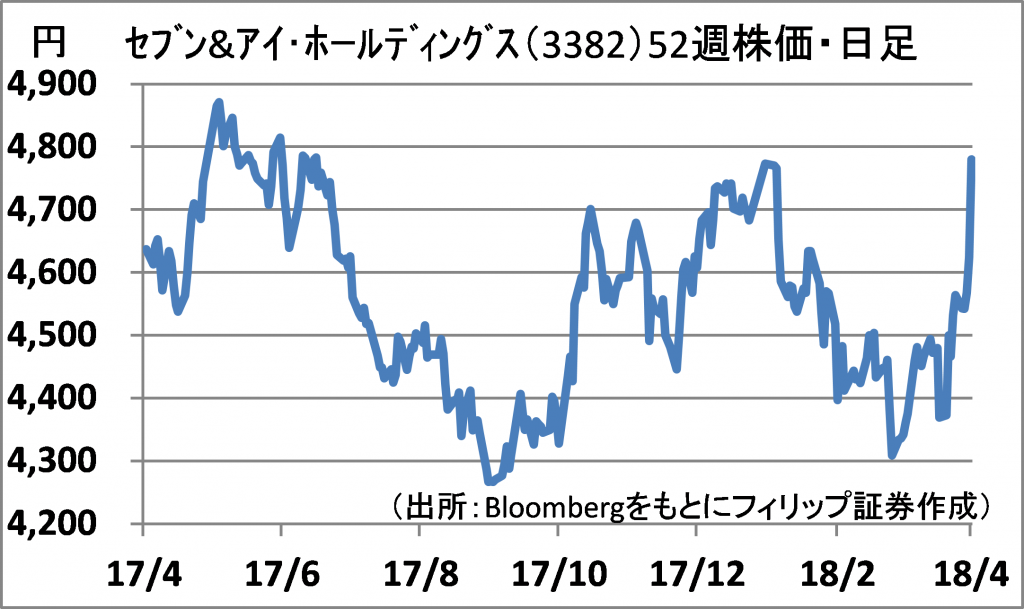 Established in 2005.  A corporate group focusing on distribution, with business operations including convenience stores, superstores, department stores, food service, financial-related service and mail order business.  Developing brands such as Seven-Eleven, Ito-Yokado, Sogo/ Seibu, York-Benimaru, Denny's, Seven Bank etc. 
For FY2018/2, revenues from operations increased by 3.5 % to 6.0378 trillion yen compared to the previous year, operating income increased by 7.4% to 391.657 billion yen, and net income increased by 87.2% to 181.15 billion yen.  This is the first increase in profits in four years, and is the highest profits to date.  Overseas convenience store operations were favorable, and the decline in extraordinary losses recorded in the previous fiscal year for the department stores business has also made a contribution. 
For FY2018/3 plan, revenues from operations is expected to increase by 10.7% to 6.683 trillion yen, operating income to increase by 6.0% to 415 billion yen, and net income to increase by 15.9% to 210 billion yen.  Company has announced a business alliance with Izumi, which is developing its hypermarket business with China as a base.  Planning to provide PB products and jointly open stores in western Japan.