We maintained an Overweight recommendation for the U.S. Banking Sector. Valuations are at their 25-year lows.
The yield curve is likely to have bottomed but will stay within a low range.
Funding costs have risen but will be offset by faster loan repricing
Asset quality continues to improve as banks pull back from risky loans
Our preferred banks are Bank of America (Ticker: BAC) and Citigroup (Ticker: C)
 SECTOR UPDATE
The yield curve is unlikely to invert for this year, while a recession does not seem to be at the doorstep for now. The 10-2 Year Yield spread has increased 3bps to 0.18% since the start of 2019. We believe the yield curve is unlikely to invert this year. Recent Fed commentary point to a pause in raising interest rates this year. The yield curve has begun to steepen as worries of tightening monetary policy choking off economic growth fade away. 
Moreover, the yield spread between U.S. Treasuries and other major reserve currencies continues to widen in 2019. Foreign demand will continue to be a dampening factor that keeps the long-term interest rates low and stable. With a pause in the interest rate hikes and long-term interest rates stable, the yield spread is unlikely to invert albeit staying at low levels.
Earnings surged despite rising deposit costs. Average net interest income (NII) grew 24.7% YoY in 2018, driven by rising interest rates and tax savings. Average net interest margin (NIM) was also boosted by 17.3% YoY from 1.9% to 2.2%.  Funding costs continue to edge up as consumers become more interest rate sensitive. The 3MCD and the 6MCD have risen 7% and 11.8% respectively since the start of this year. However, as deposit rates started at a low base of less than 1%, it would take a protracted period before it places a dent on the banks' earnings. Therefore, loan repricing will continue to offset the rise in funding rates. 
Effective cost management will secure margins for banks. The cost to income ratio of large U.S. banks have fallen 2% YoY from 2017 and is at a 5-year low. The improvement is largely due to 2 factors; Firstly, rising interest rates translated into higher revenue and less incremental costs. Secondly, there is a focus on leaner operations and investment in digital banking. Bank of America (Ticker: BAC) leads in the effort to streamline its operations, with its efficiency ratio falling 6.3% YoY. It is achieved by shuttering unprofitable branches and rolling out mobile banking features to reduce service costs for customers.
Asset quality remains benign. Credit quality continues to be healthy among the largest banks. On average, the non-performing loans to total loans ratio declined 22.6% YoY (or 15.8 percentage points). None of them reported significant increases in loan reserves or write-offs. Since the Dodd-Frank Act was passed in 2010, the average non-performing loans to total loans ratio has fallen 84.9% and at a 9-year low.
Attractive valuations persist in the banking sector. Despite the 12.5% rally in share prices since the start of the year, P/E valuations remain at their 25-year lows while P/B is trading at historical average (Figure 8 and 9).
Recommendation
We are maintaining OVERWEIGHT on the U.S. Banking Sector as they remain in a position of strength. The flattening yield curve was the main trigger that sent into jitters in the banking sector. We believe that the Fed will likely pause its monetary tightening cycle and stand with a watchful eye over the economy. However, it would only offer a brief respite as uncertainty will drive foreign demand for US long-term treasury bonds, keeping the yield curve depressed. Coupled with low funding costs and favourable asset quality, we expect moderate growth for U.S. banks in the coming quarter.
Some of the ETFs with exposure to the US banks include: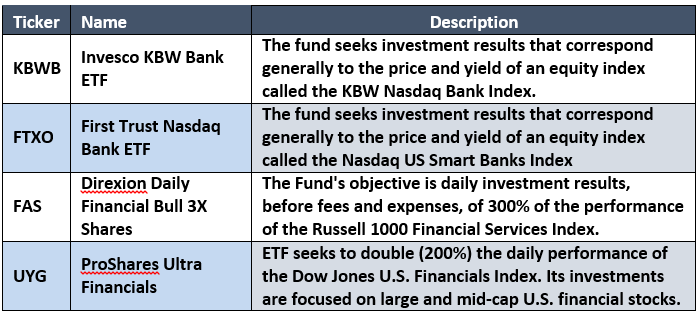 Source: Bloomberg
Our preferred banks would be Bank of America (Ticker: BAC) and Citigroup (Ticker: C) due to their loan growth and cost management potential. Both banks beat 4Q18 earnings expectations by 12.1% and 4.1% respectively (Figure 11)