We attended a site visit to UG Healthcare (UGH) plant in Kawasan Perindustrian Senawang Seremban, Malaysia on 13 October 2017.
Company Background
UGH was listed on Catalist in 8 Dec 2014. It is a rubber glove manufacturer established in 1989 and based out of Seremban, Malaysia. It produces both natural latex and nitrile rubber glove for medical and industrial sectors. Glove capacity is now at 2.4bn pieces with a new facility for an additional 500mn pieces by 1Q18.
Site Visit Highlights
Expansion plans. UGH has two factories located in Seremban, Malaysia. The older NS Uniglove has 800mn pieces capacity whilst the newer UG Global Resources has 1.6bn capacity. We visited UG Global where a new building block is under construction for a Phase 1 expansion of 500mn gloves by March/April 2018. This will bring UGH total capacity to 2.9bn pieces, or c.21% increase. Capital expenditure for the expansion is RM20mn. The Phase 2 will add another 300mn pieces to an eventual total capacity of 3.2bn pieces.
Building a brand and distribution. UGH differentiates itself from other glove manufacturers by their added focus on building brands (called Unigloves) and distribution networks for its product. UGH has built distribution channels for its products in multiple countries such as UK and Germany. UGH produces a wide variety of gloves to cater to different needs of its customers. This may include bar coded gloves for Brazil healthcare market, black gloves for tattooist and multi-coloured gloves for food handlers.
Making headway in Brazil. UGH seem to be making good headway into Brazil. Brazil accounts for almost 20% of its sales from virtually nothing a few years ago. Brazil is a rather protected market with many more rules and restrictions. There are only eight importers of gloves into the country. Gloves in Brazil for medical use need to be barcoded.
Valuation
UGH valuations the cheapest, in part due to lower margins and ROE.
Figure 1: Peer Comparison

Background
We visited UGH newer factory at Kawasan Perindustrian Senawang, Seremban – UG Global Resources (Figure 2). This facility presently houses a capacity of 1.6bn gloves. Plant utilization is relatively lower because UGH caters to higher mix and lower volume products. Lower utilisation is because it can require 12 to 24 hours to change a line for a different type of glove.
As we walk around the factory (no photos allowed), we realised the process is very automated (except the packing) and requires much chemical engineering expertise. Hand moulds are dipped into solutions that contain an in-house mixture of accelerators, coagulants, rubber or nitrile latex, colour, etc.

Brand building and distribution network
UGH does not have the scale like its other listed peers (Figure 7). To compete more effectively, the longer-term strategy is to build up brands and to create its own distribution network. This provides UGH a channel for their products and to enjoy incremental margins at the distribution level. Some of UGH major distribution networks are in: a) United Kingdom; b) Germany; c) Nigeria; and d) China.  
Figure 4: Europe is the major contributor to UGH's revenue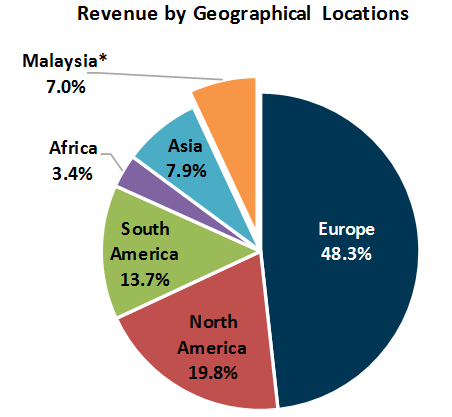 *Malaysia: Includes revenue from intermediaries that export its products to overseas markets
Source: FY17 Company Annual Report, PSR
Figure 5: UGH produces a variety of products under its brand Unigloves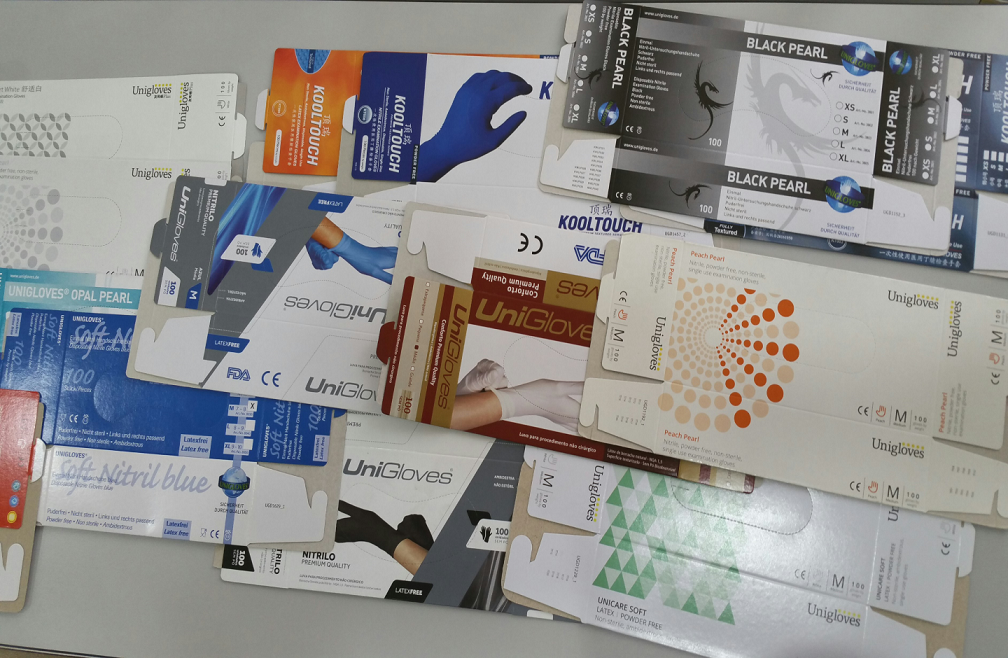 Types of gloves
UGH produces a wide variety of gloves – including coloured gloves, polymer coated, sulphur or accelerator free, elongated, scented, barcoded, etc. For instance, black gloves are popular with tattooist whilst multi-coloured gloves are for the food handling industry. And barcoded gloves are required for the Brazilian market.
The natural latex gloves come in 5.4g to 5.8g. Dentist prefer natural latex gloves because it has better grip, especially important for handling smaller instruments. Nitrile comes in 2.5g to 4.2g in weight. It uses synthetic rubber and is less elastic. However, nitrile is more comfortable as it will adjust to the form of a person's hand. Natural rubber gloves can cause hand fatigue. Buyers from Japan do not like gloves with accelerator chemical, as it can react to heavy metal residual on a person's hand. Pricing for natural rubber gloves is around US$23 per thousand pieces compared with nitrile at US$21.
Figure 6: UGH produces multi types of gloves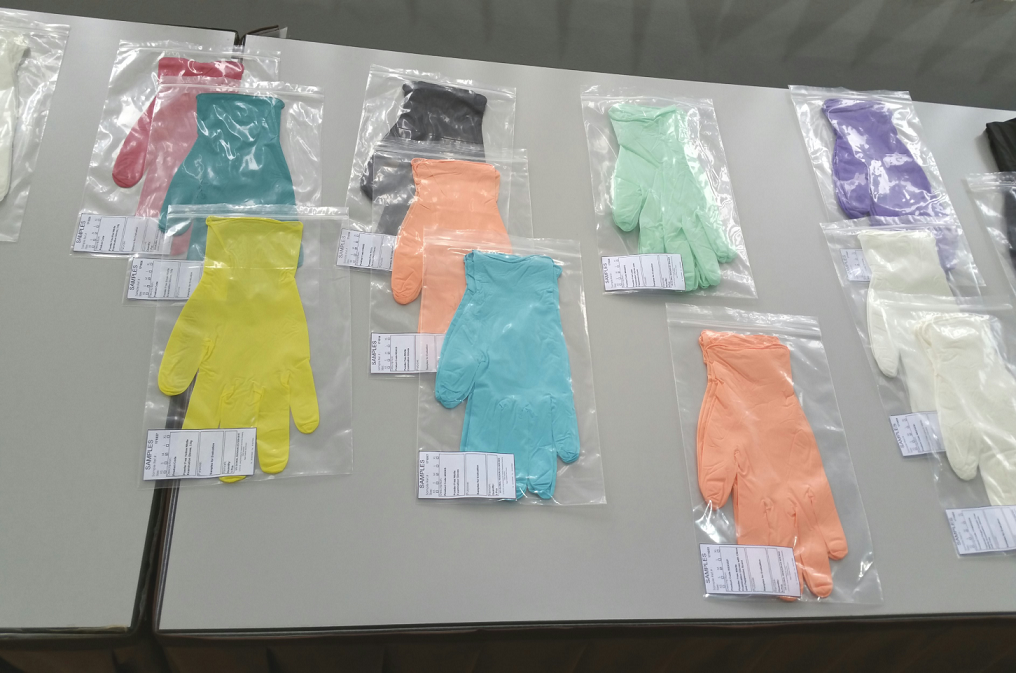 Industry
Compared to its listed peers, UGH is the smallest in capacity (Figure 7). Rather than competing on volume, UGH strategy is low volume and high mix products where margin will be better. This works in markets which are more fragmented. Countries where the procurement of medical products are consolidated, such as, United Kingdom, pricing competition is the most aggressive.
Figure 7: At 2.4bn capacity, UGH is smallest but has room to grow much more

Source: Various companies, media, PSR; Note T12M as at Jun17
Malaysia is the largest supplier of rubber gloves to the world with around 63% market share. Global consumption of gloves has been growing at 7% CAGR for past 5 years (2011-16). The market demand is expected to continue to grow at around 20bn pieces per year.
The biggest driver for demand will come from emerging countries where the penetration of gloves is low. China and Brazil consume 4 and 31 gloves per capita respectively. This is compared with 216 gloves per capita in the US.
The recent factory closure of vinyl gloves in China has disrupted global supply and causing prices to rise. This may help trigger more demand for rubber gloves. China produces about 160 billion pieces of vinyl gloves per year, almost as large as rubber gloves.
Figure 8: Global consumption of rubber gloves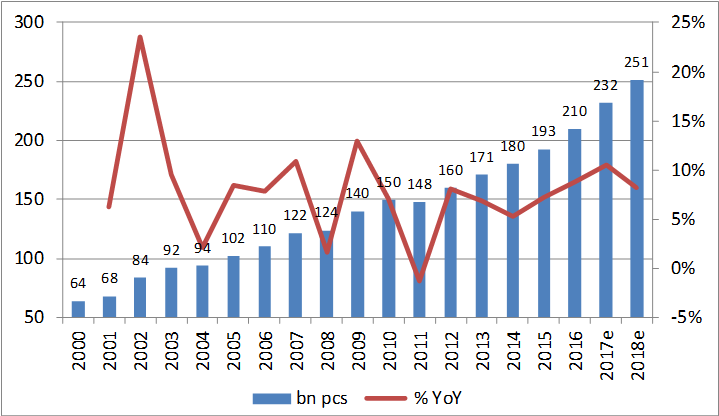 Source: Hartalega (Jul17)