Company Overview
The Trendlines Group Ltd. ("Trendlines") is an innovation commercialisation company that invents, discovers, invests in, and incubates innovation-based medical and agricultural technologies with a view towards a successful exit in the marketplace
Operates principally through two technology incubators, Trendlines Medical and Trendlines Agtech, and an internal innovation centre, Trendlines Labs
An intensely hands-on investor: Trendlines is involved in all aspects of its portfolio companies from technology development to business building
Exits may include among others, sales such as merger and acquisition transactions or listing on public stock exchanges
Not a venture capital firm: No management fees, no carried interest
Key Takeaways
Two portfolio companies will enter into revenue stage by end-2017 and two more by 2018. Portfolio values of these companies may increase as they meet certain developmental milestones in 2017/18. As at 31 December 2016, the Group has completed six exits, and taken two companies public; while 16 out of 46 of its portfolio companies are in revenue stage.
atTerm Technologies, one of the technologies developed by Trendlines Labs, is estimated to have more than US$2 billion market potential in developed countries alone. However, the technology accounts for zero value in Trendlines' total portfolio value as they are developed in-house. Successful realization in investment would boost the Group's revenue.
Continuous effort to expand portfolio value: (i) add more than 30 companies to its portfolio over the next three years; (ii) provide support to accelerate the development of the portfolio companies; (iii) explore opportunities to expand into new markets, in particular Singapore, China and German; and (iv) grow Trendlines Labs to increase royalties' income which will provide steady income streams to smoothen out the lumpy revenues arising from the volatile portfolio values.
Undemanding valuation. Trendlines' Price-to-Portfolio Value and Price-to-Net Asset Value are trading at c.53% discount to its peers.
Potential catalyst: Exit from portfolio companies
Risks                 
Risk of facing cash flow problem. Realization of investment in its portfolio companies is unpredictable and volatile, and there is no assurance as to the occurrence of timing of actual exits or realizations to meet its cash needs.
Difficult to value individual portfolio companies accurately. Main source of earnings is derived from net realized/unrealized gain in the value of its portfolio companies, which is unpredictable and volatile.
Subject to inherent risks associated with investing in early-stage, high-risk technology companies.
Regulatory changes, which could have adverse impact on operations, licensing and government loans and grants.
Exchange rate risk. Functional and reporting currency is US$, but a significant portion of its operating expenses are in NIS (principally, facilities lease expenses, salaries and related personnel expenses).
7th Annual Trendlines Company Showcase on 29 March 2017 in Israel
We attended Trendlines' annual Company Showcase, which nine of its medical and agtech portfolio company CEOs presented to 500 attendees – investors, entrepreneurs, and industry leaders from Israel, Singapore, China, Europe, and the United States.
Figure 1 & 2: Opening speech by Todd Dollinger and Steve Rhodes, Chairmen and CEOs of Trendlines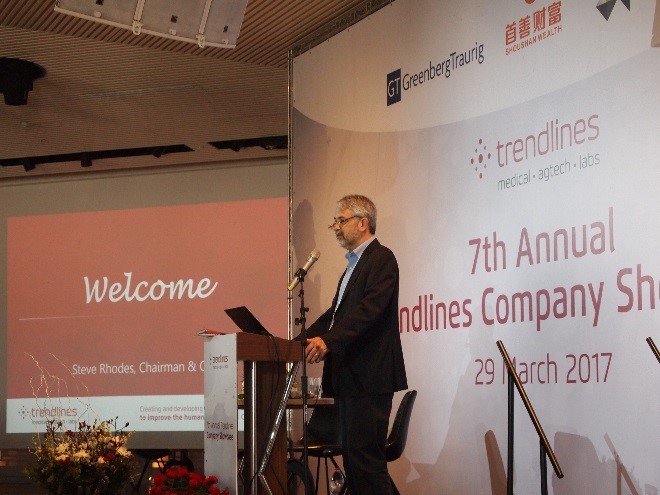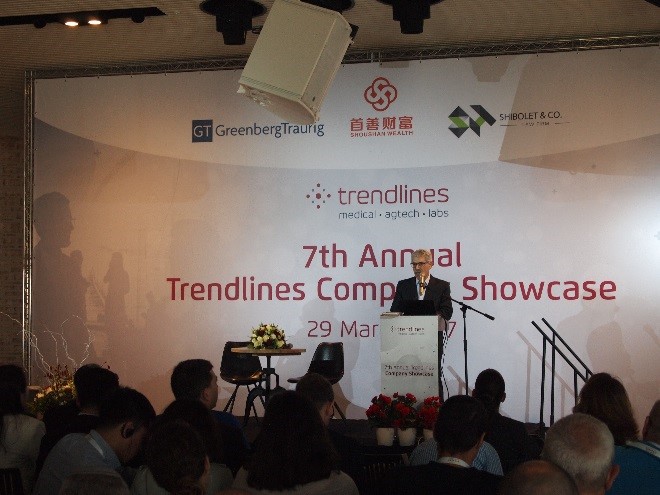 Source: PSR
The Showcase is one of the key avenues for its portfolio companies to gain exposure to investors and strategic partners around the world. The nine companies which presented at the Showcase are, Escala Medical, OrthoSpin, Zeev Implants, Tandem Technologies, atTerm, BioFishency, InPlant Technologies, MetoMotion, and Gordian Surgical.
BioFishency is the only portfolio company presented during the Showcase which is in revenue stage. The company aimed to raise US$1 million to advance marketing and sales, develop new products, and register for patents.
Gordian Surgical and OrthoSpin will enter revenue stage by end-2017; while Tandem Technologies and Zeev Implants will start sales by 2018.
Figure 3: Key takeaways from the nine companies presented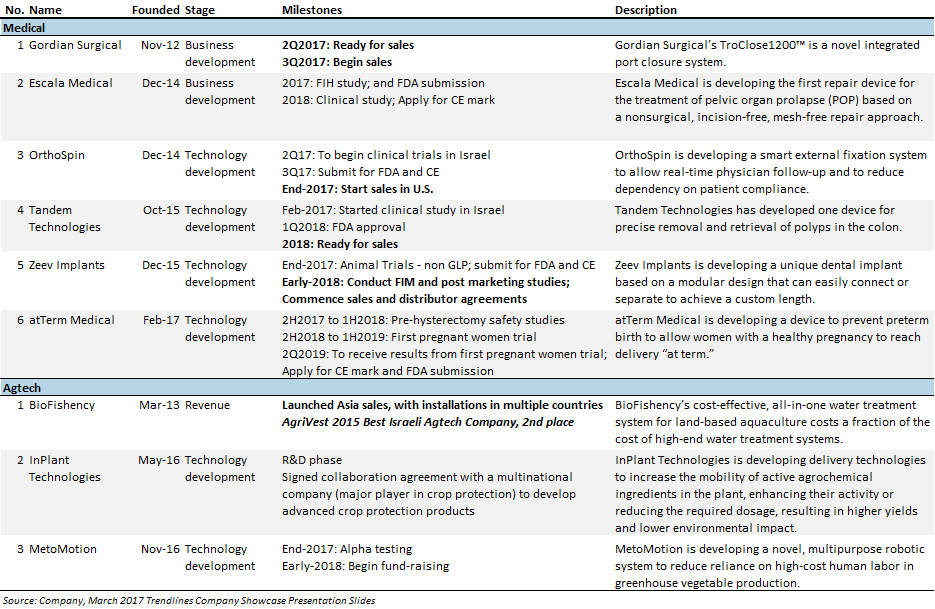 During the trip, we also had the chance to visit its newly expanded office space in Trendlines headquarters based in Misgav, as well as the laboratories of two portfolio agtech companies located within the Technion University in Haifa.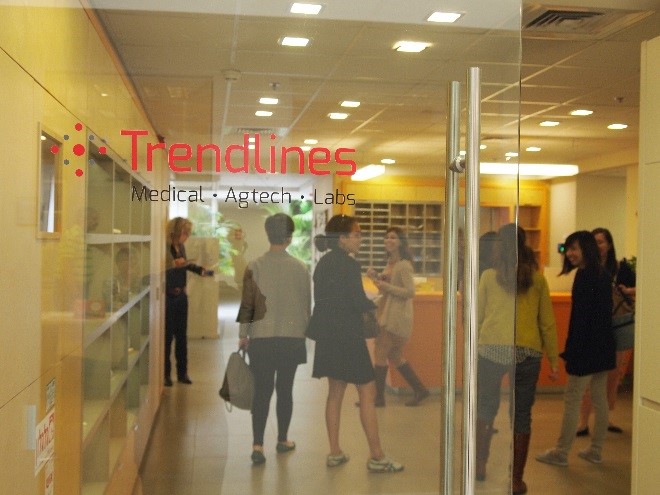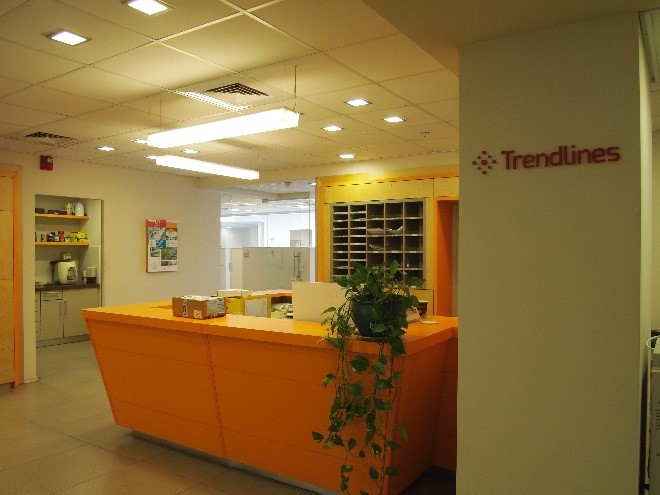 Source: PSR
Investment Thesis 
Supportive macro backdrop
Favourable global industry prospects
Opportunities to invest in pure incubator in the public market with low investment cost
Investing in early stage start-up companies by leveraging on an experienced management team and an extensive network of relationships
Effective use of funds and disciplined investment strategy that focuses on expansion of portfolio value
Prudent investment approach
Strong reputation, brand and track record
Industry leaders as strategic partners: B. Braun and Bayer
Valuation
Management shared that Trendlines does not disclose valuation of individual portfolio companies as they are sensitive commercial information. However, the management guided us on how we could approach its valuation by (a) Simple reconciliation of its Portfolio Value; and (b) Industry or peer comparison using three different metrics.
Please sign in to download the full report to read further.