1Q18 Revenue/Adjusted PATMI met 22%/18% of our full year expectations
Slower-than-expected domestic alcohol beverage, mitigated by improvement in non-alcoholic beverages and food business
Earnings weighed by lower associates contributions, THB2.3bn non-recurring acquisition expenses and higher finance costs
Next to watch in 2Q18: First contribution from Sabeco (as consolidated subsidiary basis)
Maintained BUY with lower SOTP-derived TP of S$1.05 (previously S$1.18)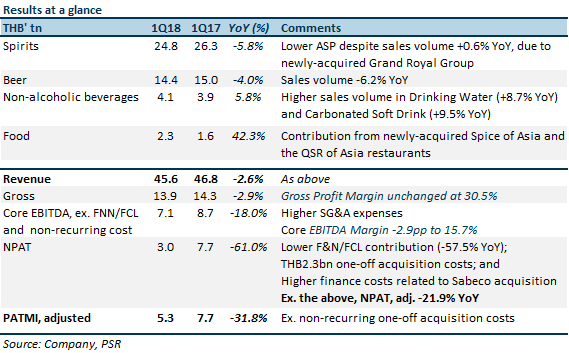 The positives
+ Higher net profit of Food business (+2,080% YoY) and narrowed net loss of NAB business (-5% YoY). Food margins improved on inorganic growth. Excluding the contribution from newly acquired Spice of Asia and KFC stores, 1Q18 Food Revenue grew 3.2% YoY. Non-alcoholic beverages (NAB) narrowed net loss on lower advertising and promotion expenses, despite additional cost arising from the introduction of an excise tax for sugar.
+ Strong International spirits sales (+249% YoY) buoyed mainly by the contribution from the newly acquired Grand Royal Group. In addition, strong performances from (i) existing businesses in the US, UK, Germany, (ii) new distribution in Asia, and (iii) pick-up in sales for OEM brands.
The negatives
– Private consumption in the domestic alcoholic beverage recovered at a slower-than-expected pace post- mourning period, as it coincides with the new Excise Tax Act (in effective since 16 Sep-17). Sales agents' destocking dragged local alcoholic sales in 1Q18.
The Group recorded lower sales from Spirits (-12.8% YoY, ex. Grand Royal) and Beer sales (-4.0% YoY). On a brighter note, it maintained its market share in beer business at c.38%.
– Absence of contribution from Saigon Beer–Alcohol–Beverage Joint Stock Corporation (Sabeco) to 1Q18 results weighed on earnings. Results from Sabeco was not included in the Group's 1Q18 results due to the timing of its acquisition (29 Dec-17).
a) 3bn non-recurring acquisitions cost. Except Sabeco's, all acquisition costs are matched with respective earnings contribution. 93.9% of the acquisition costs (or THB2.2bn) is from Sabeco acquisition.
b) Higher finance costs related to Sabeco acquisition
Outlook
Near term pressures with long-term positive. Management is cautiously optimistic on a better on-trade consumption for alcoholic beverages in 2Q18, owing to sales agents' lower inventory level seen in Jan-18. Nonetheless, the Group shared that Thailand's demand for Beer and Brown Spirits contracted by 7% and 9% YoY respectively in Jan-18, based on a third party survey. In 1Q18 (Oct-Dec17), Beer sales contracted by 9-10% YoY.
We maintained our view that on-trade consumption should turnaround in FY18 after the effect of mourning period and excise tax hike in Thailand subside. A broader economic recovery in Thailand would help to support consumer sentiment and purchasing power; while the FIFA World Cup is likely to boost beer sales. In addition, Sabeco's results of operations and cash flows will be consolidated at Group's level starting from 2Q18 onwards.
On the other hand, we expect SG&A expenses to remain elevated, as advertising and promotional activities normalised to pre-mourning period level (before Oct-16). Nonetheless, overall cost trends are stable. Earlier, management guided that it plans to review its pricing strategy in FY18 to expand margins.
On a longer period, the four newly acquired businesses should fuel growth in its three core pillars – Spirits, Beer and Food.
To recap:
Strong brand equity and market positioning of the acquired businesses could potentially lift the Group's margins. Grand Royal and Sabeco have significant, if not dominant, share in respective market.
Faster access to tapping into high growth Southeast Asian market. This is also consistent with the Group's Vision 2020, i.e. becoming the largest beverage company in Southeast Asia.
Unlocking value from potential synergies with partnership with Yum Thailand, Grand Royal Group, and Sabeco. The Group could leverage on the pervasive network of these three groups to distribute its core products.
Maintained Buy with lower SOTP-derived TP of S$1.05 (previously S$1.18)
After taking into considerations of (a) the potential earnings from its new revenue streams from its newly acquired businesses, (b) the finance costs from the loans to fund its acquisition spree and (c) the non-recurring acquisition costs, we saw a net increase in FY18e Revenue/Core EBITDA/Adjusted PATMI by 17.9%/4.1%/2.6% higher respectively. We have also adjusted our EV/EBITDAs of respective business segments to be in line with their global/local peers (See Figure 2).
Potential re-rating catalysts:
Higher economic interest of Sabeco
Margin expansion in conjunction with the excise tax hike
A faster turnaround in non-alcoholic beverages (the Group targets to breakeven by 2020)