What is the news?
Tat Seng Packaging Group Ltd (Tat Seng) recently announced its FY16 ended December full year financial results. Tat Seng recorded a 16.7% year-on-year (y-o-y) growth in PATMI, despite 1.3% y-o-y lower revenue. A final dividend of 2.0 cents and 1.0 cent special dividend were proposed. In this report, we highlight the growth drivers for Tat Seng, and suggest a valuation for the stock.
Investment action
No stock rating provided, as we do not have coverage on Tat Seng. However, our back-of-the-envelope dividend discount model (DDM) valuation of S$0.89 suggests that the market is currently mispricing the stock.
Company description
Tat Seng designs, manufactures and sells corrugated paper packaging products such as corrugated boards and cartons for the packaging of electronics and electrical, food, pharmaceutical and other products.
What do we think?
Proxy to China's manufacturing and consumer sectors
Tat Seng's exposure to the manufacturing and consumer sectors is through the sale of corrugated containers and paper packaging products. The forward indicator of the Manufacturing Purchasing Managers Index (PMI) for China suggests that demand for corrugated containers and paper packaging products is to be maintained.
Upstream players of the supply chain have also benefited
Hong Kong Exchange-listed players from the upstream part of the supply chain such as Nine Dragons Paper Holdings (stock code: 2689) and Lee & Man Paper Manufacturing (stock code: 2314) have also benefited from the higher level of industrial and manufacturing activity in China.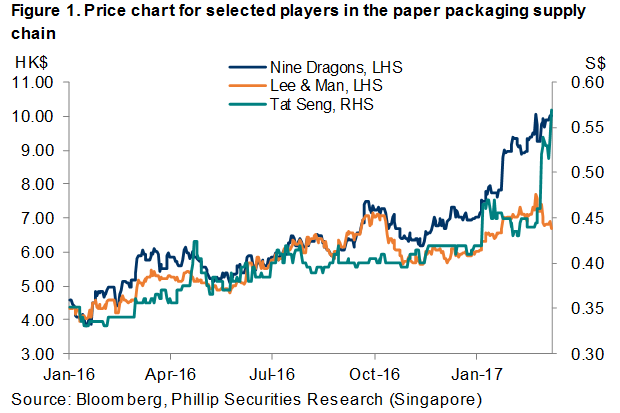 Attractive dividend yield
Tat Seng has a track record of paying dividends, and currently has a trailing yield of 7.0%, based on FY16's 4.0 cents dividends and the last close price of $0.57.
Company Background
As disclosed on the company's website, "Tat Seng Packaging Group Ltd is a leading manufacturer of paper packaging products listed on the mainboard of SGX-ST since 7 September 2001.
Tat Seng designs and manufactures paper packaging products for the packing of a diverse range of products according to customers' specifications, and sells other packaging related products."
The raw materials used in producing Tat Seng's products include paper, printing ink and glue. Paper supplies for the Singapore operations are sourced globally, while paper supplies for the China operations are sourced domestically.
Two business segments by geography, predominantly in China
Tat Seng reports its business segments by geography – Singapore and China. 85% of FY16 revenue was from within China (FY15: 84%), with the rest derived from Singapore.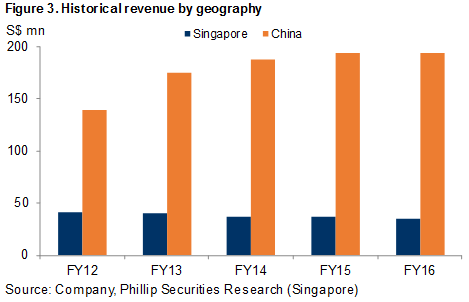 Diversified customer base engaged in manufacturing and consumer sectors
Tat Seng's customers include MNC and local manufacturers. Tat Seng discloses its customer base according to six sectors. For FY15, the three largest customer sectors were Printing, Publishing & Converters (40%), Medical, Pharmaceutical & Chemical (27%) and Electronics & Electrical (20%). There has been no change in relative distribution between customer segments over the last few years.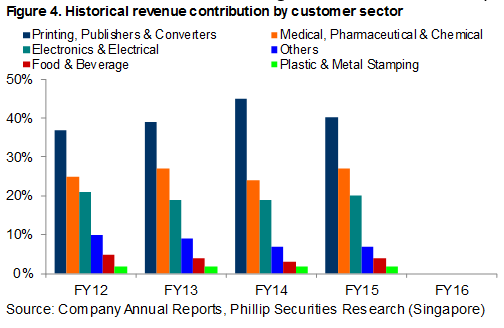 Five sites catering to local demand in China
Tat Seng has five facilities in China – namely, Suzhou, Jiangsu province; Hefei, Anhui province; Nantong Rugao and Natong Tongzhou, both in Jiangsu province and lastly, Tianjin.
Favourable macro indicators for paper packaging demand
Paperboard is used to produce corrugated containers and folding cartons. Corrugated containers/boxes are made from containerboard, which consists of the linerboard (smooth outer surface) and the corrugating medium (known as inside fluting).
Paperboard and papers is the most widely used substrate globally
According to leading packaging consultancy Smithers Pira, Paper and Board is the most widely used packaging substrate globally; accounting for 38% of global demand that was estimated to be worth US$776 billion in 2015. Global demand for Paper and Board has grown at a 10-year CAGR of 4.6% until 2015.
Paper is used to produce two types of packaging: corrugated containers and folding cartons. Corrugated containers are the protective medium used in the transportation and storage of consumer and industrial goods. Folding cartons are the packaging that consumers see on store shelves.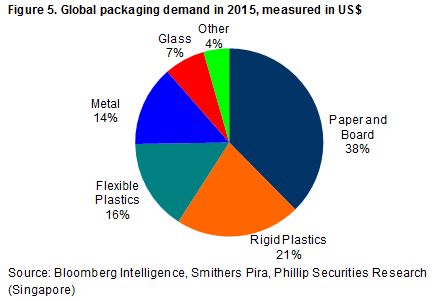 Corrugated box demand is tied to industrial production and manufacturing activity
We focus our attention on China as 85% of Tat Seng's revenue is derived from within China. China's Industrial production consists of three broad categories: Manufacturing, Mining and Utilities. Manufacturing production has been higher than the overall industrial production. Manufacturing Production growth in China has moderated, but is still above 6% y-o-y.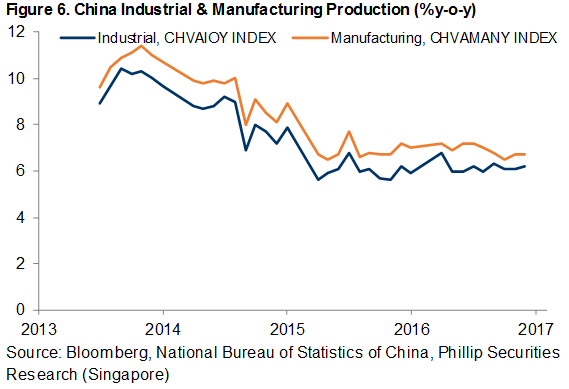 The Manufacturing Purchasing Managers Index (PMI) is a forward indicator of demand for packaging products. Corrugated box demand is tied to manufacturing activity and China's PMI has maintained above the 50 expansion/contraction inflection point for the most part of the past five years.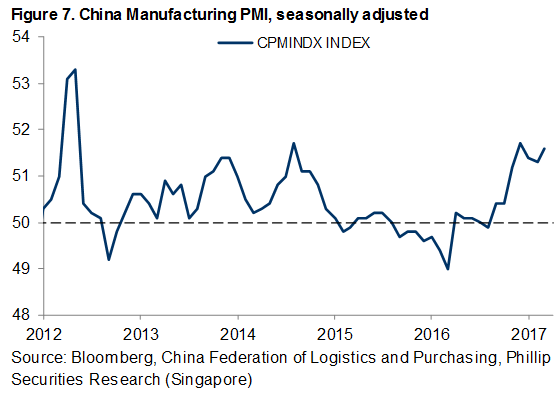 Please sign up to download the full report in PDF format.