Description
Synchrony Financial (NYSE:SYF) is a consumer financial services company. The Company provides a range of credit products with a group of national and regional retailers, local merchants, manufacturers, buying groups, industry associations, and healthcare service providers. The Company generates revenue through three sales platforms: Retail Card, Payment Solutions and CareCredit. Through its subsidiary, Synchrony Bank, it offers a range of deposit products insured by the Federal Reserve Insurance Corporation. The Company offers three types of credit products: credit cards, credit products, and consumer installment loans. It offers two types of credit cards: private label credit cards and Dual cards.
Source: Thomson Reuters
Investment Rationale
As the dominant private label credit card company, we believe that SYF is well positioned to take advantage of shifts in consumer spending behavior and that SYF remains well capitalized and its balance sheet is strong enough to weather potential defaults. As such, we are bullish on the stock and believe that SYF is attractively valued at the current price.
Recent Price Action: SYF fell close to 20% after their latest earnings release. SYF performed below analysts' expectations, with EPS of USD 0.61 vs expectations of USD 0.74, a negative surprise of 17.57%. Fears of risk with regards to their loan assets quality also contributed to the plunge in share price. Since the selloff, SYF's price has recovered about half of its pre-earnings price.
Dominant Private Label Credit Card Company: Private Label Credit Cards are store-branded credit cards that can only be used at that store. Private label credit cards are a type of revolving credit plan managed by a financial company for either ritual or wholesale manufacturers. SYF is the largest provider of such credit cards in the US, with over 40% market share, up from 34% in 2011. Private label credit cards accounted for about 40% of all credit cards issued in 2016. The Company provides such credit cards for brands such as Amazon, Cathay Pacific, Walmart, Lowe's and Gap.
Private label credit cards typically come with incentives specifically for that card. As consumers move toward spending more through e-commerce and spending online, they will be using credit cards more and more often. Brands will be more incentivized to encourage the use of their own store brand cards to garner loyalty. According to a survey by Morgan Stanley, Amazon Prime Members spend about 4.6 times more than non-Prime Members. As such, Amazon is looking to increase the ownership of its credit cards and as the provider of such cards, SYF is well positioned to take advantage of the greater increase in spending on Amazon through its credit cards.
Stronger Asset Portfolio and Well Capitalized:  SYF, being the spinoff of GE Capital, has had its asset quality issues in question and highlighted again in light of the latest earnings. We believe such fears, while valid, might be a bit overblown. According to the Company's filings with the SEC, its required ratios are well above the minimum requirements under Basel III to be considered well capitalized.
The company has also worked to improve the quality of its assets since the global financial crisis. It has improved the percentage of clients with FICO scored above 650. FICO scores are credit scores used in USA and clients with FICO scores about 650 are generally considered a low risk of default. It has also reduced the percentage of high-risk clients from 19% in 2008 to 8% in 2017.
Figure 01: SYF well capitalized and under leveraged vs Basel III requirements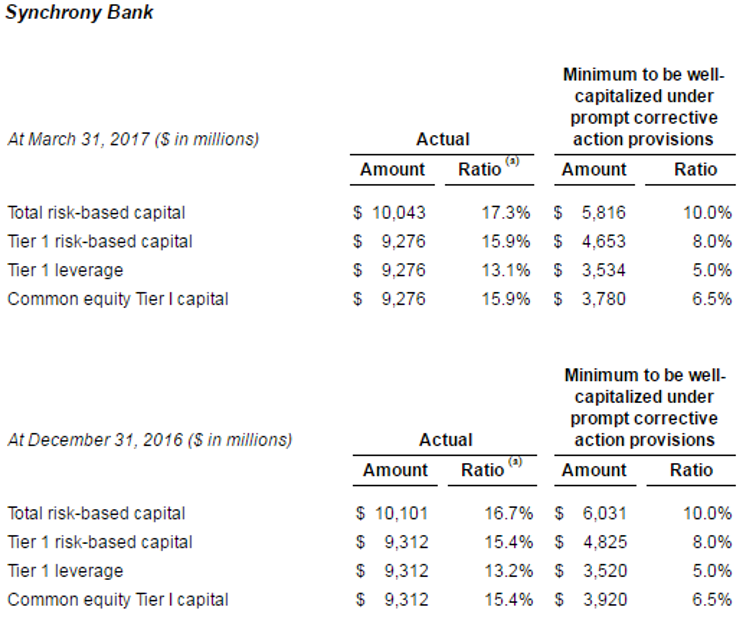 Source: Company
Figure 02: SYF asset quality keeps improving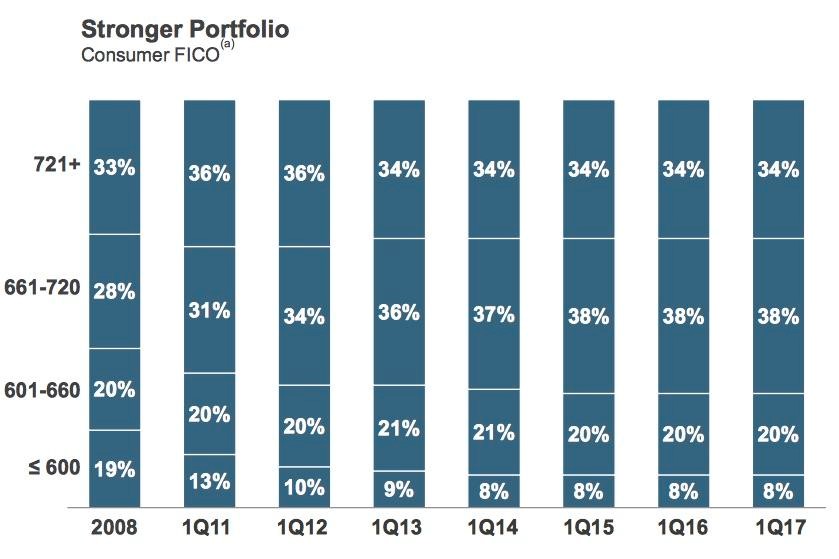 Source: Company
Peer Comparison:  SYF has been able to outperform its peers in key areas, growing faster and generating more yield on its loans. SYF trades at a PER of 11.27 vs a PER of 15.15 for American Express Company (NYSE:AXP), 12.38 for Capital One Financial Corp (NYSE: COF) and 10.53 for Discover Financial Services (NYSE:DFS). We believe that SYF is undervalued for its performance vs its peers.
Figure 03: SYF Peer Comparison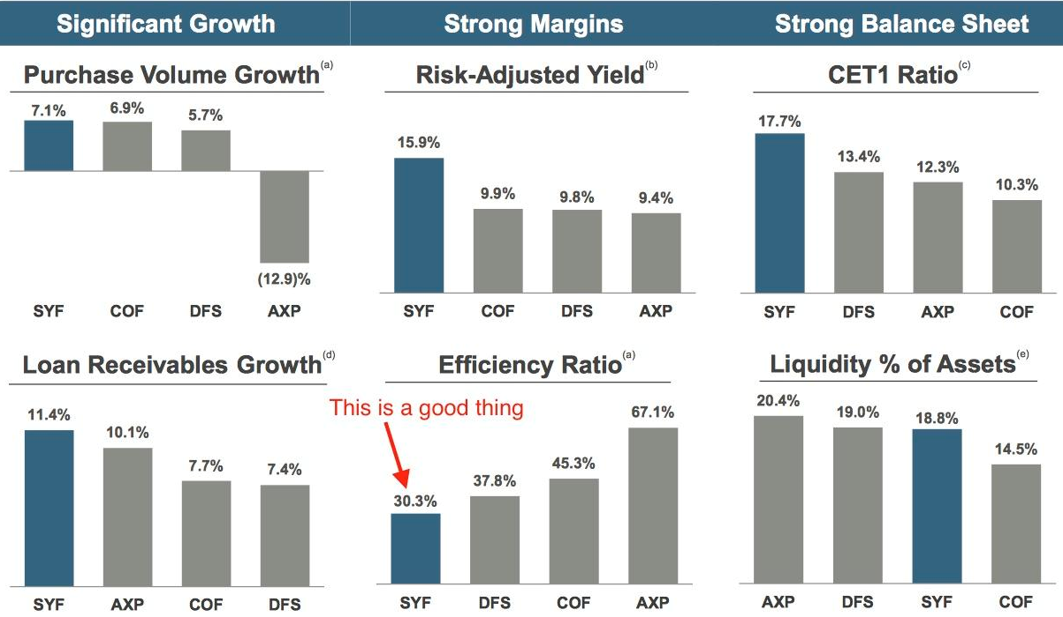 Source: Company
Conclusion: We are bullish on SYF due to 1) its position as the dominant private label credit card company, 2) its improving asset quality and capitalization and 3) its stronger operating performance and undervaluation compared to its peers. As such, we reiterate our belief that the stock was oversold after its earnings and with recent signs of recovery, we are bullish.