S$19.73mn gross revenue in line with our expectations of S$19.77mn
399 cents DPU exceed our expectations of 1.312 cents by 6.6%
151,145 sq ft of renewals and new leases signed
Portfolio occupancy edged up to 94.8%

Portfolio occupancy edges up to 94.8%, from 92.0% in the previous quarter
This was due to higher occupancy at West Park BizCentral and inclusion of Bukit Batok Connection into the portfolio. Portfolio occupancy would have been 94.2% instead, without Bukit Batok Connection.
Successful leasing, but with rental reversion of -6.6% on forward renewals
The Manager had signed 151,145 sq ft from seven new leases and two forward renewals. The seven new leases signed were all from West Park BizCentral. Among them, four were for 2-3 years and three were short-term of four months. For the forward renewals, one was from Tuas Connection and the other from Eightrium. Negative rental reversion has worsened, as it was -5.7% in 2QFY16, and -0.6% in 1QFY16. Better occupancy of 90.8% (from 82.7%) at West Park BizCentral was the lone bright spot.
Limited exposure to interest rate fluctuation
Weighted average debt maturity is 2.2 years, with no refinancing requirements till 2018. 88.5% of borrowings are at fixed rate. Aggregate leverage of 36.0% allows headroom of S$88mn.
Update on Technics Offshore Property
The Manager is in negotiations with three potential tenants – two of whom are considering long-term leases of 5-10 years, while the third is short-term of one year. Occupancy at the property will be c.80%, if all three tenants sign a lease. As of our previous report (11 October), we had assumed an occupancy of 60% from 3QFY17 onwards, coinciding with the depletion of the 18-months security deposit. Our assumption is subject to change, as greater clarity emerges.
Maintain "Neutral" rating with slightly higher of target price of S$0.72 (previous: S$0.69)
We under-estimated this quarter's distribution per unit (DPU) by 6% and have made adjustments to our forecasts. Unitholders can expect higher quarter-on-quarter (qoq) DPU in 4QFY16, due to contribution from Bukit Batok Connection, but lower year-on-year (yoy) DPU due to the larger Unitholder base following the Preferential Offering.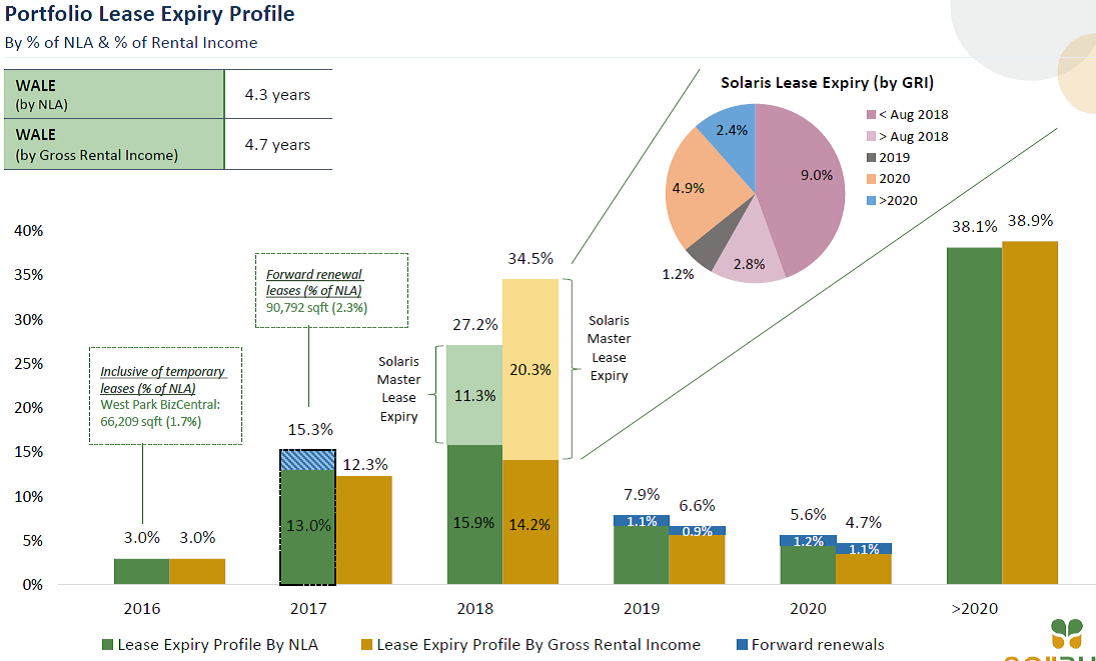 Source: Company 3QFY16 Results Presentation, 12 October 2016
3.0% of leased lettable area up for renewal in remainder of 2016
This comes from West Park BizCentral and Eightrium. Lease expiry is slightly higher than the 2.0% that was disclosed in the previous quarter; this is due to the short-term leases of four months that was signed at West Park BizCentral.
13.0% of leased lettable area up for renewal in 2017
Management shared that c.70% of the expiries occur in 2H 2017, and tenants are mostly not willing to commit to renewals yet.
Peer relative valuation
Soilbuild Business Space REIT (SBREIT) is at a slight discount to the peer average P/NAV multiple, and offers a higher yield than both the peer average and the larger-capitalised peers.