Gross revenue and DPU were in line with our forecast.
KTL Offshore joins the list of tenants with receivables collection issues. Including NK Ingredients, almost 12% of total NPI is exposed to tenant default.
Raise our discount rate to reflect the higher uncertainty in future cash flows.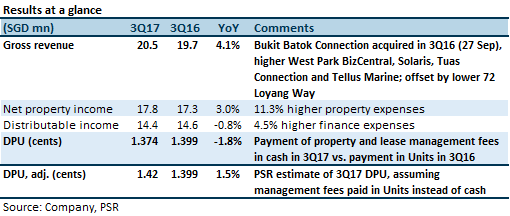 The positives
YoY growth in gross revenue mainly due to Bukit Batok Connection acquired in 3Q16: Full quarter revenue contribution for 3Q17 compared to four days of revenue contribution in 3Q16 resulted in S$1.9 mn higher YoY gross rental income (GRI).
QoQ improvement in portfolio occupancy from 92.6% to 94.1%: Driven by higher occupancy at West Park BizCentral (from 91.2% to 95.0%) and 72 Loyang Way (from 22.8% to 27.0%).
The negatives
Around 148,500 sq ft of 72 Loyang Way remains vacant and could negatively impact year-end valuation: The manager maintains that it will be difficult to secure an anchor tenant from the Offshore Marine sector to lease the large space. Our channel check suggests that there is competing supply being marketed just 300 metres away, a smaller 49,600 sq ft property at Loyang Crescent.
Overhang from NK Ingredients (5.6%/6.8% of FY16 GRI/NPI) default: SBREIT has received payment on 10 October 2017 for the insurance guarantee, leaving NK Ingredients seven days to top up the security deposit. Failing which, we believe the tenant will have to be served eviction notice. We will trim our forecast, should NK Ingredients' lease be terminated early.
KTL Offshore Pte Ltd is now the third master leasee with collection issue: The tenant leases 61 & 71 Tuas Bay Drive (5.9%/5.1% of FY16 GRI/NPI) and is now approximately seven months in arrears. Tenant is a wholly-owned subsidiary of KTL Global Limited, which is listed on the Singapore Exchange. In a recent announcement, KTL Global's Independent Auditor had flagged doubts on the Group's ability to continue as a going concern. The existing insurance bond of S$5.3 mn is adequate up to May/June 2018.
Outlook
The outlook is negative due to multiple tenant defaults in the portfolio – Technics Offshore Engineering, NK Ingredients and KTL Offshore. Rental revisions during the quarter were -4.0% compared to -9.8% in 2Q17. The manager expects negative reversions to persist into 2018. We believe industrial rent to bottom in 2018, on tapering new supply.
Downgrade to Reduce, lower target price of S$0.64 (previously $0.73)
We raise our discount rate from 6.9% to 7.9% on the basis of higher uncertainty in future cash flows. Our target price represents an implied FY17e P/NAV multiple of 0.90x.
Relative valuation
SBREIT is relatively undervalued to the peer average P/NAV multiple, and has a higher yield compared to the peer average. We believe the higher yield compared to peers is a reflection of the risk of the portfolio going forward.