Both sector-wide occupancy and rental fell quarter-on-quarter and year-on-year
Sector's Rental Index has fallen to 2012 levels, with rental reversions likely to extend into negative double-digits
Multiple-user Factory and Warehouse rental reversions already at negative double-digits and could worsen with the pipeline of new supply
Factory space will be hardest hit in 4Q 2016 with an onslaught of new supply
2017 going to be worse than 2016 for Warehouse space
Slight negative bias for Business Park rental reversions are on the cards
Lower rents could lead to lower end-of-year valuations, resulting in higher gearing
"Underweight" on the Industrial sub-sector due to overwhelming new supply of space
Maintaining our "Equal Weight" view on the overall S-REITs sector
What is the news?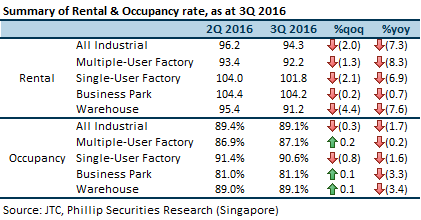 Key takeaways from the quarter
Leasing market remains soft; even Data Centre segment saw weakness
Generally negative reversions across the Industrial REITs, as oversupply condition persists. Even the Data Centre segment was not spared: Keppel DC REIT gave a -8% reversion to a large client at Keppel DC Singapore 2. Exceptions of positive portfolio weighted average rental reversions during the quarter came from Ascendas REIT (+0.9%) with Mapletree Industrial Trust (+0.7%) lagging behind.
Tenant retention is paramount
As with previous quarters, the situation with tenant retention remains unchanged. REIT Managers continue to focus on tenant retention amid the soft leasing environment. One Manager commented that "it is easier to retain a tenant, than to look for a new one".
Mindful of downward revaluation of properties
Cache Logistics Trust experienced a downward revaluation for its property at 51 Alps Avenue, triggered by a tenancy contractual dispute. The property was revalued downwards by c.31%, losing 4.0 cents in net asset value (NAV) per Unit and pushing gearing to 41.2% from 39.8%. Other ongoing tenant dispute among the Industrial S-REITs is at Soilbuild Business Space REIT; bearing in mind that the fiscal year-end revaluation for the REIT's portfolio will be in December. Other obvious candidates for downward revaluation are properties that were converted from a master lease to multi-tenancy lease.
Investment Actions
Our "Equal Weight" view on the overall S-REITs sector remains unchanged, and we maintain our "Underweight" view on the Industrial sub-sector.

Cache Logistics Trust – Cautious over the possible overhang of Warehouse space.
Maintain "Reduce" rating from our results report on 24 October
Our analysis suggests that the situation for Warehouse space in 2017 will be worse than 2016
Concentrated exposure of 27% of leases by gross rental income (GRI) expiring in FY18, majority from the master lease of CWT Commodity Hub
Ongoing rental dispute with Schenker Singapore Pte Ltd resulted in downward fair value adjustment of 51 Alps Avenue property from S$116.8 million to S$80.7 million
Possibility of further downward revaluation if outcome from the Court proceedings is unfavourable
We forecast 7.58/6.69 cents Distribution per unit (DPU) for FY16e/FY17e, which is 5.3%/14.2% lower than consensus expectations of 8.0/7.8 cents
Keppel DC REIT – Proxy to explosive growth in data requirements.
Maintain "Accumulate" rating from our results report on 12 October
Completed the acquisition of a shell and core data centre in Cardiff, Wales in October
Ongoing acquisition of shell and core data centre in Milan, Italy announced in August
Ongoing acquisition of 90% interest in Keppel DC Singapore 3 (formerly known as T27) from Sponsor, targeted by December
We forecast 6.96/7.45 cents DPU for FY16e/FY17e, which is 5.4%/2.1% higher than consensus expectations of 6.6/7.3 cents
Mapletree Industrial Trust – DPU growth from pipeline of build-to-suit (BTS) and asset enhancement initiative (AEI) projects.
Maintained "Neutral" rating from our results report on 25 October
Phase One of Hewlett-Packard BTS has obtained its Temporary Occupation Permit (TOP) in October, with Phase Two TOP expected six months later
Kallang Basin 4 Cluster AEI due to be completed 1Q 2018; currently 0% pre-committed
We are mindful of the 32.8% of leases expiring in FY18 in an oversupply landscape; about half of the leases expiring in FY18 come from the Flatted Factories segment
We forecast 11.14/11.59 cents DPU for FY17e/FY18e, which is in line with consensus expectations of 11.1/11.9 cents
Soilbuild Business Space REIT (SBREIT) – Stability from master leases, but weighed down by concerns from Technics Offshore property
We maintain our "Neutral" rating from our results report on 13 October
No master leases expiring in 2017; next master lease expiry will be for Solaris (20% of portfolio by GRI) in August 2018
Concentration risk as Technics Offshore contributes c.7.6% of portfolio GRI
Possibility of downward revaluation for the property if it is converted to multi-tenancy lease
We forecast 6.08/5.95 cents DPU for FY16e/FY17e; this is 0.3%/5.6% lower than consensus expectations of 6.1/6.3 cents
Please sign up to access our full report.