1Q18 Revenue/PATMI met 25.3%/28.5% of our full year estimations
Number of deliveries increased despite industry decline; Cancer-related segment continues to ramp up
HIFU, new technology in Singapore to bring in new revenue avenue
Maintained Accumulate and TP of S$0.42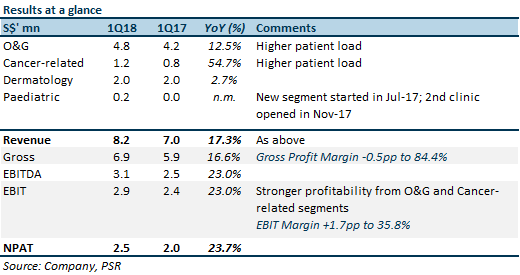 The Positives
O&G segment continued to deliver despite market weakness. Its Obstetrics and Gynaecology segment continues to gain market share (4.7% of 1Q18 Singapore total live births vs 4.3% a year ago). It delivered 446 babies in 1Q18, up 0.7% YoY, in contrast to a continuous slowdown in Singapore birth rate of -2.5% YoY.
Greater profitability from O&G and Cancer-related segments. EBIT from O&G and Cancer-related segments increased by 17.7% and 206.9% YoY, respectively, more than offset the challenging Dermatology segment and 'start-up' losses incurred by the newly established Paediatrics segment. 1Q18 EBIT margin for Cancer-related segment expanded from 16.6% to 32.9%, as Dr. Lim Siew Kuan broke even in FY17 and started contributing positively to the earnings.
The Negatives
Lower earnings from Dermatology segment. 1Q18 EBIT -5.2% YoY and EBIT margin -2.3pps to 28.1%. Recall that this business segment is dependent on medical tourism. Foreign patient load, particularly from Indonesia, has yet to pick up. Currently, local to foreign patient mix stood at 50:50.
S$0.1mn 'start-up' losses incurred by the newly established Paediatrics segment. We expect both Paediatricians to breakeven by end-FY18.
Outlook
We are cautiously optimistic about FY18e. We expect its Cancer-related segment to support Group's FY18e profitability amidst persistent headwinds – (a) sluggish birth rate; and (b) structural slowdown in medical tourism.
In addition, the Group is also introducing new income streams – (a) collaboration with SATA CommHealth (to commence in end-May 2018); and (b) tapping into an unserved niche market for HIFU (High Intensity Focused Ultrasound) treatment.
Maintained Accumulate and TP of S$0.42, based on unchanged FY18e EPS of 1.82 SCents and forward PER of 23.2x. We like the company as it has consistently gain traction in O&G market, a testament to the underlying strength of its core businesses. Meanwhile, the Group has been actively seeking new recruits of medical practitioners to expand its four growth pillars. Management targets to add 2-3 new specialists, to its O&G, Dermatology and/or Paediatrics segments, by FY18e. We are cognizant of the margin pressures arising from the latent period of the new doctors.
The Group has a clean balance sheet with zero debt and a cash position of S$19.98mn (c.11% of its market cap).
Potential re-rating catalysts
Better-than-expected margin improvement, particularly its Cancer-related segment.
Faster-than-expected time to reach profitability for the Paediatric segment.
Expansion into other complementary medical services.