What is the news?
Service agreement with KL Fertility & Gynaecology Centre Sdn. Bhd. ("KL Fertility Centre") on 3 Oct-17
The Group has entered into a commercial collaboration with KL Fertility Centre, a wholly owned subsidiary of Monash IVF Group Ltd based in Australia.
This collaboration will enable SOG to offer new and existing patients with Assisted Reproductive Technology ("ART") services such as In-Vitro Fertilisation ("IVF") and Intracytoplasmic Sperm Injection ("ICSI") Procedures.
The collaboration is for an initial term of 36 months and is limited to the Singapore market only.
How does it work?
An IVF treatment cycle can be broken down into two segments (See Figure 1):
SOG to conduct initial investigations, consultations and stimulations.
SOG will refer patients to KL Fertility Centre for ART services.
Nonetheless, specialists from both SOG and KL Fertility Centre would work hand in hand throughout the entire cycle.
Target to commence in early-2018.
While all six O&G specialists are certified to provide such services, SOG plans to have 2-3 designated specialists to carry out such activities as the patients undergoing medication will require more time and attention. Patient undergoing stimulation injections are required to visit the clinics in every 2-4 days to monitor follicles development.
Appeals to cost-conscious patients and Singaporeans who had exhausted their government subsidy for ART. Savings could be up to 25%, while receiving quality private healthcare services.
No fee sharing. Patients will pay for ovarian stimulation fees to SOG and IVF services costs to KL Fertility Centre separately.
 What do we think?
This completes SOG as a holistic care for women's wellness with multidisciplinary team approach, and without incurring additional CAPEX.
The structural change in Singapore underpins demand for fertility services. About 15% of the couples in Singapore face infertility issues. With the median age at first marriage and first birth rising, we believe that there is an increasing number of couples who need medical help in conceiving.
The strategic partnership enables SOG to capture part of the value chain – on consultancy, monitoring, and drug prescriptions. Previously, SOG has been referring its patients to external fertility centre.
It could also unfold multiple opportunities for future revenue growth. If pregnancy occurs, the patient could eventually return to SOG for obstetrical, aesthetic and paediatric services.
We do not expect the new initiative to have a significant impact on FY18e margin. Management shared that the pricing structure for drugs, diagnostic tests and scans, as well as consultation will be similar to its current business model. Obstetrics services will remain as the most profitable business. Hence, we expect EBIT margin for ovarian stimulation to be in the range of 30-35%. A higher than expected demand for fertility services would be an upside catalyst.
Maintained Buy rating with TP of S$0.65 based on FY18e EPS of 2.24 Cents pegged to a forward PER of 29x.
Figure 1: One full IVF cycle

Source: PSR
What are IVF and ICSI?
In-Vitro Fertilisation ("IVF") involves putting the eggs and sperms together and fertilisation occurs by natural selection.
While Intracytoplasmic Sperm Injection ("ICSI") involves injecting a single sperm into each egg to allow fertilisation to occur.
After fertilisation, the embryos are allowed to grow for a short period of time before being placed into the uterus.
A successful pregnancy can be confirmed about two weeks later.
The success rate is likely to fall with age.
Figure 2: ICSI Procedures

Source: Singhealth website
How does SOG differ?
Price competitiveness
Due to the complexities of the process, expensive equipment, and scarce production of the hormones (there are only a handful of companies worldwide), such treatment can be very costly.
Range of cost for a full IVF cycle in Singapore = S$10,000 to S$15,000 (Public); S$12,000 to S$20,000 (Private)
Range of cost for a full IVF cycle in Malaysia = RM15,000 to RM25,000
Medisave can be used to co-pay SOG's bill; While the IVF cost (i.e. payment to KL Fertility Centre) will follow the rate in Malaysia.
Based on a report on IVF, published by MOH in 2004:

In 2002, 67% of the IVF cycles was done in public IVF centres, and 33% in private.

There were more private IVF centres set up since 2002, e.g.  Raffles Medical Group and Sincere Healthcare Group. We believe that the mix should remain around 70:30.
Singapore government has instituted measures to relieve the financial burden and to push for higher fertility rate
Medisave for Assisted Conception Procedures
Lifetime withdrawal limit for each patient of $15,000 for out-of-pocket costs for Assisted Conception Procedures
Figure 3:

Source: HeyBaby.sg
Government Co-Funding Scheme for Assisted Reproduction Technology (ART) Treatment
Up to 75% in co-funding from the Government for ART treatment cycles, for a maximum of 3 fresh and 3 frozen ART cycles
Only available at AR centres in Singapore public hospitals, namely at National University Hospital (NUH), Singapore General Hospital (SGH), and KK Women's and Children's Hospital (KKH)
Figure 4: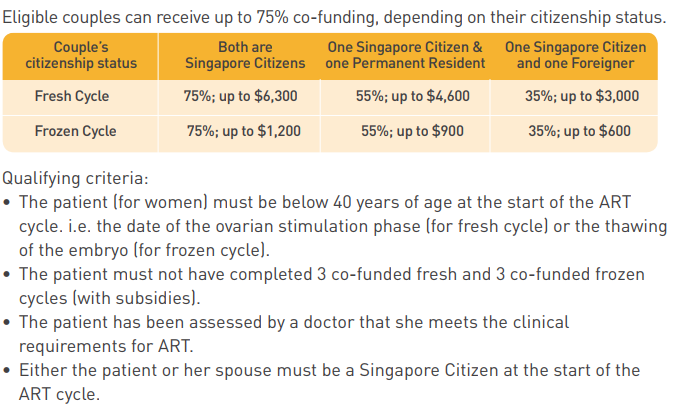 Source: HeyBaby.sg
MOH has co-funded 3,512 assisted reproduction cycles in 2015, up from 3,173 cycles in 2014 and 2,749 cycles in 2013.

The IVF market in Singapore is estimated to worth over S$75mn.

Assuming:
The 3,512 cycles formed the 70% total cycles done in 2015, based on the 70:30 public-private mi
The average cost is S$15,000 per cycle