FY2016 Revenue of S$28.67 mn was in line with our forecast of S$28.52 mn
FY2016 PATMI of S$8.8mn missed our forecast by 18.8%, due to higher-than-expected non-cash finance expense and operating expenses
Expansion of its existing pillars and venture into new complementary segments (e.g. paediatrics and fertility services) would be the catalysts for re-rating
Final dividend of 1.57 Cents; FY2016 dividend of 3.10 Cents (83% payout ratio)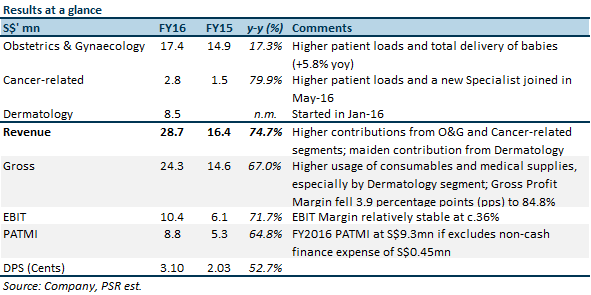 O&G shined amid challenging environment. The Group registered a 5.8% year-on-year ("yoy") increase in total delivery in FY2016, vis-a-vis -2.2% yoy for Singapore. Its Obstetrics and Gynaecology (O&G)'s market share in private sector market increased to 7.5% from 6.7% in previous year. Dr. Natalie Chua registered an astounding performance by delivering 293 healthy babies in FY2016, up from 180 babies in previous year. Meanwhile, Dr. Cindy Pang whose focus is on GynaeOncology, delivered over 60 babies.
We remain positive of the Singapore O&G Ltd's ("SOG") ability to deliver organic growth despite the current sluggish birth rate. We expect the growth momentum to extend into FY2017, in view of (i) SOG's growing market position, and (ii) support from the new Obstetrician, Dr. Hong Sze Ching (joined in July 2016).
Dermatology and Aesthetic business forms a strong second growth pillar to SOG. Its maiden profit contribution of S$2.58mn formed 29% of FY2016 Net Profit, and exceed its target net profit of S$2.3mn (the terms and conditions stated during the acquisition deal) by c.12%. With plans for recruitment and new product development in place, SOG could achieve greater profitability for this segment in FY2017.
Cancer-related segment turned profitable from effective marketing strategy to increase productivity. The higher patient loads offset the drag from the new Breast Specialist, Dr. Lim Siew Kuan who is still in her latent period (joined in May 2016). With Dr. Radhika turned profitable and Dr. Lim Siew Kuan to turn profitable in 1H FY2017, we expect Cancer-related business to continue to grow with similar pace in FY2017.
Lower FY17F EBIT margin at c.36% due to change in business mix. Recall that Dermatology and Cancer-related businesses generally require more consumables and medical supplies than that of O&G specialty. O&G remained the most profitable business, with EBIT margin at 40%, followed by Dermatology at 35%, and Cancer-related segment at 14%.
While O&G should remain as its core business, providing a relatively resilient profit base, we expect Cancer-related and Dermatology segments to drive growth in FY2017. This could shift revenue mix toward segments with lower EBIT margin.
FY2016 PATMI more than doubled within a year but was weighed by an accounting finance expenses of S$0.45mn, relating to the acquisition of all the business and medical practices of Dr. Joyce Lim on 1 January 2016. Excluding this non-cash item, PATMI would have been S$9.3mn (+75% yoy). FY2016 adjusted net margin at 32.3%, comparable to FY2015's 32.5%.
Potential re-rating catalysts:
Successful new recruits of medical practitioners to expand its current three growth pillars.
Better-than-expected margin improvement, particularly its Cancer-related segment.
Expansion into complementary medical services, such as Paediatrics (in line with SOG's Whole-of-Life concept), and In-Vitro Fertilisation ("IVF") (to complement its O&G segment).
Plenty of headroom for acquisitions while sustaining its dividend payout ratio at above 80%. SOG maintained a strong financial position, cash-rich and no debt. SOG generated positive operating cash flow of S$10.4mn and has a net cash position of S$8.75mn as of end-FY2016.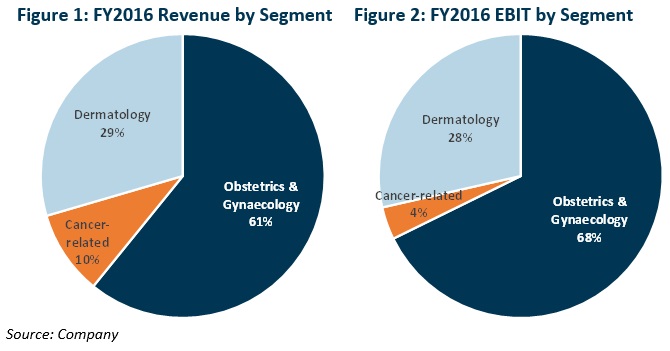 Investment Actions
We adjusted our assumptions to account for higher patient load driven by new hires, but partially offset by (i) the implicit discount on the cash payments for acquisition of Dermatology business, as well as (ii) higher operating expenses. This translates to a c.8% increase in FY17F EPS at 4.32 Cents as compared to our previous forecast.
We think the stock has further upside stemming from its 1) expansion plans backed by strong financials and clean balance sheet, and 2) growing customer base underpinned by favourable macro environment and experienced specialist team. As such, we pegged to a higher forward PER at 36.5x (from 30.0x).
We upgraded to "BUY" rating with a higher TP of S$1.57 (previous S$1.37) as we roll over our valuation to FY17F.
Figure 3: Peer Comparison and Valuation