Maintain Equal Weight view on Industrial REITs sub-sector
Sector occupancy ticked up QoQ, driven by take-up of newly completed warehouse space. However, sector occupancy was lower YoY.
Rental Index across the board yet to bottom, but Business Park rental made new high
Tapering of new supply in 2018 leads us to believe rents to bottom by end of this year
What is the news?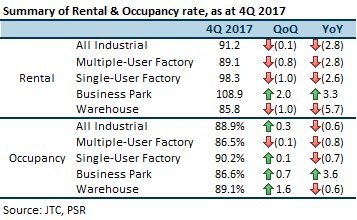 Key takeaways from the quarter
+ More leasing follow-ups, and managers are more selective on tenants
Unchanged from previous quarter, managers generally gave feedback that they are seeing more enquires compared to a year ago. However, it is still taking time for enquiries to convert into actual transactions. Managers are still actively engaging tenants to maintain occupancy, as it is a tenant's market. Demand is coming from trade sectors such as transport and storage, IT, precision engineering and food and beverages. We also hear managers emphasising on tenant credit quality.
+ Expansion of investment mandates by MINT and SBREIT
Mapletree Industrial Trust (MINT) expanded its investment mandate to include data centres outside of Singapore, capped at 20% of aggregate portfolio value. And Soilbuild Business Space REIT (SBREIT) expanded its mandate to include Australia.
+ ESR-REIT proposed a merger with VIT by way of acquisition
ESR-REIT would acquire all the stapled securities of Viva Industrial Trust (VIT) by issuing new ESR-REIT units. In a prior sector report (May 11, 2017), we had listed Viva Industrial Trust (VIT) as one of the possible targets for Cambridge Industrial Trust (now known as ESR-REIT), on the basis of Mr Tong Jinquan's majority interest in VIT. Consolidation of smaller REITs improves scale and could bring about better operating efficiencies.
– Negative reversions to persist in 2018, managers expect rents to bottom in 2018
Industrial S-REITs generally reported negative renewal rates in 4Q 2017, with the exception of Ascendas REIT (A-REIT, +5.8% renewal for Singapore portfolio) and Mapletree Logistics Trust (MLT, +4.5% renewal for Singapore portfolio). Our view remains unchanged for negative reversions to persist in 2018, and we believe rents to bottom only by the end of 2018. Industrial REIT managers are expressing varying degrees of optimism – some believe rents to bottom in 1H 2018, while others believe it to bottom in 2H 2018.
– Revaluation losses on the back of soft rents
The soft rental market resulted in investment property revaluation losses for the six REITs (Cache Logistics Trust, ESR-REIT, Keppel DC REIT, Sabana REIT, SBREIT and VIT) that reported their full year results.
Investment Actions
We maintain our "Equal Weight" view on the Industrial sub-sector.
The tailwinds for the sector are the tapering of supply of Industrial space in 2018. In line with the robust industrial activity, 4Q 2017 Rental Index occupancy was higher QoQ, albeit driven by Warehouse segment only, and Business Park segment to a lesser extent. The uncertainty is the exact bottom for rents, but we believe it to be by end-2018. Negative reversions also likely to persist in 2018, in view of the higher Rental Index from three years ago. We would like to see a broad-based improvement in occupancy, in order to upgrade our sector view for Industrial REITs.

Strategic top-down view (unchanged from previous quarter)
Maintain exposure to Business & Science Park properties and Hi-Tech/Hi-Specification buildings
Singapore is evolving towards higher value-added manufacturing and there is a push with the Smart Nation initiative. We like REITs that can capture this opportunity with Business & Science Park properties and Hi-Tech/Hi-Specification buildings. At the same time, Business & Science Park rents are expected to be stable, underpinned by limited new supply.
Key points for the REITs under our coverage
We upgraded Cache Logistics Trust to Accumulate during this results cycle, on the basis of its strengthened balance sheet and ability to execute its rebalancing strategy. We also ceased coverage on Soilbuild Business Space REIT due to reallocation of internal resources.
Ascendas REIT – The stable giant
Portfolio occupancy remains high at 91.1% with healthy WALE of 4.2 years
57% of A-REIT's Net property income is derived from Business Park and Hi-Specs properties in Singapore
Contribution from recent acquisitions able to buffer the 5.1% of Singapore NLA that is up for renewal in 4Q FY17/18
Cache Logistics Trust – Fuelled and ready
Acquiring a portfolio of nine logistics properties in Australia, funded by a combination of debt and perpetual securities
Estimated gearing will be 35.8% after the acquisition of the nine properties and divestment of 40 Alps Ave (divestment proceeds will be used to repay debt)
Key downside risk of CWT Commodity Hub (26% by portfolio value as at FY17) master lease expiry, has been partially mitigated with pre-commitment from underlying tenants for two-thirds of NLA.
Mapletree Industrial Trust – Tech-ing up with overseas data centres
JV of 14 data centres in the US started contributing, increasing income exposure to Hi-Tech Buildings and also diversifying outside of Singapore
Kallang AEI (12% pre-committed) and data centre build to suit coming on stream in 2018 to contribute positively
Uncompelling valuation at implied 1.48 times FY18e P/NAV multiple
Keppel DC REIT – Specific exposure to a unique asset class
Keppel DC Dublin 2 (acquired in September 2017) and maincubes Data Centre (expected 2Q18) to contribute positively in 2018
Manager is working towards achieving S$2bn AUM target in 2018
Valuation appears to be rich at an implied 1.45 times FY18e P/NAV multiple