2Q18 PATMI was in line with our estimates.
2Q18 SDAV was 4% higher but poor SDAV performance in December was a drag.
Equity, FX and commodity derivatives volume was strong despite a weak trading environment globally.
Securities clearing fee spreads were down due to higher trading volumes by MMLPs and higher composition of products such as ETFs and DLCs.
Derivatives average fee per contract decreased due to higher trading volumes from trading members.
Maintain Accumulate with higher TP of S$9.00 (previous TP S$8.31) based on DCF.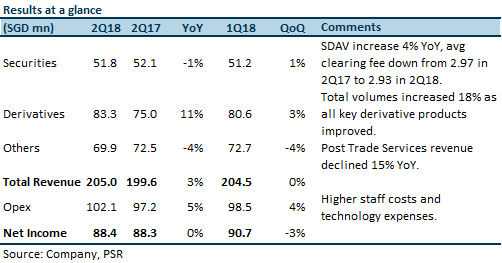 The Positives
+ Derivatives revenue rose 11% YoY to S$83.3mn, contributing 41% of total revenue. Despite a weak trading environment globally, SGX managed to grow its derivatives revenue. The improved performance is attributed to stronger flows into Asian emerging markets in which SGX is the gateway.   
+ Listing revenue up 3% YoY to S$12.4mn due to a higher number of new bond listings. 2Q18 had 289 bond listings raising S$103.5bn compared to 204 bond listings raising S$89bn in 2Q17. SGX also saw its first listing of Indonesian bonds (Komodo bonds) in the quarter.
+ Market Data and Connectivity revenue up 4% YoY to S$24.2mn, accounting for 12% of total revenue. The increase is due to higher reported data usage and from continued growth of SGX's colocation services business.
The Negatives
– Securities revenue was lower even as SDAV rose because of declining average clearing fees. 2Q18 average clearing fee for Equities was 2.93 bps, lower than 2Q17's 2.97 bps. The average-clearing fee for Other products was 0.51bps, lower than 2Q17's 0.86bps. The lower average clearing fee was due to increase in trading of warrants, ETFs and DLCs and higher trading volumes by Market Makers & Liquidity Providers (MMLP) as these market participants generally pay lower clearing fees.
– Derivatives average fee per contract has been declining sequentially. 2Q18 average fee per contract was S$1.07, lower than 2Q17's S$1.16 and 1Q18's S$1.13. The decline has been attributed to the growth in volumes from trading members who enjoy lower rates on the derivative contracts.  
– Post-Trade Services down 15% YoY to S$25.4mn, accounting for 12% of total revenue. Contract processing revenue led the decline in the segment with a 63% YoY decrease from S$3mn to S$1.1mn as brokers are migrating to their own back office systems. Brokers are expected to complete the migration by 3Q18. In another segment of Post Trade Services, the Securities settlement revenue declined 9% YoY because of a change in the mix of securities settlement instructions.
Outlook
SGX will be launching Indian Single Stock Futures (SSFs) in February 2018 in addition to its existing Nifty 50 Index Futures. We believe SGX is expanding its product mix as foreign use of Indian domestic derivative products through Offshore Derivative Instruments (ODIs) also known as participatory notes (P-Notes) will be phased out. Therefore, foreign market participants are expected to clamour for Indian financial derivatives available in offshore platforms such as SGX and Dubai Gold and Commodity Exchange. SGX will be implementing the Dual Class Shares (DCS) and the rules for DCS are expected to be out by June 2018. Shortly thereafter, the first company with DCS is expected to be listed. SGX has initiated a Euro Medium Term Note programme to boost its war chest further by S$1bn to S$2bn. We believe that SGX will be looking for acquisitions to reinforce its derivatives and fixed income businesses and even venture into the private market space. FY18e operating expense guidance has improved to between S$410mn to S$420mn from previous guidance of S$425mn to S$435mn due to lower fixed costs.
Investment Actions
Maintain Accumulate with higher TP of S$9.00 (previous TP S$8.31) based on DCF.