Variety, price and convenience are the three main drivers for consumer purchases
Fresh products is the least vulnerable to Amazon's threat
We maintain our Overweight view on Singapore Consumer Sector
'Buy' on both Sheng Siong (TP: S$1.18) and Dairy Farm (TP: US$9.89)
Consumers are attracted to shopping online due to the low prices, the convenience of purchasing and delivery, wider selection, as well as ability to shop on the go or a 24/7 access. Amazon Prime's entry to Singapore on end Jul-17 had put retailers on the hot seat.
How do we view this?
We do not think that Amazon will grapple all market share away from existing players:
The fragmented e-commerce market in Singapore imply a lack of customer loyalty to a single platform. Consumers are price sensitive.
Fresh products are the least vulnerable to Amazon's threat. The three major supermarkets are ramping up their fresh products offerings and we believe that Singaporeans still prefer to handpick perishables or fresh
Local players dwarf Amazon Prime Now in terms of variety and range of offerings. We believe consumers generally prefer one-stop shopping. All three major supermarkets have large storage capacity to support optimal inventory stocking.
Online players could save on rental and labour costs, but the capital-intensive nature to invest in extensive infrastructure, logistics and marketing shunned e-commerce business. The three supermarket companies have sustainable cost structure to maintain their pricing competitiveness, i.e. maintaining margins and keeping costs low.
Convenience is king. Physical store are irreplaceable, and click-and-collect is the new way of shopping. In addition, Singapore has a very high store density.
The Unknowns:
Singapore government intends impose goods and services tax (GST) on online purchase. This could level the playing field between local GST-registered retailers and offshore
Response from other brick-and-mortar operators could intensify competition.
Investment actions
We remain Overweight on the Singapore Consumer Sector. After three lacklustre years, we expect the present rebound in economic conditions to continue and filter down to better consumer sentiment.
We have 'Buy' ratings on both supermarkets, Sheng Siong (TP: S$1.13) and Dairy Farm (TP: US$9.89). They have own Fresh distribution warehouse in Singapore, allowing them to ramp up fresh offerings as well as to leverage economies of scale. Fresh products are less vulnerable to Amazon's threat. Improving operating efficiencies will support their profitability and thus more resilient and sustainable. In addition, they are also expanding their stores network, bringing their presence closer to consumers.
On F&B segment, we have 'Buy' on homegrown curry puff chain, Old Chang Kee (TP: S$0.98), and the dominant spirits manufacturer, Thai Beverage (TP: S$1.18), as well as an 'Accumulate' on FNN (TP: S$2.83). Food and beverage manufacturers could collaborate with online intermediaries, to complement their existing distribution network. For example, Old Chang Kee's engaging Food Panda for delivery services, products of Thai Beverage and F&N are available on Lazada, Redmart, and Amazon Prime.
It's All About Variety, Price and Convenience
A saturated and competitive market
Singapore e-commerce market is fragmented despite rivals having moved into Singapore years ago. According to Bain's report on SE Asia e-commerce in 2016, over 12 platforms serve 90% of the Singapore market.
In addition, Singapore has a high level of cross-border trade with more than half of Singapore's online consumers are buying from international merchants. Consumers have been shopping overseas online for years, for items that are not available locally in Singapore or that are available at a lower price.
This also implied lack of customer's loyalty to a single platform. The online world has increased price transparency, leading to more bargain-hunting consumers.
Figure 1: Examples of entry of online businesses in Singapore up till 2015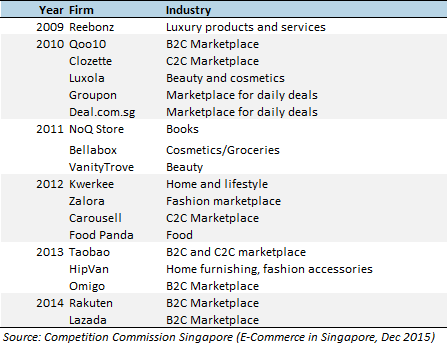 Figure 2: Fragmented market with no retail platform is the preferred platform for >20% of consumers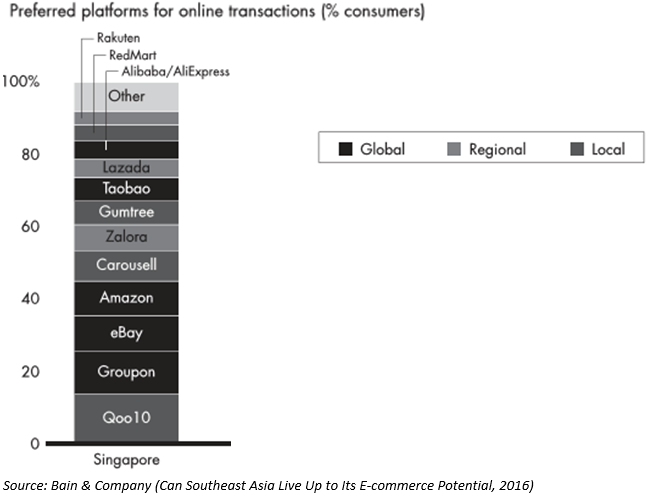 Amazon's arrival in Singapore will not gobble up all the market share.
In terms of number of offerings, Lazada dwarfs Amazon locally, offering more than 30mn products compared with tens of thousands via Amazon Prime.
Fresh products, a sweet spot and the least vulnerable to Amazon's threat
Products with long shelf life and can be easily delivered to a consumer, are the most vulnerable to online threats. E.g. electronics, clothing, sporting goods, footwear and accessories, toys, homewares and dry goods.
On the other hand, products that involve expensive shipping costs, large return costs, high investment costs in distribution and logistics, requires high customer engagement, or simply consumers' preference to purchase in-store, raised the barrier to entry. E.g. cars, luxury products, and fresh groceries.
Figure 3: Online or in-store shopping preference for selected product categories by consumers worldwide as of 2017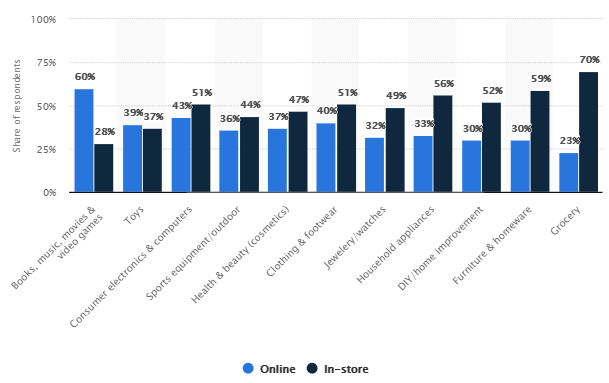 Source: Statista
Amazon's core product offerings are the electronics, video games, books and clothing, shoes & jewellery. Groceries are available, but limited.
Amazon Fresh was launched in 2007, offering a greater selection for groceries. However, in order to enjoy same-day delivery for fresh and frozen products, Prime members would have to fork out an additional monthly Amazon Fresh membership fee of US$14.99 (approximately S$20.39).
After a decade since launched, this service is currently only available in some US states, London, Tokyo, and Berlin. In fact, three months after acquiring Whole Foods, instead of expanding its grocery distribution network, Amazon is scaling back its Amazon Fresh delivery service. Amazon had just announced to shut down Amazon Fresh in at least 9 states in the US. The reason to cut back service, and whether Amazon Fresh would return to affected areas, are unknown.
Perhaps, PwC's 2017 Total Retail Survey managed to shed light on the issue. According to the Survey, only about 10% of shoppers in US purchase their groceries online.
The Survey also suggests that about two-thirds of Singapore consumers prefer to make grocery purchases in-store, roughly in-line with global average at 70%.
Driven by rising demand on quality and safety awareness, we believe Singaporeans will still prefer to handpick perishables or fresh produce, such as fresh meat, and fish. By making a trip to an entrusted local supermarket, consumers are more confident in the food source and quality that they could bring home.
Both Dairy Farm and Sheng Siong are strengthening their fresh product offerings as a defense against growing competition from Amazon. With larger fresh products storage space as compared to Amazon, we believe that the two supermarkets are well-positioned.