Singapore listed coal producers are growing production by 60% this year
Indonesia domestic demand for coal is expected to double in ten years
Coal prices to remain stable as China keeps demand-supply in check
Investment Thesis
Indonesia is the sweet spot for coal production: Indonesia enjoys demand from two captive sources. Firstly, Indonesia fulfils 40% of China's imported coal requirements. Secondly, Indonesia will provide the spurt in demand domestically. We expect domestic demand for coal to ramp from 85mn tonnes in 2017 to 155mn tonnes in 2026.  Demand for coal in Indonesia will be fuelled by the large roll-out of power plants. Indonesia aims to increase 35 GW of installed power capacity.
China will provide stability to coal prices: China is the world largest consumer and producer of thermal coal. As of 2016, total consumption volume of thermal coal is close to 4bn tonnes which accounted for around 50% of world consumption. China dictates global thermal coal prices. China's policy is to stabilise coal prices and even out demand-supply in order to benefit both thermal power and coal producers domestically. Under the 13th Five-Year Plan, China aims to further curb the growth of coal production, targeting at 3.9bn by 2020. This is a meagre 0.5% growth p.a. from the production of 3.8bn in 2015. The number of coal mines will be cut by 38% to 6000 by 2020. On demand, China plans to cap the coal consumption at 4.1bn tonnes by 2020 (2016: 4bn tonnes).
Singapore listed coal producers enjoying stellar growth: The coal producers under our coverage are expected to grow their production by 60% in FY17. This is much faster than their listed peers in Indonesia, whose production is set to grow by 8%. In addition to the accelerated growth, the valuations in Singapore are cheaper on a P/E and EV/reserve basis.
Investment Actions
Golden Energy and Resources (GEAR): The largest Singapore listed coal producer. It has four producing coal concession and coal reserves of 778mn tonnes.  GEAR is ramping up its production by 90% over two years to 18mn in FY18e. We initiate coverage with a BUY rating with a target price of S$0.59 for FY18e.
Blackgold Natural Resources (BNR): BNR started coal production only in 2016 with a meagre 30k tonnes. We expected production to spike up to 1.3mn tonnes in FY18e after securing four new customers. BNR has sizeable coal reserves of 147mn tonnes. The award of a Riau 1 mine mouth power plant project could further triple production by 3.5mn tonnes. The ability to fund this huge project will be the challenge. We initiate BNR with a Trading BUY and target price of S$0.16. At our target price of S$0.16, BNR will be trading at 10x PE FY18e. This will be in line with regional peers.
Geo Energy Resources Ltd (GEO): In FY17, GEO targets to sell 10mn tonnes of coal. This is an 82% jump over FY16. The current reserves are over 90mn tonnes. We maintain our BUY rating with a target price of S$0.44.
Investment Thesis
CHINA
China is the price setter for thermal coal
Thermal coal market is dictated by China since it is both the largest coal producer and consumer globally. As of 2016, China's coal production and consumption reached 3.5bn tonnes and 3.8bn tonnes, representing 46% and 51% of the total world volume respectively. However, multiple factors such as coal grade, logistics costs and environmental policies, make it challenging for the domestic coal supply is to fulfil the local demand. China is pushed to import. As per Figure 1, 2007-08 were watershed years as imports began to climb faster than exports. Coal prices then began their ascent to record highs. The move culminated in 2009 when China for the first time became a net importer of coal. China had not looked back since and is consistently a major importer of coal.
Figure 1: Watershed period of 2007-09 when China turned from net exporter to importer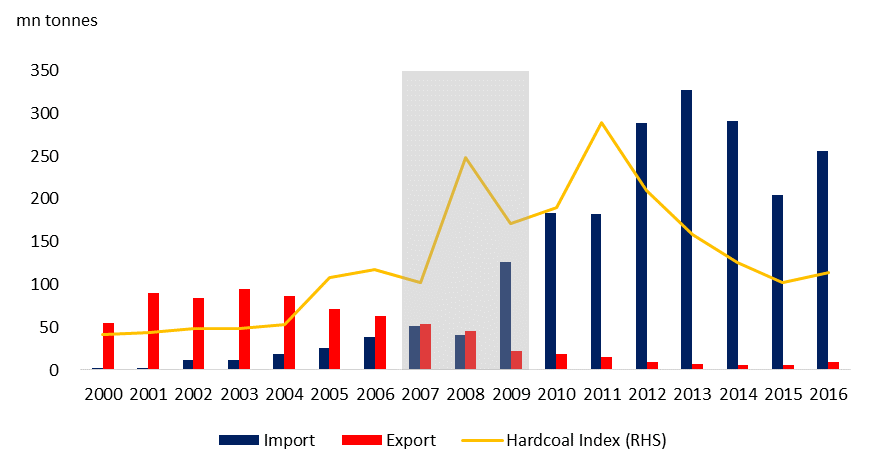 Source: National Bureau Statistics of PRC, Bloomberg, PSR
Indonesia, Australia, North Korea, Russia and Mongolia are the five key countries that export coal to China. Over the period from Jan-16 to Jun-17, apart from North Korea where China started to ban imported coal from in Mar-17, the share of each country maintains at a stable range, with Indonesia the largest exporter (Figure 2).
Figure 2: Indonesia is the key source of coal imports into China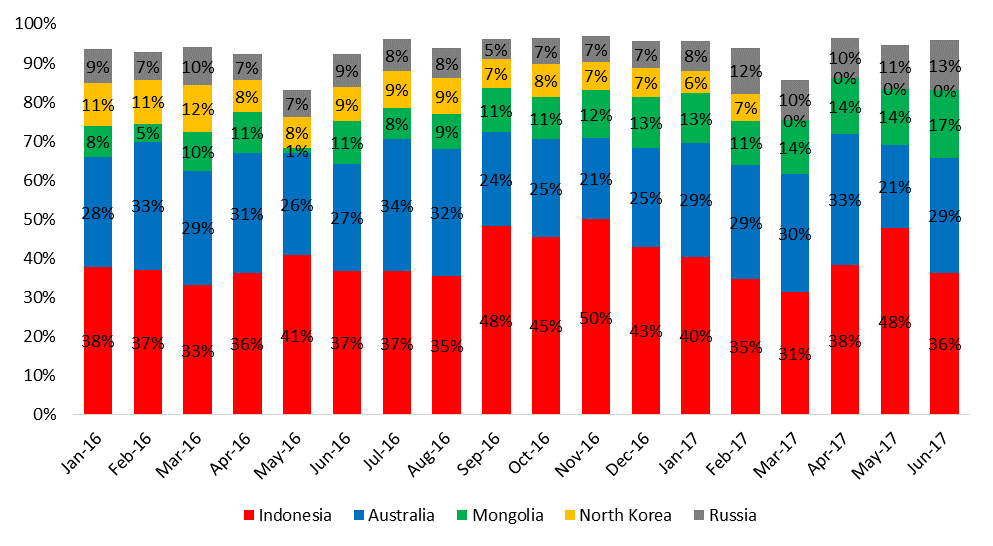 Source: General Administration of Customers of PRC, PSR
Over the years, China's government policies play an important role in the development and regulation of the coal market. These policies affect production and ultimately coal price (Figure 3).
The uptrend of coal production and consumption ended in 2013, but the bear market started two years before. The domestic top-down administrative regulations as well as macro guidance on coal market, listed below, had been paving a path for prices. Prior to 2010, China dedicated to the liberalisation of the coal market, aiming to integrate domestic prices with International ones. The loosened measures favoured the establishment of a bull market which lasted more than a decade. However, inefficient production and overstock surfaced with the end of the bull run. China had started to restructure the domestic coal market, and regulations started be tightened since 2010.
In 2016, the "Supply-side Reform" initiative further restricted coal production nationwide, resulting in a regional shortage of coal supply. Accordingly, the amount of imported coal surged amid the price rally.
Figure 3: Major policies and events impact on coal price in China

Source: National Bureau Statistics of PRC, China Coal Industry Yearbook, Bloomberg, PSR
Next five-year plan is to curb production
13th Five-Year Plan for Coal Industry is the most important guide for domestic coal market in next five years. In general, China aims to further curb the growth of both coal production and consumption from 2016 to 2020, mainly through supply-side policies, shown in Figure 4. We believe that the government aims to consolidate the industry to eliminate excess capacity moving forward.