Singapore's domestic loans rose 5.6% YoY in August.
Loans growth in Hong Kong slowed to 8.4% in August, the slowest in almost two years.
3-month SIBOR rose to a new high in September as expected.
Maintain BUY for the Singapore Banking Sector.
Singapore's domestic loans grew 5.6% YoY in August
In August, domestic loans growth was driven by business loans that rose +7.0% YoY, supported by strong loan demand from the building and construction, manufacturing and financial institution sectors.  Loans growth for building and construction spiked +8.6% YoY, the highest in 2 years.  Meanwhile, Consumer loans growth slowed down to +3.5% YoY (the lowest in 15 months) due to slight weaknesses in housing and car loans. Car loans sustained this year's strong momentum with +8.0% YoY growth; while housing loans rose +3.7% YoY, a slight deceleration from the c.4% YoY trend line growth in the past year. We do not expect the banks to experience a slowdown in property-related loans in the near-term due to drawdowns of previously approved loans.
Domestic deposits +2.2% YoY in August (CASA +0.9%; Fixed deposit +5.9%)
In anticipation of steeper interest rates, the banking sector has been strengthening its funding position. Deposits increased +2.2% YoY, the fastest in 10 months, stimulated by a rebound in deposit growth by government and statutory authorities and non-bank financial institutions. As the banks build up deposits, the bulk has been in the pricier fixed deposits (fixed deposits made up 39% of total deposits), which could result in a squeeze in NIMs, albeit in the near term.
Hong Kong's loans in August grew 8.4% YoY – slowest in almost two years
Hong Kon's domestic currency loans drove loans growth. Hong Kong's property market has been slowing down the past few months with both sales volume and value trending downwards. According to JLL Hong Kong, August's residential sales volume and value were down -20.8% MoM and -28.3% MoM respectively. Hong Kong banks are increasing their lending rates for the first time in a decade and their ability to charge higher lending rates could more than offset the sequential rise in savings rate. However, higher costs of borrowing might discourage home buyers from taking on mortgage loans, and uncertainties from the trade war escalation could result in a slowdown in loans growth.
SIBOR continues to break decade highs
3-month SIBOR rose to 1.641% in September to 10-year highs. We do not expect the increase in interest rates to subside anytime soon and NIM expansion will continue to be a catalyst. Despite the 52bps rise in 3-month SIBOR this year, mortgage loans growth has remained resilient at 3.7% YoY.  3-month SOR maintained its strong ascent this year, ending near the previous month's high. Average 3-month SOR YTD increased 78.6% YoY. Meanwhile, the savings rate in Singapore remained unchanged at 0.16%.
INVESTMENT ACTIONS         
Maintain Singapore Banking Sector at BUY. We are positive on the sector's continued NIM expansion, loans growth and dividends as a share price catalyst. The key catalyst for NIM expansion lies in rising interest rates and we believe that the banks can keep their cost of funds low enough to achieve sequential NIM expansion. Positive surprises in NIM expansion may offset downsides in trade loans growth if any. In conclusion, banks continue to enjoy dual drivers of expanding loans volume and interest margins this year.
Loans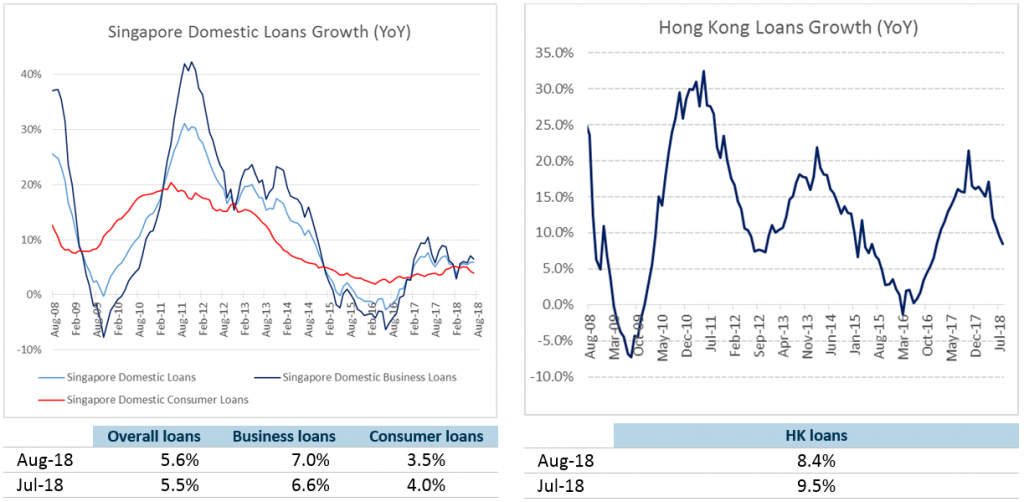 Singapore's loans growth in 3Q18 was trending at +5.7% YoY, as compared to 2Q18's increase of +5.5% YoY.
Hong Kong's loans growth has been on a downward trend since Oct-17.
Margins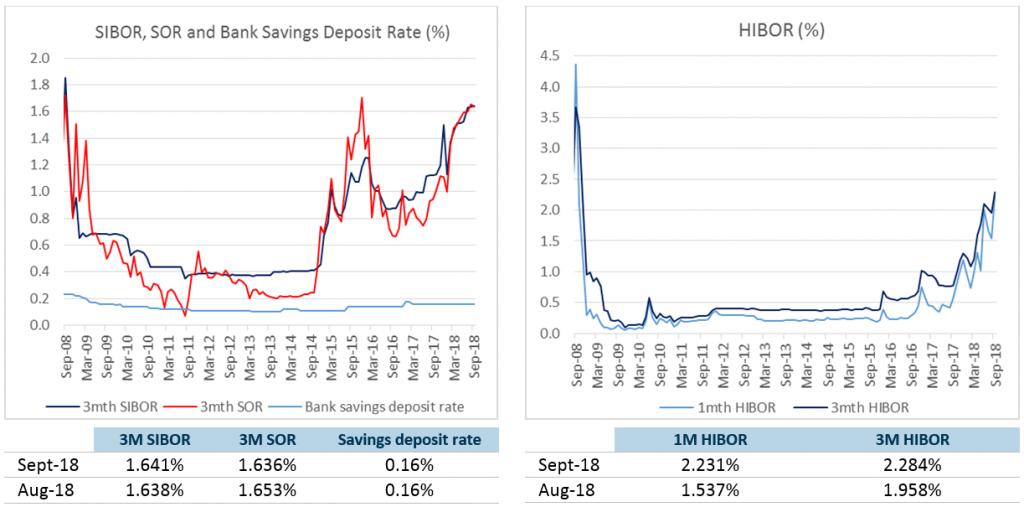 The steady climb in SIBOR and SOR will provide upside in net interest margins for banks in 3Q18's results.
HIBOR to continue on its upward trend especially since Hong Kong's Central Bank lifted its borrowing costs following the rate hike by the US Federal Reserve.
Others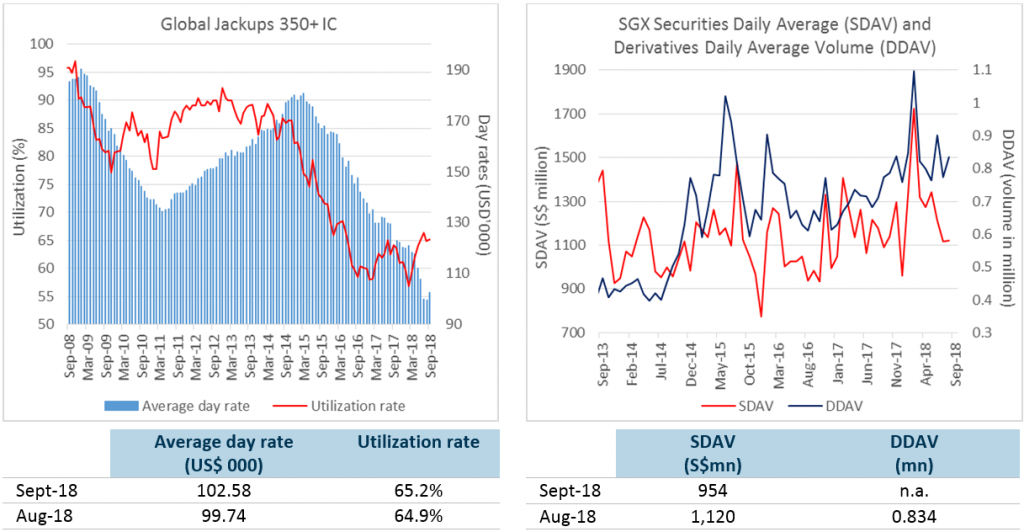 Utilization rate and day rates improved in September and the back of oil price recovery.
SDAV in September decreased -12.4% YoY.
DDAV  activity in August rose +17.4% YoY.
Source: MAS, CEIC, SGX, Bloomberg, PSR