Singapore's domestic loans rose 5.9% YoY in June, the fastest pace this year.
Loans growth in Hong Kong tapered to 10.9% in June.
3-month SIBOR spiked to near 10-year high in July.
Maintain ACCUMULATE for the Singapore Banking Sector.
Singapore's domestic loans in June grew 5.9% YoY
Loans growth in June was driven by business loans that rose 7.0% YoY. Consumer loans growth in June was 4.3% YoY, a slight deceleration from 1Q18's consumer loans YoY growth of 4.8%. Car loans growth reached its 5-year highs with an increase of 8.6% YoY in June. We expect Singapore's economy to continue gaining momentum and the recent property cooling measures to be a slight negative to loans growth in the coming quarters. June's loans growth for building and construction was 3.7%, while mortgage loans expanded 4.2% YoY, keeping pace with c.4% YoY trendline growth.
Hong Kong's loans in June grew 10.9% YoY – slowest in 2 years
Loan growth in Hong Kong for 2Q18 increased 13.3% YoY. This is a deceleration from 1Q18's 20.4%. Hong Kong's residential volume and value resumed its expansion after some weakness in May. According to JLL Hong Kong, June residential sales volume and value were up 21.6% MoM and 30.4% MoM respectively. The new vacancy tax levy announced in June has not yet stimulated property supply or lowered prices. Hence property prices in June continue to climb on strong demand.
SIBOR at multiple year highs
3-month SIBOR rose in July to near 10-year highs. With the expectation of 2 more Fed rate hikes in 2018, NIM expansion continues to be a catalyst. Despite the 50bps increase in SIBOR this year, mortgage loans growth has remained resilient at 4.2% YoY.  3-month SOR maintained its strong ascent this year. Average 3-month SOR YTD increased 79.2% YoY. Savings rate in Singapore was unchanged at 0.16%.
Oil and gas sector to convalesce with recovery in oil prices
Global jack up utilisation rate has bottomed out in February and July's rate spiked to the highest in 2 years. However, recovery in utilization rate was insufficient to emulate a similar recovery in day rates; which fell to the lowest in 12 years. The O&G sector continues to face the issue of structural overcapacity. We see improvements in utilisation rate sparked by a recovery in oil prices. With more rigs being put to work, it may eventually lead to higher day rates. O&G NPLs has stabilised and is unlikely to worsen this year.
INVESTMENT ACTIONS         
Maintain Singapore Banking Sector at Accumulate. We expect the banks' 2Q18 loans growth to be on target due to support from the export and manufacturing sectors as well as the recovery in the property sector. The vibrant loans growth in Hong Kong should help banks meet or exceed the high single-digit loans growth target. Expansion in NIMs might be offset by softer loans growth due to property cooling measures. The greatest worry at the moment is the potential for the trade war to escalate into a global trade slowdown, which could impact banks' loans growth targets and asset quality. In conclusion, banks continue to enjoy the twin drivers of expanding loan volume and interest margins this year.
Singapore loans picked up in May.
Hong Kong loans grew 10.9% YoY in June
MARGINS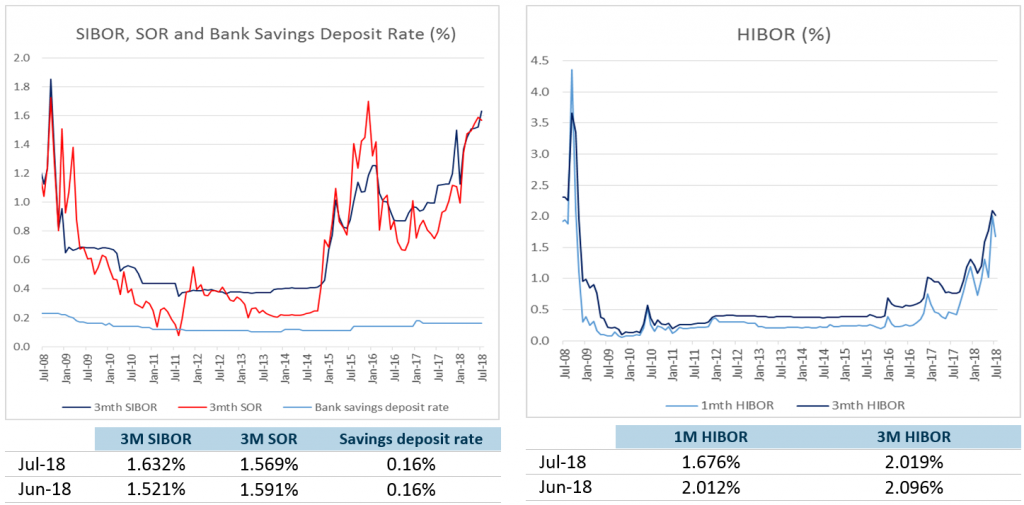 SIBOR and SOR climb will provide upside in net interest margins for banks in 2Q18 results
As HIBOR increases, marginal increases in NIM will more than offset the increase in funding costs.