3Q17 loans growth in mid-single digits YoY and NII increase by 6% – 11% YoY across the three banks.
3Q17 NPL expected to be stable as utilisation of rigs has improved from the beginning of the year.
Expect 3Q17 NIMs to expand by only 1 to 3 bps QoQ
OCBC expected to report one-off gains of c.S$100mn from the sale of stake in United Engineers, BCS and BCSIS.
We upgrade the Singapore Banking Sector to Accumulate from Neutral.
We update our Singapore banks' target prices as we roll over to FY18e valuations.
Loans growth appear to be slowing but not to worry
Loans growth YoY will appear to slow down in the 2H17 because growth will be compared to a higher base in 2H16 (recall that 1H16 loans was weak before improving in 2H16). We expect business loans to continue to be strong as the global economy continues to strengthen, consumer loans growth to accelerate in FY18 as enbloc property sales gain momentum and public construction loans pick up after an extended hiatus.
NIMs growth expected to be subdued as loans growth will primary driver of NII
As discussed in our October Singapore banking sector report, banks have been rolling out housing loans packages that are less sensitive to SIBOR because of intensifying competition. We estimate Singapore housing loans make up about 15% to 20% of the Singapore banks' loans book.
Offshore Oil and Gas NPLs formation are expected to remain stable in 2H17
Though the day rates have continued to be low while oil price is hugging the US$50 mark, there has been improvements in the utilisation rate at the beginning of the year and more rigs have been put to work. We believe the green shoots of recovery in the industry would limit further deterioration of the offshore oil and gas assets.
Our estimates for Singapore Banks' 3Q17 Earnings.
We expect strong 3Q17 earnings performance as we estimate NII to increase 6% to 11% YoY and provision expenses decline sequentially across the three banks. We expect UOB's 3Q17 PATMI to be S$850mn, up 7.7% YoY; DBS' PATMI to be S$1,306mn, up 21.9% YoY and OCBC's PATMI to be S$1,182mn (S$1,088mn, adjusted for one-offs), up 25.3% YoY.
INVESTMENT ACTIONS
Upgrade Singapore Banking Sector to Accumulate from Neutral as we roll over to FY18e valuations – Macro conditions have continued to be positive and sentiments in domestic markets have improved as capital markets and property markets liven up. We expect higher interest rates and loan volume to drive NII higher.
As we roll over to FY18e valuations, we increase our FY18e DBS target price to S$25.70 (previous FY17e target price S$21.45), FY18e UOB target price to S$21.61 (previous FY17e target price S$20.18) and FY18e OCBC target price of S$11.95 (previous FY17e target price S$10.81).
We are upgrading the Singapore Banking Sector to Accumulate from Neutral. We are maintaining our Reduce rating on UOB but upgrading our rating on DBS from Accumulate to Buy and upgrading our rating on OCBC from Neutral to Accumulate.
Figure 1: A snapshot of consensus on FY17 estimates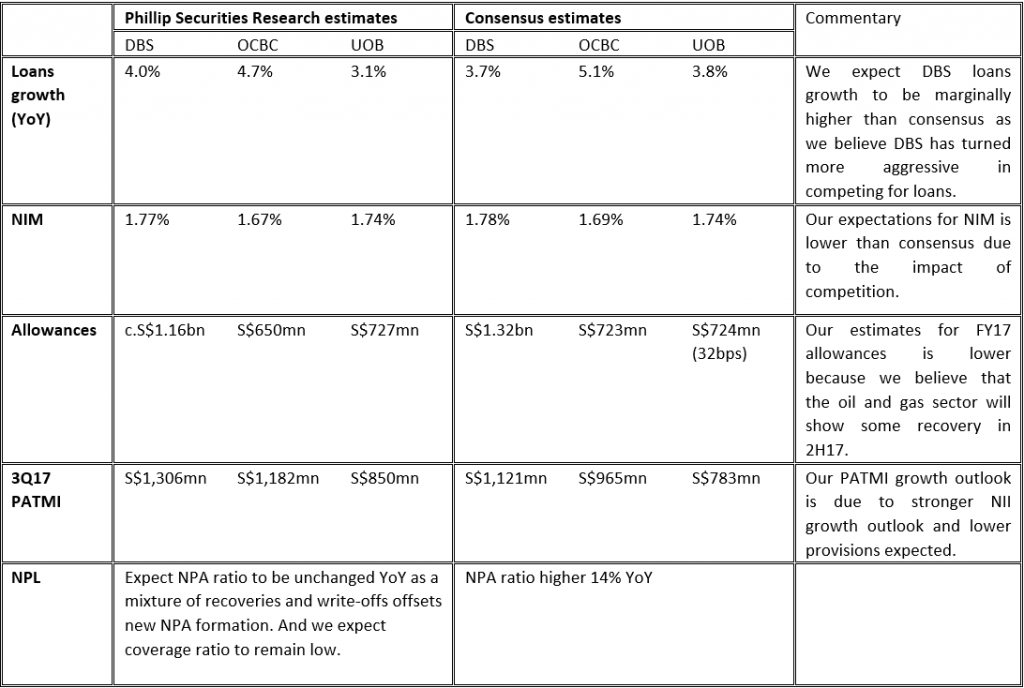 Source: Bloomberg, PSR estimates
*In our October Sector report, the labelling of the bank names were misplaced. We have corrected that error.
Figure 2: Singapore domestic loans have returned to growth in 2017.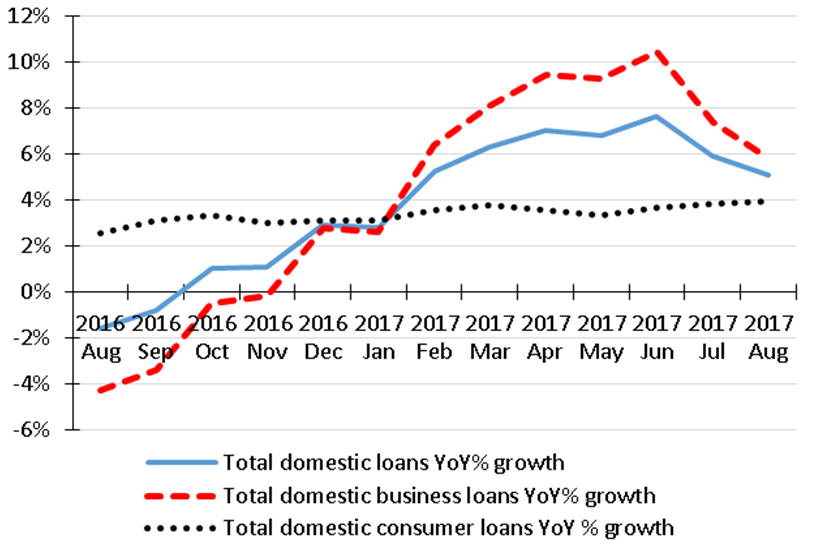 Source: MAS, PSR estimates
Business loans have been leading the YoY growth in 2017. We expect housing loans to pick up strongly in 2018 as the continued enbloc sales momentum drives up demand for housing loans.
Figure 3: Singapore banks' price to book valuation had improved from 1x at the beginning of 2017 to present valuation of 1.1x.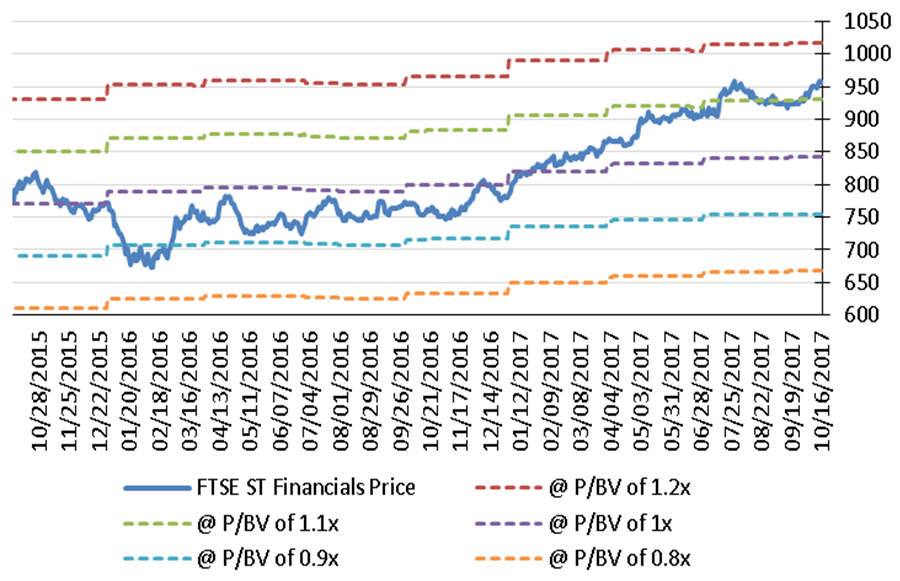 Figure 4: 3 month SIBOR and 1 month SIBOR have risen by c.10bps and c.20bps respectively from early July. We expect SIBOR pegged loans to experience better margins but SIBOR pegged housing loans packages are experiencing some competition.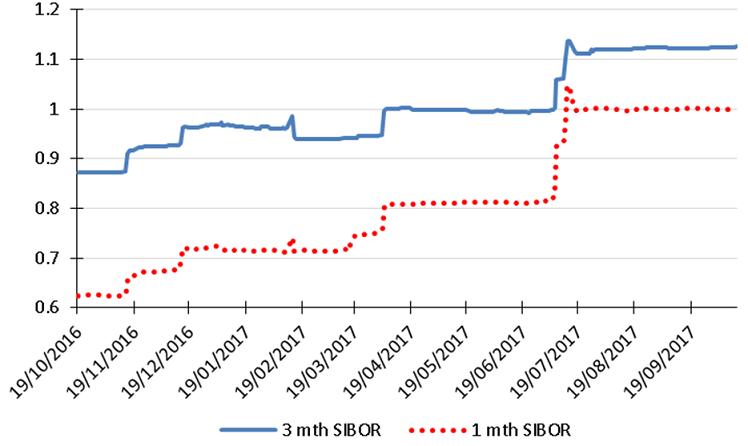 We compared the mortgage rates between Sept and Oct and found that the universal banks – Citibank, HSBC and Standard Chartered Bank have generally reduced their 1-month SIBOR pegged housing loan packages. The Singapore and Malaysian banks' loan packages are largely unchanged.
Figure 5: We expect DBS' and OCBC's Hong Kong NIMs to improve as the spread between the 1-month HIBOR and 3-month HIBOR narrowed in 3Q17.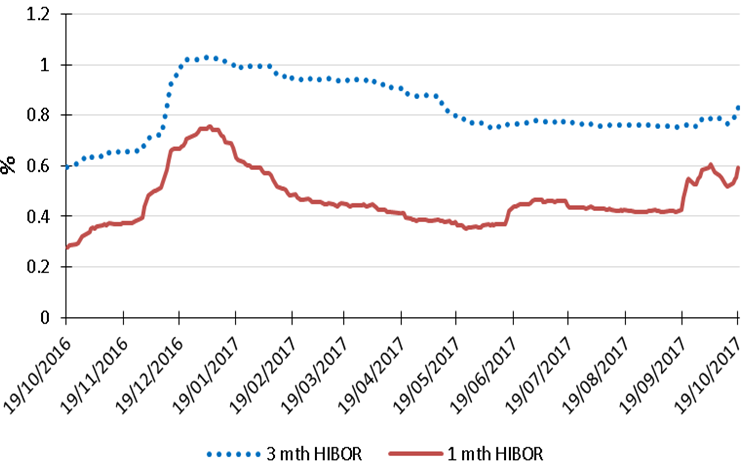 The Singapore banks generally price their Hong Kong housing loans against 1-month HIBOR. The 1-month HIBOR had continued to rise in late Sept 2017. If the trend continues, we can expect even better NIM expansion in 4Q17.