This article was published on Business Times' column "ChartPoint" on 14 August 2017. 
Silver, better known as Gold on steroids due to its extreme volatility, has historically performed better under a new secular precious metal uptrend. Silver follows a similar eight-year cycle pattern to Gold where a cyclical low is formed in between every eight years, and then a secular bull market takes over. Our study shows two interesting points for the cyclical low. The US$13.62 December 2015 low and a more recent low in July 2017 at US$13.91. If the 8-year cycle were to hold, we should expect the US$13.91 July 2017 low and alternatively the US$13.63 December 2015 low to keep a floor on price.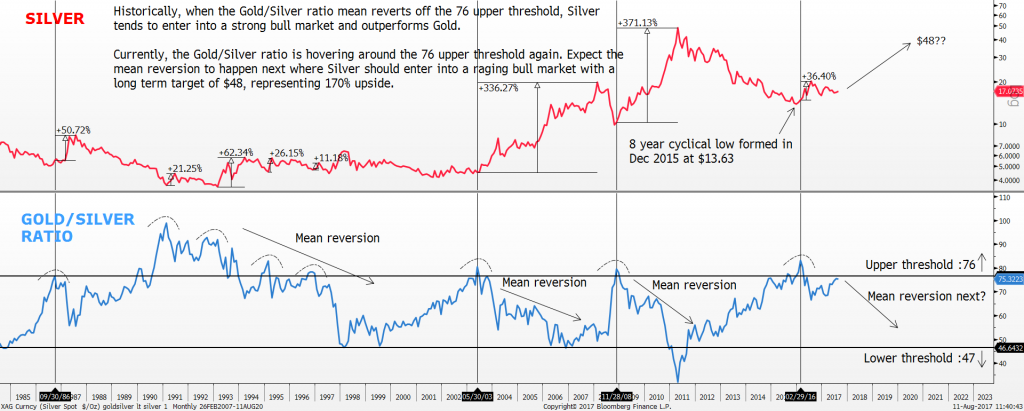 Silver vs Gold/Silver ratio monthly chart                                                                                                                 Source: Bloomberg, PSR
Another indicator to trade Silver is the Gold/Silver ratio. It measures how many ounces of Silver one ounce of Gold buys. For example, the current Gold/Silver ratio of 75 tells us one ounce of Gold can be traded for 75 ounces of Silver.
The interesting aspect about the Gold/Silver ratio is its mean reverting property whenever the Gold/Silver ratio enters into extreme territory. We noted that Gold/Silver ratio of 76 depicts extreme highs, while a ratio of 47 would represent extreme lows. Whenever the Gold/Silver ratio exceeds the 76, Silver tends to rally sharply and the ratio reverts back to the mean.
For instance, the three most recent example of the price performance of Silver when the Gold/Silver ratio exceeded the 76 extreme high side resulted in Silver taking off into a raging bull market. In May 2003, November 2008 and February 2016, Silver rallied 336%, 371% and 36% during those periods respectively.
Interestingly, the Gold/Silver ratio currently hovers around the 76 extreme high side, and we expect the mean reversion to happen soon. We believe Silver will once again outperform Gold during the precious metal bull market once the mean reversion happens where it ties in perfectly with the eight-year cycle, signalling the precious metal secular bull market is well underway.
Keep in mind the natural rate of the Gold/Silver ratio that is being mined out of the ground is about 13 times, which is a far cry from the current reading of 75.
Some key overhead resistance to watch closely is the US$18.47 resistance area followed by US$20.66 and on the other hand, the US$13.93 July 2017 low or US13.63 December 2015 low needs to hold for the eight-year cycle to stay valid. Our long term target on Silver is the 2011 high of US$48.00 once the mean reversion of the Gold/Silver ratio completes.