Revenue was within our and consensus expectation
Adjusted PATMI was 4% lower our expectation; and in line with consensus
Final dividend of 9 cents with no special dividend (FY17: 9 cents final, 5 cents special)
Maintain Accumulate, higher target price of $3.57 (previously $3.51)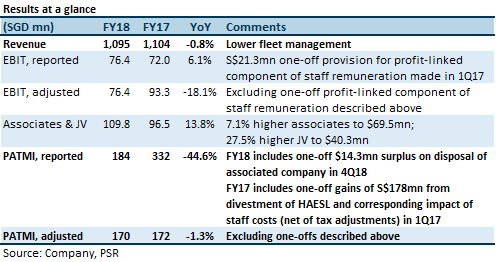 The Positives
Higher JV contribution due to more RR Trent engine shop visits. There were more shop visits for all Rolls Royce (RR) Trent models and not just the Trent 1000. Guidance was given on more engines coming in, but no detail on profit level nor timeline was disclosed.
Dividend payout ratio has been maintained. Including the interim dividend, total ordinary dividend for FY18 is 13 cents (same as FY17), but there was a special dividend of 5 cents in FY17. Payout ratio for ordinary dividend over adjusted PATMI remains comparable; FY18: 85.7% and FY17: 84.8% (5-year average: 85.9%)
The Negatives
Core Company EBIT remains weak. Margin for adjusted EBIT compressed to 7.0% from 8.5%. Individual opex items were a mixed bag, with aggregate core opex increasing marginally YoY by 0.8% and compounding the lower revenue.
Group FY18 PATMI (excluding one-offs) held stable despite the lower EBIT, but was due to an unsustainable spike in JV contribution in 3Q18. We think the spike is not sustainable as it was from a particular one-off commitment to SAESL. 4Q18 JV contribution had subsequently tapered QoQ. Our expectation is for JV contribution to continue at current level, only to start some ramp-up in 2019.
Total equity lower YoY by S$58.1mn to S$1,495.9mn. This was mainly due to foreign currency translation of a weaker USD to SGD (Figure 1. overleaf). USD had depreciated an average of 2.0% over FY18.
Outlook
The outlook is improving, but remains challenging. Management appears to have some visibility on the pipeline for engine shop visits. Our view is that even when engine shop visits return, the long-term normalised profit contribution will still be lower than historical level, due to lower work content. At the same time, competition from other MRO players is not expected to abate.
Maintain Accumulate; higher target price of S$3.57 (previously $3.51)
We have retained our Accumulate rating despite expecting lower PATMI in FY19e. The return of engine shop visits will be a positive catalyst for re-rating. However, we believe the profit recovery will be L-shaped. We expect FY20e earnings growth to be driven by contribution from the associates/JVs. SIAEC has a strong balance sheet in a net cash position and has positive free cash flow. Current dividend level of 13 cents is sustainable for a current yield of 3.9%.