1Q18 revenue in line with our forecast
1Q18 associates/JVs in line with our forecast
1Q18 recurring PATMI exceeded our forecast by 21%
Higher reported EBIT YoY and materially lower reported PATMI YoY are due to one-offs last year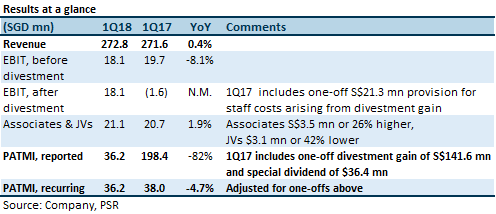 The positives
YoY higher profit from associates: Contribution from Eagle Services Asia (Pratt & Whitney engine shop) and other associated companies. Operators have been encouraged by the low fuel prices to delay retirement of classic fleets such as B747, which is powered by the PW4000 engine. Strong performance from Eagle Service is not expected to be sustainable as the PW4000 is a mature market which will eventually be phased out.
Adding GE engines to its stable: SIA Engineering Company ("SIAEC") announced during the quarter that it would be entering into a JV with GE Aviation to overhaul engines in Singapore.
The negatives
YoY lower recurring EBIT: Reported EBIT was materially higher YoY, which was due to one-off provision in 1Q17. On a recurring basis, operating expenses are 1.1% higher YoY instead of lower as reported, mainly driven by a 5.9% YoY increase in staff costs (47% of revenue) which outpaced revenue growth.
YoY lower profit from JVs: Contribution from Singapore Aero Engine Services (Rolls Royce engine shop) have been weak due to higher engine reliability which requires less maintenance.
Outlook
The outlook remains challenging. Improvement in technology and design has led to better airframe and engine reliability, resulting in the structural issue of lower work content. SIAEC has a strong balance sheet with a net cash position. It has the financial flexibility to mitigate the challenges through entering into new ventures with the OEMs.
Downgrade to Reduce (from Neutral) with unchanged target price of S$3.70
We do not make any adjustments to our full year forecast for FY18e. The 3.3% forecasted dividend yield does not adequately compensate for the downside risk in price. There is scope for FY18e earnings and dividend forecast to be cut, if work content does not pick up in the remaining quarters.
Our target price gives an implied FY18e forward P/E multiple of 24.9x. This compares against the STI next 12-months forward P/E multiple of 14.9x.