Nearly 30% Increase in Profit in the First Three Quarters of 2017
The Gross Margin Rises by 3.8 ppts to 48.2%
Revenue from Aeronautical Business Stably Slightly Rises
The Non-aeronautical Business Continually Increases strongly
Investment Thesis
Riding on the "single-terminal double-runway" to the operational mode of "multiple-terminal multiple-runway" path, the Company will starts its new round of stable growth. We increase the Company's EBITDA per share to RMB2.8 in 2017 and RMB3.25 in 2018, respectively, with the estimation of a 19/16x multiple during the two years. The target price is increased to RMB52.1 and the "Accumulate" rating is maintained.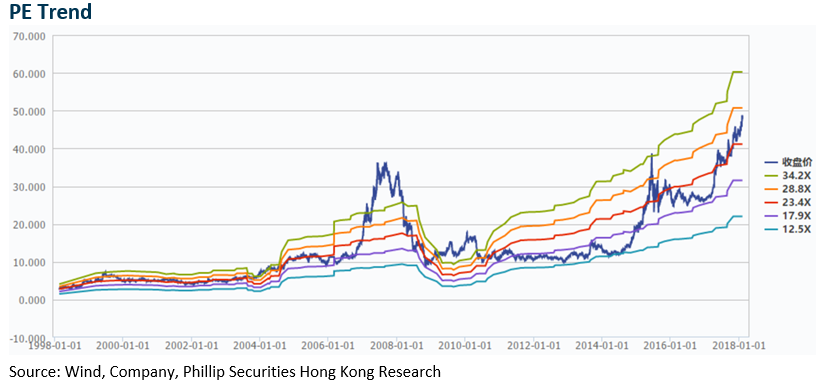 Nearly 30% Increase in Profit in the First Three Quarters of 2017
Shanghai Airport recorded revenues of RMB6,010 million in the first three quarters of 2017, up by 14.9% YoY; the net profit attributable to the parent company stood at RMB2,690 million, up by 27.9% YoY; its basic EPS was RMB1.4, up by 28% YoY. In Q3, the revenue rose by 15% YoY, and the net profit attributable to the parent company soared by 43% YoY, an obvious increase in result growth compared with 21% of H1. The reason is that benefiting from recovery of oil price, the oil company, 40% of whose shares are held by Shanghai Airport, had driven the return on investment to increase by 92% to RMB0.3 billion.
The Gross Margin Rises by 3.8 ppts to 48.2%.
After the Terminal Building T1 Reconstruction Project was completed, the Company's cost side has been increasing stably. The operating cost of the first three quarters of the Company only rose by 7.4%, far lower than the growth rate of revenue, and thus the gross margin increased by 3.8 ppts to 48.2%. The three-expense ratio increased by 1.3 ppts to 2.03% YoY due to decrease of interest revenue, and the final operating profit rate still increased by 2.5 ppts YoY.