Revenue disappointed by S$3.4mn or 7%. The company swung into a wider than expected net loss of S$12mn compared to our estimated loss of S$7mn. Operating expenses and a S$5mn write-off was higher than expected.
The corrosion prevention and solar segment posted healthy growth YoY helping alleviate weakness in engineering and construction.
We revised FY19e revenue downwards by 9% and a net loss of S$183k. We have changed our valuation method to 0.7x P/B in line with peer valuations. Downgrade to NEUTRAL with a lower target price of S$0.194 (prev.S$0.24).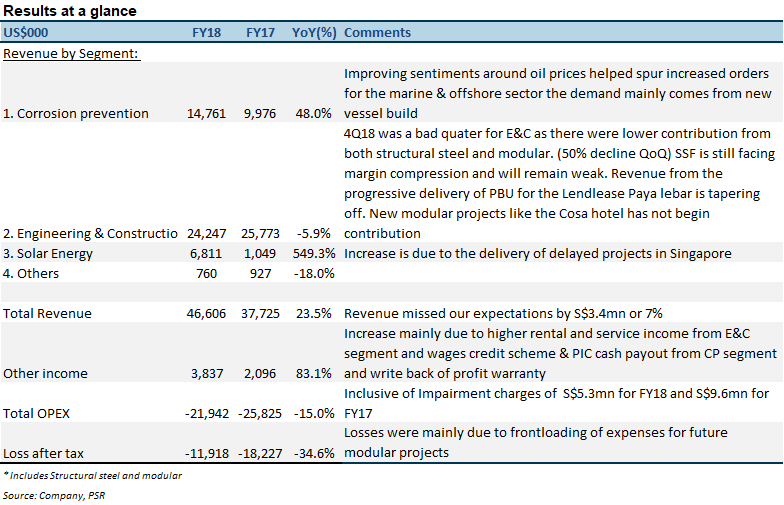 The Positives
+ Recovery of the corrosion prevention segment. The corrosion prevention segment improved S$4.8mn or 48% YoY. The recovery is mainly driven by increased orders from a Singapore marine & offshore conglomerate. Higher oil prices have spurred activities in new vessel building. We expect similar revenue contributions from the corrosion prevention segment in FY19e.
The Negatives
– Frontloading of operational expense. Total operating expense increased 3% YoY excluding the impairment charges. Higher expenses were incurred for the design and development of future modular projects that are in the pipeline. Wages for engineers, architects and workers that are involved in the design & architecture layout, planning and building of showroom modules are part of the costs that are being frontloaded. Revenue for such expenses should be recognised in the following financial year. Note that these expenses should start to normalise in the medium term as the modular business start to operate at steady state. Cost per module could decrease with size and scale.