We revise up our FY19e BVPS (from SG$1.0 to SG$1.1) on an improvement in margins and a narrower net loss. Based on the 5-year average PBR of 1.6x, our revised TP is S$1.76 (previously S$1.65). It is worth mentioning that the historical PBR low was around 1.0x. We maintain our NEUTRAL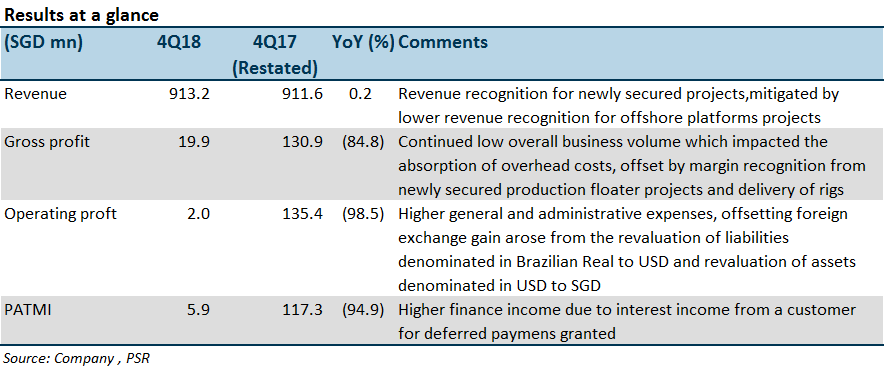 Positives
+ Penetrate the renewable energy business for the first time. In Oct-18, SMM secured two projects for an offshore wind farm in the UK North Sea, which are engineering, procurement, construction, hook-up, and commissioning works for two substation topsides. Meanwhile, it also won a design and construction of three identical battery-powered ropax ferries project. Together with another project of modification, repair, and life extension of Petrojarl Varg FPSO, the orders secured in 4Q18 grew the total new contract won from S$730mn in 9M18 to S$1.18bn in FY18.
+ Some progress of Sete Brasil drillship contracts. In Nov-18, Sete Brasil's judicial recovery plan was approved by its creditors. The plan includes the sale of four drilling rigs being built at two Singapore yards.  
Negatives
– Increasing gearing and declining cash. As of Dec-18, net gearing was 1.44 (1.13 as of Dec-17), compared to 1.37 by the end of Sep-18. Cash in hand dropped to S$837mn (FY17: S$1.3bn). Capex for FY18 amounted to S$343mn, including the installation of new capabilities and completion of corporate headquarters at Tuas Boulevard Yard. Management believed capex in FY19 could be marginally below FY18. This includes the recurring S$50mn to S$70mn maintenance capex.
– Orders book at a five-year low. The net order book continues to shrink (FY18: S$6.2bn vs FY17 (restated): S$8.4bn). The bulk of the new contracts were from Floaters segment (S$930mn in FY18 vs S$911mn in FY17). The increasing interests and enquiries have yet translated into floating LNG orders. The hurdles lie on regulations and policies from potential client's countries.
Outlook
Oil price (Brent) nosedived in 4Q18, from US$80/bbl back to US$50/bbl. Currently, it has recovered to over US$60/bbl. The market consensus for oil price in 2019 is in the range of US$60/bbl to US$75/bbl. Exploration and development spending from the major integrated oil companies is estimated to be US$186bn in 2018 and is expected to rise by 5% to 10% in 2019. The moderate growth could improve SMM's order flows this year. SMM focus is on LNG projects. We believe SMM will continue to ride through this extended cyclical downturn via cost control, enhancement of LNG solution capabilities, and proactive engagement with customers.
Maintain NEUTRAL with a higher target price of S$1.76
We revise up our FY19e BVPS (from SG$1.0 to SG$1.1) due to the assumption of improvement of margin and a narrow loss. Based on the 5-year average PBR of 1.6x, our revised TP is S$1.76 (previously S$1.65). It is worth mentioning that the historical PBR low was around 1.0x. We maintain our recommendation NEUTRAL.