1Q18 revenue in line with our forecast
1Q18 underlying PATMI missed our forecast by 4.3%, from higher than forecasted tax
Negative surprise from lower TFK Corp. revenue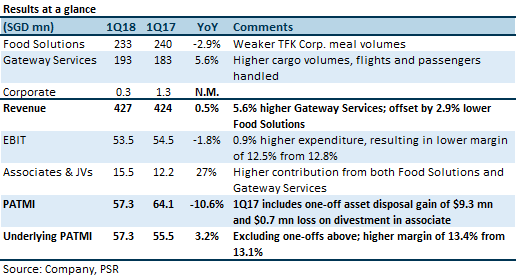 The positives
YoY higher Gateway Services revenue: Due to higher cargo volumes, flights and passengers handled.
YoY growth in profit from associates/JVs: 89% YoY higher Food Solutions from a low base to S$3.4 million, and 16.3% YoY higher Gateway Solutions to S$12.1 million.
Underlying PATMI improved, despite lower operating profit: This was due to higher contribution from associates/JVs. This was within our expectations, as we had stated in our previous report, "Compression in operating margin offset by higher contribution from Associates & JVs, resulting in stable net profit margin."
The negatives
YoY lower Food Solutions revenue: Mainly due to weaker meal volumes at TFK Corp., arising from flight cuts by Delta Air Lines and Japan Airlines. This resulted in 11.0% lower TFK revenue. Non-Aviation Food in Singapore was also lower in relation to a major contract; this should be temporary.
YoY lower operating profit: Due to 0.9% increase in expenditure out-pacing the 0.5% growth in revenue. There was an increase in licence fees arising from the cessation of fee rebates at Changi Airport.
Outlook
The outlook remains stable to positive. Key theme of air travel growth and demand for safe food remains intact. SATS will continue to reinvest capital in automation & technology, and in adjacent business lines through associates/JVs. Airlines are facing low yields, resulting in pricing pressure on SATS; but this may open up opportunities for SATS, as airlines could divest non-core businesses such as catering and ground handling.
Maintain Neutral; unchanged target price of S$5.08
We do not make any adjustments to our full year forecast for FY18e. Our target price gives an implied FY18e forward P/E multiple of 23.2x. This compares against the STI next 12-months forward P/E multiple of 14.9x.