Investment Summary
2017 Finale of "Steady Growth"
The trend of better product structure of JV is prominent
SAIC`s self-brands still saw robust growth
Investment Thesis
We hold that driven by new product cycle and improving product structure, the company`s better-than-expected growth is worth looking forward to. A relatively high cash dividend rate is expected to continue with its abundant cash flow. We adjust the profit forecast, giving the target price of RMB38.24, equivalent to 12.3/10.8x estimated P/E ratios in 2017/2018. The "Accumulate" rating is given. (Closing price as at 14 Feb 2018)
Forward P/E, P/B trend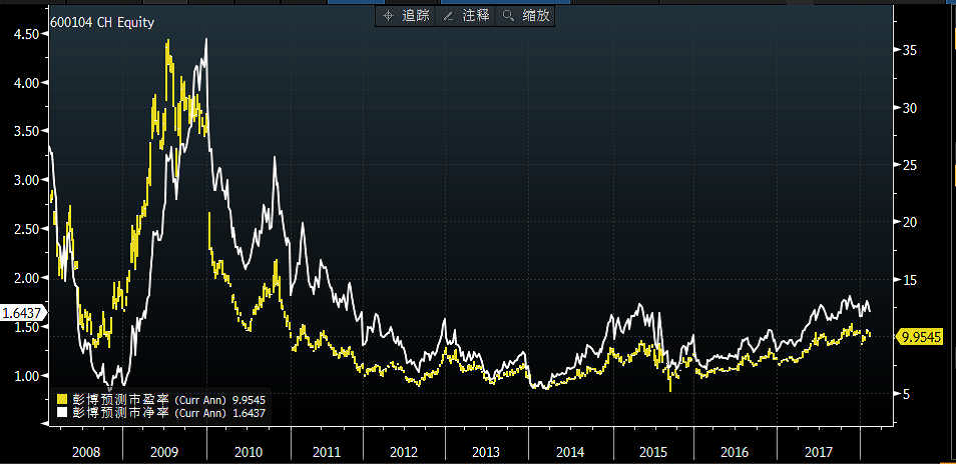 2017 Finale of "Steady Growth"
According to SAIC`s financial results forecast, in 2017, the Group reported net profit attributable to parent company of RMB34.2 billion, a yoy increase of RMB2.2 billion, or a yoy growth of 7%. After deducting the non-recurrent profit and loss of RMB32.7 billion, the yoy increase is 7.8%. In 2017 SAIC achieved sales of 6.93 million units, a yoy increase of 6.9%. The target set at the beginning of the year has been roughly fulfilled. The sales growth is above the industry average by 5.5 percentage points, showing a strong growth momentum. The profit growth is higher than sales growth, reflecting that the company`s profitability has seen improvement.
The trend of better product structure of JV is prominent
The group`s joint-venture brands showed different sales performance. SAIC Volkswagen achieved sales of 2.063 million units, a yoy increase of 3.06%. SAIC GM achieved a yoy growth of 5.99% to 2 million units. SGM-Wuling achieved sales growth of 0.93% to 2.15 million units. The group has 3 and 4 models, respectively, that are ranked among the top-10 best-selling sedans and SUVs. And 3 MPV models occupied the top three of the year`s bestselling MPV.