Embarked on new aquaculture business with the objective of producing antibiotic-free sustainable edible fish
Targeting aquaculture business to be many times bigger than ornamental fish
Revenue contribution since 3Q17 from new aquaculture business has not been meaningful yet
What is the news?
Qian Hu Corporation Limited (Qian Hu) hosted a site visit for analysts. We visited Qian Hu's two new aquaculture farms in Wenchang, Hainan, China on Aug. 29, 2018. Farm 1, located in Yan Dun Wen Yuan village deals in finfish, while Farm 2, located 16 km away in Bao Shi village deals with shellfish.
Company Background
Qian Hu was listed on the Mainboard of the Singapore Exchange in 2000.  Qian Hu has been in the ornamental fish business since 1998 and exports ornamental fish to more than 80 cities and countries around the world, from its hubs in Singapore, Malaysia, Thailand, Indonesia and China. Qian Hu has three integrated reporting segments: Ornamental fish (breed, farm, import, export and distribute Dragon Fish and other breeds of ornamental fish), Accessories (manufacture, export and distribute aquarium and pet accessories) and Plastics (manufacture of plastic bags for own-use and sale to third parties). Qian Hu is now venturing into Aquaculture and it will likely be reported as a separate business segment by end-FY18.
Site Visit Highlights
Hainan is the aquaculture hub of China
Hainan has favourable climate that is conducive for aquaculture farming all year round. This is unlike the rest of mainland China, which generally experiences the four seasons, and the temperature during winter months is not suitable for aquaculture farming.
There are more than 2,000 aquaculture farms in Hainan. Qian Hu has sited its aquaculture operations is here so that it can be close to the market to source for fingerlings and table sized fish. (A fingerling is a juvenile fish that has developed scales and working fins.)
Demand for edible seafood underpinned by world population growth
According to United Nations research, the world population is expected to grow 1% annually till 2030. Traditional food source of wild fish stock is vulnerable to over-fishing, while aquaculture is constrained by disease. Hence, there is an impetus to grow sustainable farming further, in order to ensure sufficient supply of food to feed the growing world population.
Qian Hu has proprietary products and competencies from the ornamental fish business that are transferrable to the aquaculture business
Qian Hu has the know-how in exporting live fish and achieving a dead on arrival (DOA) rate of less than 3%. This is achieved through the use of their patented water filtration system, Hydro-Pure, and proprietary fish feed. Qian Hu has also recently partnered a maker of herbal based medication for fish.
Valuation
Current price of 19 cents is 59 times of annualised 1H FY18 0.16 cent EPS and has a price-to-book ratio of 0.42 times.
Background
In January 2017, Qian Hu announced in conjunction with its FY16 financial results that it had set up a 51%-owned subsidiary Qian Hu Aquaculture (Hainan) Co., Ltd, to farm antibiotic-free edible fish, such as groupers, in Hainan Province, China. The subsidiary was set up with a registered capital of RMB6 million (S$1.2 million) and is 49%-owned by a third party who is in the business of herbal medications for fish. This was Qian Hu's first foray into the aquaculture business.
Qian Hu subsequently incorporated a 60%-owned subsidiary, Tian Tian Fisheries (Hainan) Co., Ltd, with a registered capital of RMB3 million (S$600k) in November 2017. The entity was set up to breed and farm shrimp, export edible fish from Hainan to Southeast Asia, and import other edible fish into China. This was expansion was announced together with the 4Q FY17 financial results.
With these two farms, the intention of the Group is to become a fully-integrated aquaculture farm that is able to capture the entire value chain of edible seafood from breeding to farming to the table.
Set up in Hainan to be close to the action
Hainan is the aquaculture hub of China. The key differentiating factor for Hainan compared to the rest of mainland China is its climate that is suitable for year-round aquaculture. As such, the market is well-developed with more than 2,000 farms. By locating in Hainan, Qian Hu can leverage on the existing networks, infrastructure and platforms to source for fingerlings and table size fish for purchase, sale and export. Qian Hu currently has two farms in Hainan, both located in Wenchang.
Farm 1 relates to Qian Hu Aquaculture (Hainan) Co., Ltd
Farm 2 relates to Tian Tian Fisheries (Hainan) Co., Ltd
Figure 1: Locations of the two farms in Hainan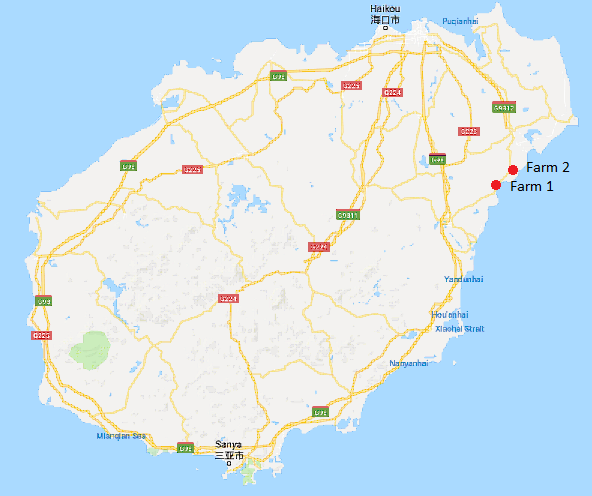 Source: Google Maps, PSR
Bringing over transferrable experience from the ornamental fish business to export edible fish
The key expertise that Qian Hu brings along into the aquaculture venture is its experience and know-how in exporting live fish. Ensuring that the fish arrive alive is critical in the ornamental fish business. Unlike fish for consumption which can be sold frozen, ornamental fish are for viewing pleasure and must be arrive alive to the buyer. Qian Hu has a key performance indicator of having less than 3% dead on arrival (DOA). Moreover, the ornamental fish must arrive healthy. Qian Hu has been able to deliver health and live fish through its competencies of providing fish with clean water and good quality feed.
Qian Hu's proprietary products
Firstly, Qian Hu's aquaculture farms are equipped with their own OF® Hydra system, which is powered by their proprietary Hydro-Pure technology. The Hydro-Pure technology was originally developed for ornamental fish aquariums. Its application at the aquaculture farms is to filter and ionise the sea-water, bringing ammonia and nitrates to acceptable levels for the fingerlings, as well as oxidise heavy metals to be removed. All of the water used in the tanks on Qian Hu's farms go through this process. As such, Qian Hu adopts a recirculating water system for its farms. This is in contrast to the flow-through system that the other farms around them use. By using recirculated water, Qian Hu is less susceptible to introducing unclean water into their farms, should there be an outbreak of aquaculture illness. (Traditional farms simply discharge their waste water back into the sea under the flow-through system.)
Qian Hu also has the know-how in fish nutrition. While on the farm, the health of the fingerlings and grown up fish are maintained through the use of Qian Hu's proprietary fish feed that is free from antibiotics and proprietary herbal-based fish medication.
Figure 2: Qian Hu's three proprietary products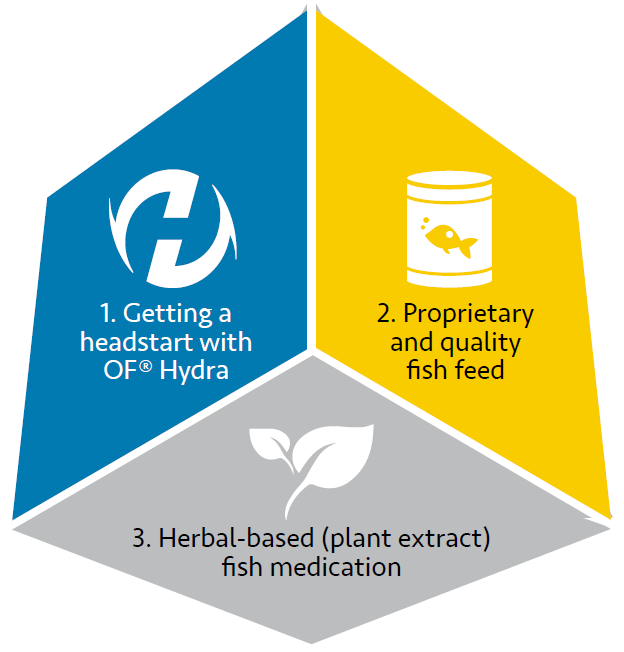 Source: Company FY17 Annual Report
Positioned at the fingerling and grown up stages of the supply chain and being a trader
Qian Hu's Hainan operations are currently centred on the fingerling and grown up stages (Figure 3). Qian Hu imports grouper fingerings into Hainan or buys fingerlings from local hatcheries and then sells them to local farms or export to farms overseas. Depending on customer requirements, fingerlings are grown to various sizes before being sold. Qian Hu's value-add in this stage is the beefing up of the fingerlings' health through the above three proprietary products and raising the fingerlings' ability to survive the export journey. It is critical for fingerlings to arrive at the customers' farms alive, as a fingerling is not a commercially viable edible fish yet.
Similar to the fingerlings, grown up fish are sourced in Hainan, and Qian Hu quarantines them before being exported. During the quarantine, the fish are kept in water that have gone through the filtration system, and are fed with Qian Hu's proprietary fish feed to strengthen them for the export journey. Qian Hu does not sell grown up fish within Hainan.
Figure 3: Aquaculture eco-system

Source: Company FY17 Annual Report
Second-generation leaders spearheading the aquaculture transformation
The Hainan operations is led by Head of Aquaculture, Mr Yap Kok Cheng (nephew of Mr Kenny Yap Kim Lee, the Executive Chairman & Chief Executive Officer and son of Mr Yap Hock Huat, who is Mr Kenny Yap's brother). Kok Cheng first joined Qian Hu in 2005 as a management trainee in Beijing and has been based in China ever since.
Assisting Kok Cheng in Hainan, are his brother Mr Yap Kok Fong, who is in charge of procurement and their brother-in-law, Mr Lim Yik Kiang, who is in charge of exports. Both Kok Fong and Yik Kiang have been based in China for more than 10 years, performing roles within Qian Hu's ornamental fish and accessories businesses.