1Q18 Revenue/PATMI met 19.4%/24.7% of our full year expectations; 1Q18 effective tax rate was lower than our assumption
Broad-based growth across business segments and countries; Distribution business in Malaysia potentially get a lift from GST abolition
Yet to see progress for its intensive expansion plan of adding 10 new clinics each in SG and MY by end-FY18e
Maintained NEUTRAL and TP at S$0.63, based on estimated 2.3 SCents FY18 EPS and 27x FY18e PER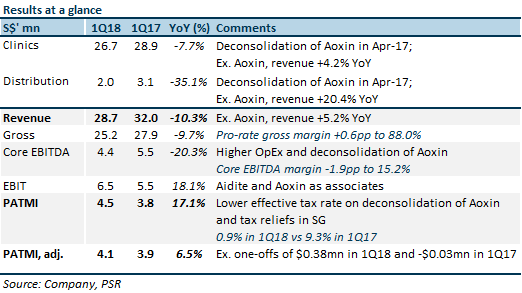 The Positives
+ Broad base growth in across business segments and countries.
(a)  Net YoY increase of 4 clinics in SG and MY. Contributions from 7 new dental clinics in Malaysia, alongside higher demand in existing dental clinics in both Malaysia and Singapore, mitigated the loss of 3 dental clinics in Singapore. New and existing clinics contributed c.S$0.5mn each to the revenue increment.
(b) Organic growth for distribution business in SG and MY. Distribution revenue from Singapore and Malaysia increased YoY by about S$0.2mn and S$0.1mn, respectively. The new Malaysia government and policy could give its Malaysia Distribution business a boost. Abolition of GST (Goods and Service Tax), as well as stronger Malaysia ringgit and improving economy, could raise Malaysian's purchasing power for import products.
The Negative
– No progress on its expansion plan after 4 months into 2018.
(a) YTD no new clinic opened in SG and MY. Management guided to add at least 10 dental clinics in Singapore and Malaysia each for 2018.
(b) No inorganic growth. It has recently announced cessation of interest in the proposed acquisition of Shenzhen Superline Technology Co., Ltd.
Figure 1: Proposed 5 acquisition deals in the past 12 months, out of which, only one deal was completed.

Outlook
Neutral on its expansion plans in Singapore and Malaysia, but hinges on execution. Post-deconsolidation of its major revenue drivers in China, the Group is stepping up its regional expansion in Singapore and Malaysia to plug the gap.
We are impressed by its intensive expansion strategy (from its previous target of opening at least 5 new clinics per year to 20 new clinics this year), but we have yet to see any new clinics opened or acquisition done in 1Q18. The Group has earmarked c.S$4mn for FY18e CapEx (capital expenditures). As at end-1Q18, the Group has a war chest $38.4mn ready for deployment.
Johor and Melaka (the Group's targeted area to grow) have lower dentist densities as compared to Kuala Lumpur. In our view, tapping into these markets should give a leg up to the slower growth in Singapore.
Notwithstanding that, we do not discount the possibility that the Group will expanding into Southern China via joint ventures and organic growth initiatives with its Chinese associate, Aoxin Q&M Dental Group. Aoxin Q&M Dental has a strong presence in the Northern China.
Maintained Neutral and TP of S$0.63. The FY18e EPS of 2.3 SCents includes contributions from the targeted 20 new clinics in Singapore and Malaysia.
Potential re-rating catalysts would be (i) successful earnings accretive acquisitions; and (ii) better-than-expected results from associates.