9MFY16 Revenue and PATMI met 67% of our FY16 estimates
Continue to benefit from by organic and inorganic contributions
Manufacturing business recovered; optimistic on further improvement
On track to spin-off listing of Aidite on the New Third Board by end-2016; and spin-off listing of Q&M Aoxin on the SGX-Catlist Board by 1H 2017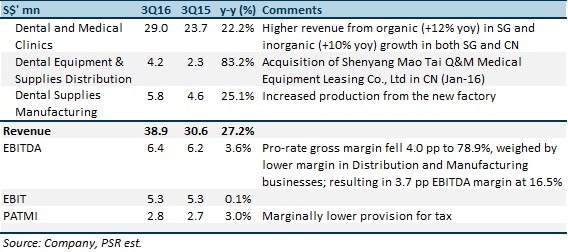 Results at a glance
Steady growth in Clinic business, supported by organic and inorganic growth
Dental outlets in Singapore and China increased by 6 and 4 outlets, respectively, compared to 30 September 2015. Meanwhile, dental outlets in Malaysia remain unchanged. As at 30 September 2016, the Group has a total of 70 dental outlets, 4 medical outlets and 1 aesthetic centre in Singapore; a total of 8 dental outlets in Malaysia; and 3 dental hospitals and 8 dental outlets in China.
We expect the Group to continue its roll-up strategy and some add-on acquisitions in Singapore while expanding its footprints in China. In a net debt position of S$32.6mn, the Group sat on S$46.3mn war chest as at 30 September 2016. Based on historical deals, the amount could fund acquisitions for at least 18 outlets. The Group stepping up its pace of acquisitions or picking up favourable deals, could lead to re-rating.
Distribution margin compressed by competitive landscape in China
Higher cost of sales for its Shenyang Mao Tai weighed against overall Distribution gross margin. Distribution margin shed 3.9 percentage points (pp) to 29.8% in 9MFY16 compared to 9MFY15. We think it could stabilised at c.30% level moving forward. Nonetheless, this will be less of a concern after the spin-off listing of Q&M Aoxin.
Manufacturing business turned the corner
Following the consolidation of operations at the new factory in June 2016, gross margin from Manufacturing business improved qoq (56.6% in 3Q16 vs 55.7% in 2Q16).
The higher costs of sales seen in 2Q16 and 3Q16 are mainly due to:
Reclassification of export VAT under Cost of Dental Supplies Manufacturing from Other Expense; and
Higher export VAT due to loss of some export VAT refunds, which are one-off in nature.
Nonetheless, we remain upbeat that higher contribution (capacity doubled to five lines in the new factory), as well as better margin due to economies of scale would underpin the profitability of its Manufacturing business. Current utilisation rate for the new Aidite factory is at 70-75%.
Proposed spin-offs and listing of Aidite and Q&M Aoxin are on track
Extraordinary general meeting (EGM) was convened to seek approval of shareholders for the Proposed Spin-off and the Restructuring Exercise on 14 October 2016. The shareholders unanimously approved the proposed restructuring and the proposed spin-off resolutions. Q&M is expected to hold a controlling interest of 43.92% in Q&M Aoxin following the completion of the Proposed Spin-off listing and Restructuring. The earliest timeline of Q&M Aoxin's listing on SGX-Catalist Board could be by 1H 2017.
Meanwhile, its Manufacturing businesses in China are slated for spin-off listing on the National Equities Exchange and Quotations (NEEQ, a.k.a. the New Third Board) in China by end-2016. Q&M will have 38.17% effective interest in Aidite post spin-off.
Recent development on acquisition deals
Our last update on Q&M's acquisition of Tooffy Pte. Ltd., Ho Dental Surgery, and Jurong Point Dental Surgery was at 6 September 2016. Following the September update, Q&M has announced:
Acquisition of British Dentist Surgery Pte. Ltd. on 4 October 2016
Memorandum of Understand (MOU) with Shenzhen New Perfect Dental Research Co., Ltd. dated 6 June 2016 lapsed – for the second time, on similar concern on futures earnings uncertainties.
Maintain 'Buy' rating with lower TP of $0.89 (previously S$0.93)
Please sign up to access our full report.