Market:
The STI took a breather in August; it was down 1.6%. We remain Neutral, leaving our STI target at 3,270 (15x FY17e PE). We continue to see strong economic data across the globe. World economic growth is at 6-year highs. After a softer Apr-May, economic momentum is re-accelerating. We believe this will help sustain equity markets, despite many well-flagged fears. These include a potential Korean Peninsula conflict and a US government shut-down due to monetary tightening.
On Korea, the base case is that tensions could be elevated, but confrontation will be avoided. Any first strike by North Korea can only be deemed suicidal if we assume the regime's objective is just to shore up its nuclear capabilities. Early signs of an imminent war will be an evacuation of residents or a movement of troops by the US (or even China).
Over in the US, with the Republican Party controlling both houses of Congress, we can only conclude that its debt ceiling will likely be passed. Albeit with plenty of political drama. The politicians are, after all, approving their own spending plans. We are less anxious about tightening by central banks. This is because they would only be responding to healthier economic data, not runaway inflation that requires a pre-emptive squeeze of monetary policy. In the coming 19-20 September Fed meeting, the market has pencilled in some form of balance-sheet tapering. Despite this high-probability event though, US Treasury yields have corrected to year lows.
Recommendation:
In August, we initiated coverage of Banyan Tree with a BUY. Its recent partnership with China Vanke and Accor opens up a large pipeline of hotel-management contracts for the next several years, at least. Both parties' commitment to this partnership has even culminated in their acquisition of significant stakes in Banyan. We also initiated coverage of Singapore's coal sector, with Buys on Golden Energy and Geo Energy. We think coal prices will stabilise in a range, which should be acceptable to the Chinese authorities.
We find Singapore-listed coal producers attractive as they are the fastest-growing in the region, with production expected to almost double in the next two years. Our other key picks for sustainable dividend yields are Asian PayTV, Mapletree Industrial Trust, Ascendas REIT and CapitaLand Commercial Trust.
Sector/Corporate:
Property sales in Singapore stayed buoyant. Average unit sales per month are now double of 2014-2016 levels. We keep our Overweight recommendation on the sector. Another important development is the rise of SIBOR, to an 18-month high. Higher interest rates, healthy capital markets and an improving economy would be potential re-rating catalyst. Hospitality appears to have turned around, with spikes in tourist arrivals and RevPAR in June. It is unclear at the moment whether this was a mere festive-season bump.
Technical Analysis : Straits Times Index – stuck in a correction with all eyes on 3195 support area

Source:  Bloomberg, Phillip Securities Research Pte Ltd    
Performance of the Straits Times Index (STI) in August 2017 was rather sluggish. It ended with an inside monthly bar, down 1.5% in August. That was partly due to the ongoing fears of conflict in the Korean Peninsula as North Korea recently tested a Hydrogen bomb that was five times greater than the atomic bomb used in World War 2.
PHILLIP SINGAPORE SECTOR UNIVERSE

Best performing sectors in Aug17 were: Industrial, Conglomerate and Property. The gains in Industrial came from Hi-P (+38%) and Venture (+20%). Conglomerate rose on the back of Jardine Strategic (+7.5%). The Property sector increase was due to Guocoland (+25%). Major gainers under our coverage were Banyan Tree (+11.8%), CapitaLand Mall Trust (+8%) and F&N (+6.7%).
Worst performing sectors in Aug17 were: Telecommunication, Finance and REIT-Others.  In Telecommunications, SingTel (-6.8%) and Starhub (-4.4%) led the losses.  Finance weakness came from DBS (-4.6%). The decline in REIT-Others was due to Hutchinson Port (-4.2%). Major decliners under our coverage include Raffles Medical (-14.4%), 800 Super (-11.3%) and Hock Lian Seng (-10%).
SUMMARY OF SECTOR AND COMPANY VIEWS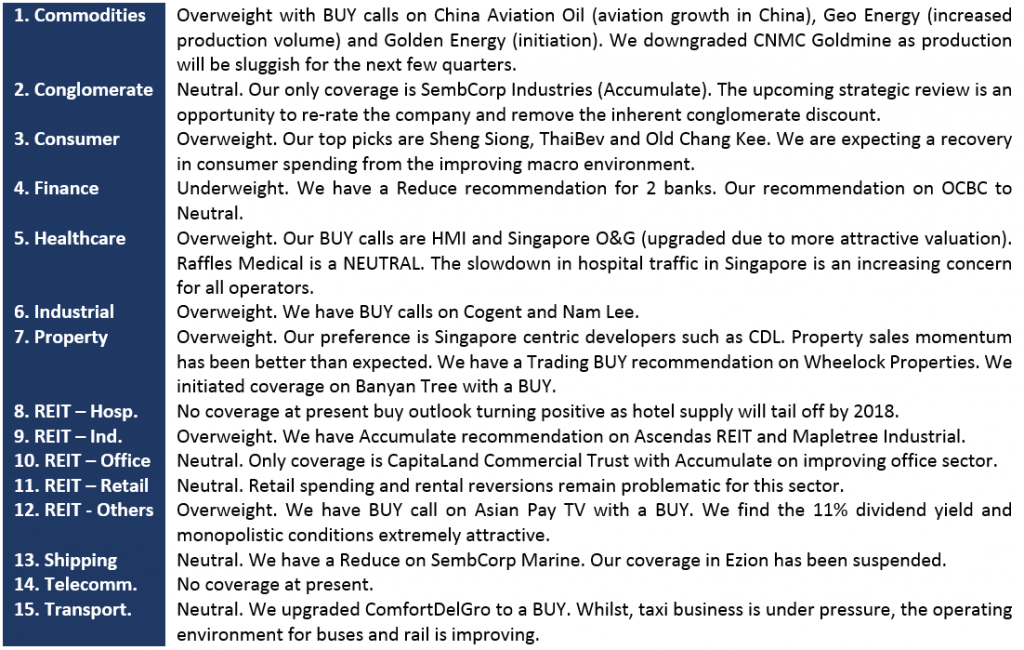 For more in-depth news on the specific sectors, sign in to download the full report!