Market:  The STI was up 1.6% in July. Macro data point to a peak in global growth rates. Almost all PMIs worldwide are decelerating. Singapore's electronic exports have turned negative this year against an 8% expansion in 2017. Manufacturing new-order PMI has also rolled over. Germany IFO business expectations index is at the weakest in two years and Japan industrial production contracted for the first time in twenty months. Only the U.S. economy defies the trend. Healthy employment has sparked a rebound in consumer spending. Retail sales growth in the U.S. is close to a 7-year high. Small-business optimism is at its second-highest ever on record. The only side effect is, inflation is at a 6-year high and close to the Federal Reserve's 2% target. The pressure on interest rates is irreversible at least this year.
The big macro event has been the spiralling mess in Turkey. Its exchange rate collapsed 30% against the US$ in a week. This was accompanied by an 18% spike in its benchmark interest rates. Turkey is important because it holds US$466b of external debt. This is not very far from Lehman's US$620b of liabilities when it collapsed in September 2008. The most exposed to Turkish debt are European banks and bondholders. The worst case is a contagion onto other emerging markets, though Turkey is still less than 1% of emerging-market equity indices. In any contagion, the impact on Southeast Asia could be a liquidity flight and tightening interest rates to stem currency volatility. A trigger to contagion could be any decision by Turkey to implement capital controls. This deflation threat from emerging markets, softer global growth, trade-war fears and anxieties over China have weighed on commodity prices. The CRB index is down almost 5% in three weeks. Copper is trading at year lows. In summary, the three large macro trends are a strengthening US$, sliding commodity prices and rising interest rates. All negative for emerging markets.
Recommendation:  The 2Q18 reporting season in Singapore has drawn to a close. Apart from banks, few industries offered cheer. Banks are riding an upswing in the credit cycle and NIMs. Healthcare and consumer demand in Singapore is sluggish. Any growth realised was through market-share gains. Sheng Siong is gaining share from wet markets and mall-based supermarkets. Thai Beverage disappointed due to weak rural spending in Thailand, as agriculture prices remained subdued. The earnings of most electronic companies were down, with the exception of Venture. SembCorp Industries' bottom line was supported by more buoyant power prices in China and India. Marine was a let-down as vessel oversupply is unlikely to be resolved in the medium term. In property, we favour CapitaLand's continued pursuit of recurring revenue streams where returns on equity can be higher with better predictability. Among the REITs, CapitaLand Commercial Trust benefitted from a 4% rebound in Grade A office rents in 2Q18 and compressing cap rates. SATS' earnings surprised nicely as its overseas and non-aviation operations turned around faster than anticipated. Its core aviation business in Changi is also profiting from passenger growth and operating leverage. Our STI target remains at 3700. Any hopes of reaching this target is dependent on a rally in banking stocks.
PHILLIP SINGAPORE SECTOR UNIVERSE

Best performing sectors in Jul18 were Conglomerate, REIT – Office and Telecommunications. Conglomerates was supported by gains in all three Jardine stocks – Jardine Strategic (+9.3%), Jardine Matheson (+7%) and Jardine C&C (+5.7%). All REIT-Office stocks enjoyed gains, in particular SUNTEC REIT (+6.4%) and Keppel REIT (+6.4%). Telecommunications recorded gains from SingTel (+4.2%) and Starhub (+3.6%).
Worst performing sectors in Jul18 were REIT-Others, Transportation and Shipping. REIT-Others was dragged down by weakness in Hutchinson Port (-8.9%). Transportation was hit by losses in SIA (-7.8%) and SIA Engineering (-5.4%). Shipping fell after SembCorp Marine collapsed by 10.3%.
SUMMARY OF SECTOR AND COMPANY VIEWS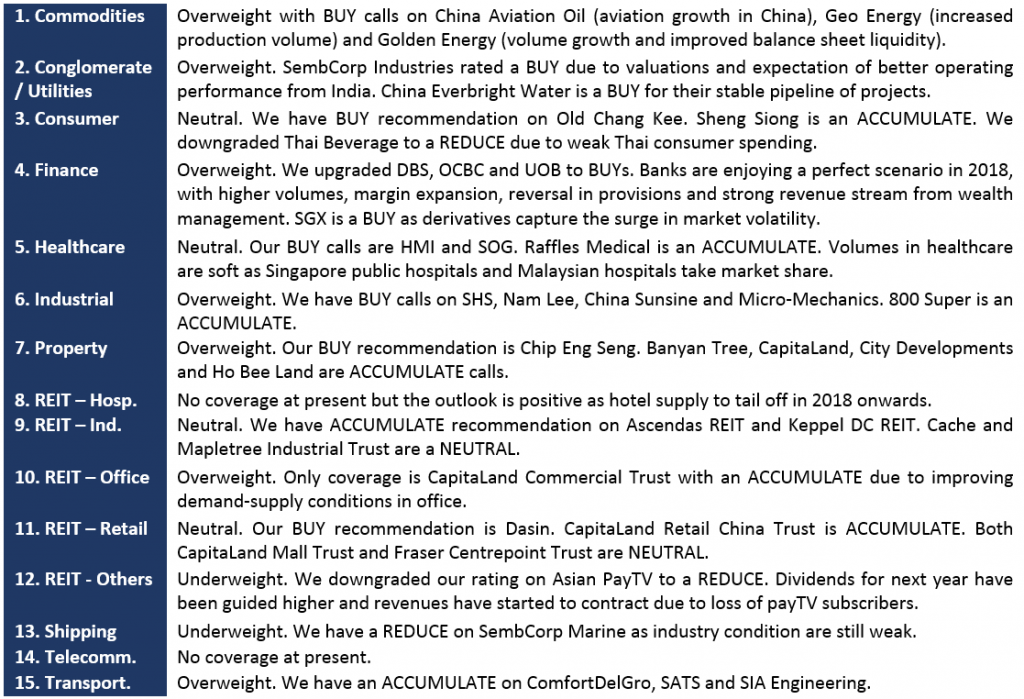 Phillip On The Ground – excerpts from our various conversations
SG Property – update after cooling measures
Developers with large sized projects are at high risk of incurring ABSD, which is 25% of the land cost regardless of number of units sold. Developments with 1,700 units, may take 7 years for the market to absorb.
First-time buyers used to account for 50% of buyers before cooling measures, this has spiked to 80%.
Of the 6000-plus en bloc sellers since 2016, an estimated 1/3 have already received the proceeds.
Electronic companies
On the repercussion of a trade war, so far the impact is minimal as customer has not prepared them for any contingency plans. Unlikely for MNC customers to invest a new factory just to cater for this event because of the long qualification process for a new factory.
Another electronics company said their OEM customer is monitoring the situation. It further elaborated that capacity and technical people cannot be built overnight.
Shortage of passive components (resistor and capacitor) is still present. The shortage is driven by real demand and not double ordering. In 2008/09, there was double ordering and after nine months it began to normalise. This time the tightness is already fifteen months. Possibility that the shortage endures till 2021.
Rubber Gloves
Demand is expected to be strong especially after US healthcare requirement for the double donning of gloves by 2020. Orders will come in by 3Q19 to meet this requirement. It will result in an estimated 500mn gloves per month (or 6bn per year). Despite the high quality there still exist a small percentage of gloves produced with pinholes. Double donning will remove such risk.
There will be pressure of wages in Malaysia as the government intends to raise minimum wage to RM1,500 per month from current RM1,100. Around 15% of total cost is labour. Striping of gloves and dispensing to packed boxes is still very labour intensive. Around 90% of workers in a rubber glove manufacturer are involved in production.
China produces very cheap PVC gloves but are still new in nitrile materials. They are looking to invest in nitrile facilities but will face some hindrance with recent trade tensions. In producing thin nitrile gloves, the control of temperature is critical. It will be challenging to operate in country with multiple seasons.