Market: STI was down 2.6% in March and up 0.7% in 1Q18. Last month, we faced a deluge of bad news. The US administration slapped tariffs on $50bn worth of Chinese imports, mainly in machinery and equipment. China threatened to respond in the same proportion, scale and intensity.  Trump triggered further nervousness by attacking Amazon, threatening to exit NAFTA, appointing a new security adviser whose views included a pre-emptive strike on North Korea and welcoming the visit of Taiwanese officials, to the ire of the Chinese. I guess that two-legged tail risk is unravelling. Only a de-escalation of reciprocal tariffs will calm the market, in our view. An upcoming 15 May public hearing on tariffs imposed on China could see the peak of punitive tariffs. With looming mid-term elections, it is unlikely that the Republicans will want China's targeted tariffs on agriculture and food products to hurt their red states, in our opinion. If we assume $100bn of two-way trade and a 0.24ppt impact on GDP – using the Peterson Institute's policy-brief assumptions – the effect is less than 0.2% on the combined US and Chinese economy of $31tr.  The market knows the impact will be modest. The bigger damage is uncertainty over how far this war will go. A positive from all the noise has been a decline in US Treasury yields and inflation expectations.
On the economy, there has been only a milder patch of data. US PMI has gone softer, but this is from multi-year highs. Retail sales have moderated, though still growing at 2017 rates. Vibrant employment together with a pick-up in wages should provide upside to consumer spending in the US. We see corporate expenditure gaining momentum. Our Singapore indicators are mixed. Exports have trended down, but industrial production and PMI hold their ground.
Separately, it was no surprise that the Fed raised interest rates by 25bps. The dot plots did show more members – four to seven – expecting four rate hikes in 2018.  Curiously, the inflation forecast was only raised marginally to 2.1%, a tad above the Fed's 2% target for 2019. We think higher rate expectations have been baked in by the market. Singapore's REIT index was down 4% in 1Q18. The probability of three rate hikes in 2018 has climbed to 41%, according to Bloomberg.
Recommendation: We have not changed our bottom-up 3,900 STI target, for 13.8% upside potential. We think banks will provide support with their earnings. While loan growth in Singapore is 4.6%, below our 7% expectation, we expect significantly better NIMs from YoY rises in both the SIBOR (+38%) and SOR (+55%) this quarter. Another leg to growth could be provided by Hong Kong, where loans are expanding 16% and the HIBOR, up 54% YoY. Property sales in Singapore are resilient. Take-up in a recent residential launch by CDL was strong, at almost 40% over a weekend. And the product was priced more than 20% above transactions in the adjacent area. Another sector we like is coal. Coal prices have been resilient as China plans to cut supply while its power consumption is rising. Chinese imports of coal from Indonesia are up 55% YTD. Our Buys in the sector are Golden Energy and Gear. The production from both companies is expected to be up 33% in 2018.
PHILLIP ABSOLUTE 10 – Our top 10 picks for absolute returns

Source: Bloomberg, PSR
Phillip Absolute 10 performance assumes equal weightage to every stock in the portfolio. Any change to Phillip portfolio is only conducted at month end. Performance of the portfolio and STI does not take into account gains from dividends.
HISTORICAL PERFORMANCE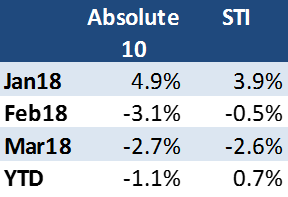 Portfolio Review:
Our inaugural Phillip Absolute 10 Model portfolio began in January. It started well with a rise of 4.9% in January. Banyan Tree and CapitaLand led gains in January. DBS has been a significant contributor to our performance with a gain of 15% for the period of Jan-Feb18. We then switched to OCBC in March due to higher upside to our target price and a beneficiary of higher interest rates (in particular through insurance business). We have now seen two consecutive months of decline. Dragging our YTD performance has been Asia Pay TV and Geo Energy.
APTV: No change in our recommendation. Operationally we are expecting a stable outlook. Broadband is a potential source of upside. It is the highest margin product which has started to gain some subscriber momentum. On macro factors, Taiwan dollar has actually appreciated against Singapore dollar. There is also no pressure on interest rates, as TAIBOR is trading sideways.
Geo Energy: No change in our recommendation. 4Q17 performance was disappointing due to weaker production growth due to poor weather conditions and higher interest expense as they build up cash reserves for an acquisition. We are still positive on the company. Coal prices are resilient and we expect production to rise by 40% to 10.8m MT in FY18e. Stock is trading at around 5x PE and in net cash position with a dividend yield of 4%.
Technical Analysis: Straits Times Index –   hammer rejection off the 3,354 – 3,340 support area suggests a rebound higher
STI Weekly Chart                                                                         Current Sentiment: Bullish

Source:  Bloomberg, Phillip Securities Research Pte Ltd    
Red line = 20-period moving average, Blue line = 60-period moving average, Green line = 200-period moving average
March was another disappointing month as the Straits Times Index (STI) failed to follow through with bullish momentum from the last two weeks of February. As a result, the STI was down -2.50% in March mainly caused by the general risk-off sentiment across the world.
From a longer-term price action perspective, the general risk-off sentiment has dragged the STI into a prolonged correction that began in January, but the long-term uptrend remains intact. Even with the severe correction of –7.5% off the 3,611 high in February, the STI managed to keep the structure of the uptrend in place as it continues to form a series of Higher Highs (HH) and Higher Lows (HL). More importantly, the 3,354 to 3,340 support area needs to hold for the uptrend to regain strength.
On the weekly timeframe, the 3,354 to 3,340 support area held up once again for the week ended 06/04/18 proving the significance of the support area. Moreover, the strong bullish rejection resulted in price forming a hammer suggests a possible reversal higher back into the uptrend. Further clues of bullishness can be seen when the STI closes back above the 20-week moving average.

PHILLIP SINGAPORE SECTOR UNIVERSE

Best performing sectors in Mar18 were Industrial, Healthcare and REIT-Retail. The gains in industrials came from electronics names such as Memtech (+23.0%), Valuetronics (+11.9%) and China Sunsine (7.8%). Gains in Healthcare was only in IHH (+1%)  REIT-Retail outperformed due to gains in CapitaLand Mall Trust (+3.0%).
Worst performing sectors in Mar18 were REIT- Others, Shipping and Consumer.  Sell-down in REIT-Other was due to 19.2% fall in Hutchinson Port Trust. Shipping weakness was led by Yangzijiang (-19.9%). Consumer declined on the back of declines from F&N (-9.3%), Genting Singapore (-6.9%) and Thai Beverage (-6.6%).
SUMMARY OF SECTOR AND COMPANY VIEWS