Market: STI was up 1.1% in May. We remain Neutral. Our STI target was tweaked up to 3270 (15x PE FY17e), following revisions to our bank target prices. Our target implies a 15x PE FY17e. There are two broad reasons for our Neutral stance:
1) Latest data points suggest economic momentum is stalling in Singapore, in particular industrial production and exports.  The two recent sources of global growth have been a recovery in commodity prices and China's fixed-asset investments. We need a third source. We were initially hopeful that China would surprise on the upside, instead the authorities are tightening liquidity conditions and property purchases. This will dampen economic activity. We also do not see much of a pick-up in the U.S., where the flattening of the yield curve reflects a downgrade of growth expectations. Europe is a bright spot, but not a sufficient spark for global growth, especially when the recovery centres around exports; 2) Technology and Internet stocks have been behind the driving force behind the record highs for U.S. and MSCI World Indexes. Regretfully, STI does not have any technology exposure. Another equity markets that have touched a new high were emerging markets such as India and Indonesia, driven by strong domestic demand.  Whilst our domestic economy is improving, it does not share the same growth dynamics.
The event to look out for in June will be the Fed meeting on the 14th. The market is pricing in a 90% probability of a 25 bps rate hike. Our base case is the Fed is assuming the U.S. economy is at full employment. And will gradually raise interest rates to eventually a zero '"real" rate, of around 2%.
Recommendation: Our key picks are yield and property. For yield, we prefer Asian PayTV, Croesus REIT and KeppelDC REIT. For momentum, we like high end property developers such as CDL and CapitaLand. Another BUY is Sinarmas Land. Indonesia's recent sovereign upgrade will trigger capital inflows, narrow interest-rate spreads and provide support to the currency. These are fertile grounds for the property sector. We initiated coverage on SembCorp Industries with an Accumulate. The ongoing strategic review by management should provide opportunities to narrow its inherent conglomerate discount.
Sector/Corporate: It was all about results in May. Our observations were: 1) banks and electronic manufacturers fared better than expected. Banks' upside surprise came from wealth management and lower provisions; 2) Indonesia was a source of earnings growth for several companies; 3) results from the other sectors were within expectation but sluggish; 4) the big earnings miss came from transport, namely SIA; 5) two government linked companies – SembCorp Industries and SIA – are reviewing their strategies and operations. This is not just a response to cyclical but also structural headwinds.
PHILLIP SINGAPORE SECTOR UNIVERSE

Best performing sectors in May17 were: Finance, shipping and REITs (office). The gains in finance was broad based, all three banks were up 5% to 7%. Shipping was supported by a jump in Yangzijiang (+10.4%). Major gainer in REIT (office) was Keppel REIT (+ 4.2%).
Worst performing sectors in May17 were: Healthcare, Consumer and Transportation.  In healthcare, weakness was in Q&M (-7.6%) and IHH (-5.6%). Consumer saw losses in Dairy Farm (-10.1%), Jumbo (-9.5%) and Thai Beverage (-7%). The drop in transportation came from ComfortDelGro (-12.4%).
SUMMARY OF SECTOR AND COMPANY VIEWS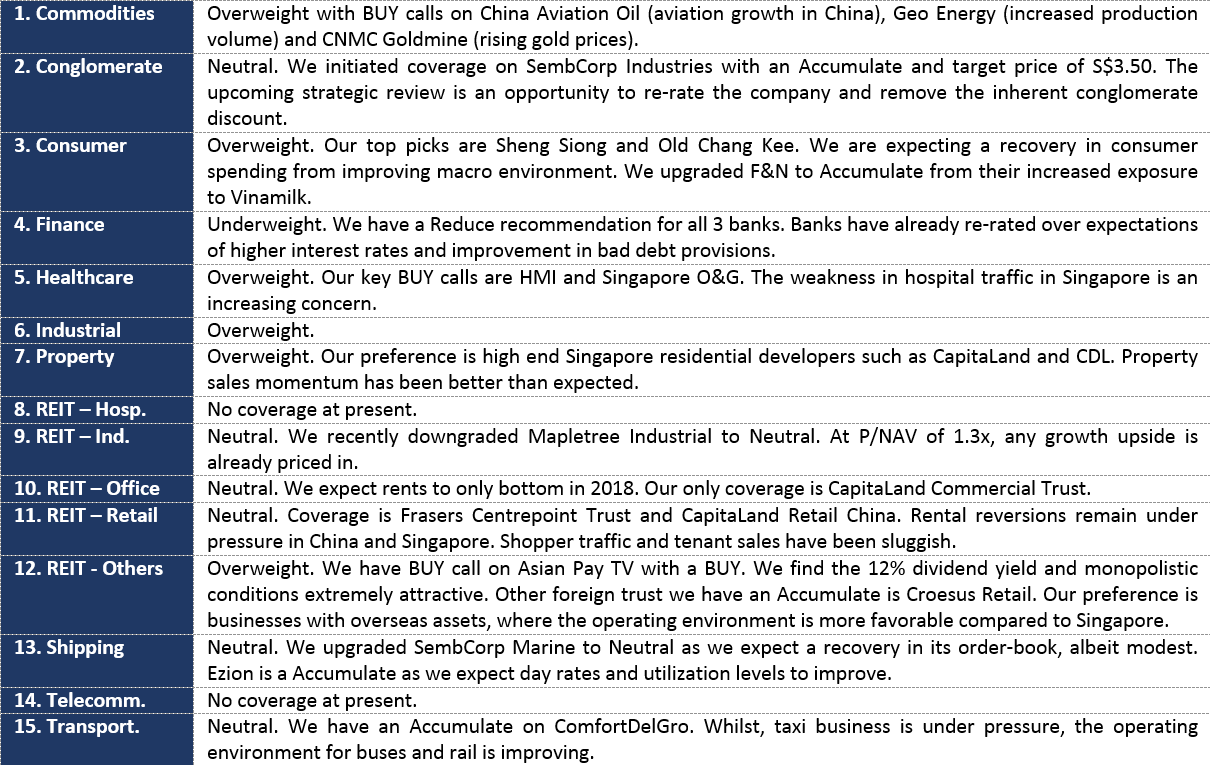 Please login to download the full report in PDF.