Event
The U.S. Federal Open Market Committee (FOMC) just concluded their two-day meeting on the 13th of December. The meeting discussed the Fed's monetary policy stance and economic projection.
Five key points to note
Interest Rates – S. Federal Reserve (Fed) has increased its benchmark interest rate by 25bps to a range of 1.25% – 1.50%. This will be the third time the Central Bank has raised its rate for this year. According to the dot plot, the Fed median expectation of its rate in 2018 is in the range of 2% – 2.25%. This implies three more hikes in 2018.
Fed Balance Sheet – The Fed confirmed that it would adhere to the plan of stepping up the pace in shrinking its balance sheet as scheduled, to $20 billion beginning in January from $10 billion.
This would be Janet Yellen second last meeting and her last scheduled press conference as the Chairwoman. She will step down from the role and retire from the Fed board of governors entirely when her 4-year term as chairperson ends in January 2018.
Jerome Powell is set to succeed Janet Yellen as the next Chairman. Powell has testified in front of the Senate Banking Committee and was approved by the committee with a 22-1 vote. He now awaits the approval of the full Senate before taking on the role as Chairman of the Federal Reserve.
With the departure of Janet Yellen, the Board of Governors for the Fed will only fill three out of the seven available seats. Aside from the seven Board of Governors, FOMC includes five other Reserve Bank Presidents. Multiple changes at the FOMC makes it more challenging to anticipate monetary policy direction.
Figure 1: Fed Dot Plot projections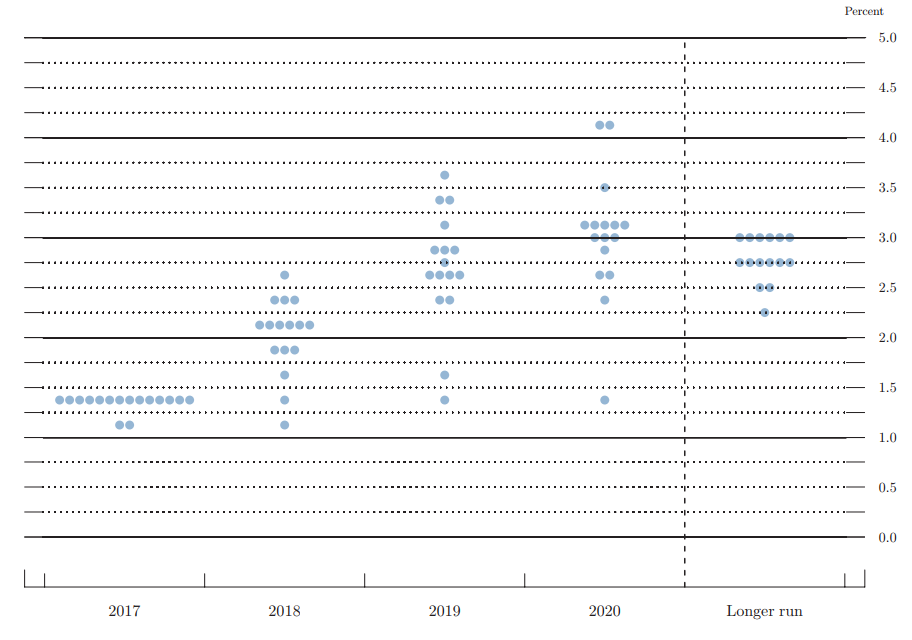 Source: FOMC, Economic Projection
Figure 2: Fed Funds Rate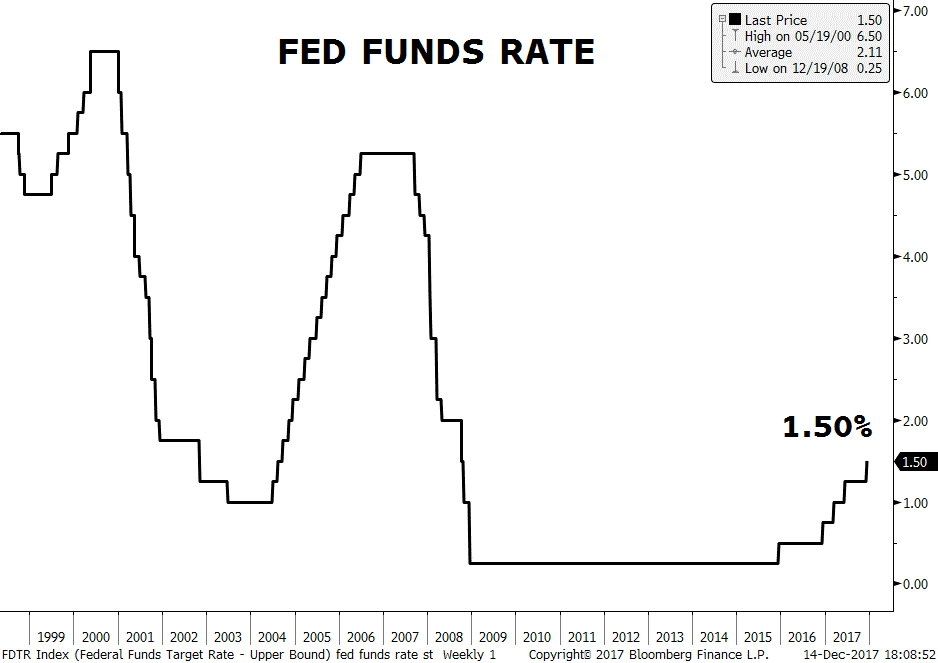 Source: Bloomberg, PSR